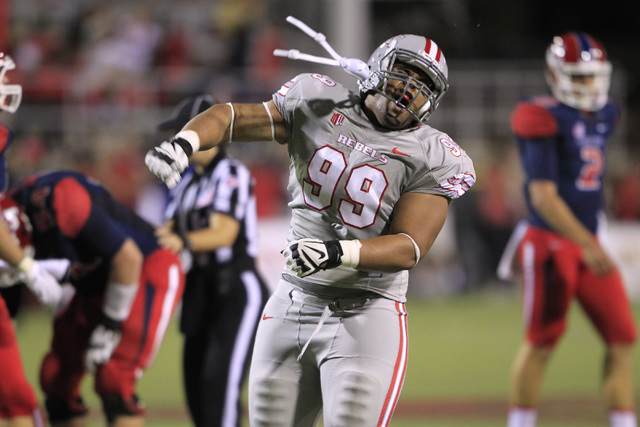 He is a large man, listed at 6 feet 2 inches tall and 315 pounds, and for this his shoulders have carried the pressure of tracing a sketch for others to follow.
Mike Hughes Jr. is the sort of leader whose impact goes beyond the next time he meets a running back in the A-gap.
This is how things were meant to be.
This is how the scene was always supposed to play out off the football field.
"The biggest thing has always been for his brothers and cousins to see him as a role model, to see this is possible for them, that they too can go to college and graduate from a university and wear that cap and gown and walk across that stage," Stephany Johnson said. "He will be the first one on my mother's side of our family to do so from a four-year college.
"The game this week is very important, and I know how much he wants to win for himself and his team. But for the younger ones in our family, to see something like a college education is not a myth if you work hard and are disciplined, that is so much more important … I'm very thankful for that."
She is a mother incredibly close to and proud of her son, who on Saturday will play what he believes the most important game of his life, one which has delivered Hughes and his UNLV teammates to the doorstep of an opportunity not granted the program often during its history.
It's late November, and the Rebels are 60 minutes from living for the postseason of college football.
Such reality is not to be overlooked.
Hughes is, however, on this day of thanks, mindful that should UNLV lose at UNR and with it a chance to reclaim the Fremont Cannon and reach bowl eligibility, the defensive lineman's time for the home team he chose to play for coming out of Palo Verde High will officially end.
You can't imagine how deeply his desire burns to play in a bowl.
"This is how it should be, playing the in-state rival, fighting for bragging rights, wanting to make a bowl and know you helped leave the program in a better way than when you arrived," Hughes said. "You go through trials and tribulations, the hardships we've had, and yet all of it only made me stronger."
He has always been ahead of things. Palo Verde coaches promoted Hughes to varsity as a freshman for the playoffs, and he started both ways the next three years. His mother was sure he would play as a true freshman under coach Bobby Hauck at UNLV, a prediction that came true when Hughes' redshirt was lifted in the fifth game of the 2014 season.
He only doubted his decision to remain home for college once, when Hauck was fired following that year. But even through what is a 14-34 record during his time, even as the roller coaster took far more dips than ascensions, Hughes remained steadfast is his pursuit of two things: A college degree and the idea that years from now, when the Fertitta Football complex has been raised and what he believes is a recruiting base under coach Tony Sanchez that has UNLV trending in a direction of consistent winning, he will be remembered as one who helped pour the foundation.
"I think there is more football for him after this at the (NFL level)," said Darwin Rost, Hughes' coach at Palo Verde. "But it's so important for him to finish strong for UNLV. He's a great kid, and is there a sweeter story than having to beat UNR for all of it to come true? Mike has always been a leader, always worked as hard as anyone, always encouraged others to do the same. He has always wanted to play in a bowl game … there just isn't a better way than having to beat your rival for it."
Mom will watch from home
The mother who is so incredibly proud and thankful, who has told sons Christopher and Nicholas and those various cousins to watch and learn and follow the educational path set forth by Michael, that it's not a myth, won't be in Reno.
He asked her not to come, preferring she watch from home instead of what can get to be unruly and heated exchanges in the stands when north meets south and blue encounters red.
"I'll adhere to his wishes this week because he never asks for much, and try not to go crazy watching on television," she said. "But when they make that bowl game, and I know they will, he won't have a choice. I'll be there for sure."
Just as in the spring, when Hughes is set to graduate with a degree in criminal justice, she will beam at the sight of him crossing a stage in a cap and gown.
Mike Hughes Jr. might have one game remaining at UNLV. He might get two.
But as much as he wants the latter to be his final act, he already pulled off a leading role.
His were some pretty impressive shoulders on which to trace that sketch.
Contact columnist Ed Graney at egraney@reviewjournal.com or 702-383-4618. He can be heard on "The Press Box," ESPN Radio 100.9 FM and 1100 AM, from 11 a.m. to 2 p.m. Monday through Friday. Follow @edgraney on Twitter
Mike Hughes Jr. file
Year: Senior.
Size: 6-2, 315 pounds.
Position: Defensive line.
2014: 7 games, 18 tackles, two for loss.
2015: 12 games, 23 tackles, 3.5 for loss.
2016: 37 tackles, 3.5 for loss, two sacks.
2017: 11 games, 48 tackles, six for loss, two sacks.
** Hughes will make his 36th straight start on Saturday at UNR.