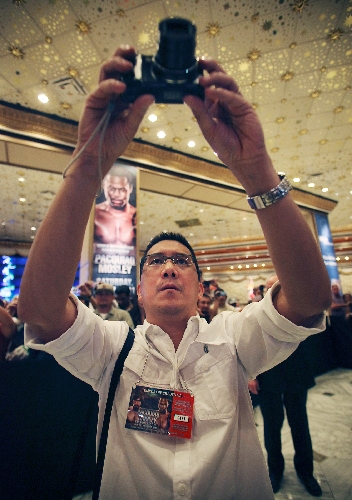 What if God loses?
"I will," Nick Giongco said, "be weeping as I type my story."
This, a journalist once sued by Manny Pacquiao for libel.
Eva Peron stood on a balcony and told Argentina through song not to cry for her. If things don't go his way in the ring tonight against Shane Mosley at the MGM Grand Garden, Pacquiao could stand in the middle of the Manila Cathedral and do the same, and no one would listen.
A nation's tears would fall uncontrollably.
It would start on press row.
This just in: He has lost. Three times, in fact. It last happened in 2005. He also has two draws.
Pacquiao's professional boxing record is not flawless, and yet the level of reverence those in the Philippines hold for him is such that the line between champion and legend, between humanitarian and hero, swirls in a torrent of worship.
"We don't have anyone like him, and no one like him is coming," said Giongco, a reporter from the Manila Bulletin who has covered Pacquiao since the mid-1990s, including all of his fights in Las Vegas. "Should he lose, it would be a time of national mourning. Everything he does, everything he touches, is magic. We would all cry.
"He is a God to us."
I'm thinking Filipino journalists don't get caught up in the whole it's-important-to-remain-unbiased theory, and yet it's easier to accept when you understand all Pacquiao has done for his people.
Giongco doesn't cover the boxing beat. He covers the Pacquiao beat. Everything the fighter does — what he says, what he buys, what he wears, what he eats — makes huge headlines back home.
"It is news," Giongco said, "when he walks into the john."
Does the reporter follow him in?
"Sometimes."
Hey. It's important to chase the story.
That's the thing. The large contingent of Filipino media who follow Pacquiao's every move — sometimes swelling to 40 to 50 for a fight such as tonight — are more about chronicling a national treasure for those back home than reporting on how his training regimen might differ from one day to the next.
They are recording how the nation's most famous athlete and now congressman maneuvers through life when away from those who love Pacquiao, the strangers he feeds at his house daily, who he throws birthday parties for, who he hands money to, who he builds hospitals for, who he saves from the streets.
He will wear yellow gloves tonight to bring awareness to his goal of ending poverty in his country, which he calls his biggest fight. And here everyone thought it would be against the guy who's always harassing security guards.
There is a long table in Pacquiao's home on which food is placed around the clock. People line up to eat from sunrise to sunset and beyond. The line swells, and more food is served. The doors are always open, General Santos City's answer to Denny's.
You can see, then, how covering Pacquiao for a media outlet in the Philippines would differ from other reporters in other countries writing about other athletes.
Think about it.
How do you go negative on this guy?
Giongco did in 2007, and a libel suit followed. A few months later, he followed Pacquiao here for a fight against Marco Antonio Barrera. The fighter saw Giongco, extended his hand and soon after the suit was dropped.
"I understand that without the media, there is no Manny Pacquiao," the world's pound-for-pound king said. "They help me a lot. I know (negative things being written) are part of being famous. It's OK.
"You can't please everyone. One tree does not have all the good fruit, right?"
It was Tuesday afternoon, and Pacquiao walked into a VIP room at the MGM Grand. He sat down for an interview with a handful of reporters, and in front of him were five bottles of water.
He looked up, champion of champions, feeder of men, savior to many, the Robin Hood of Southeast Asia, one of the most recognizable humans walking the planet and asked: "May I have one?"
This guy is different. Special. The rarest of athletes.
What if God loses?
Then countless Filipino journalists will weep as they type late into the night, and it won't be difficult to understand why.
What if he wins?
Then the story becomes about yet another victory for their hero, who at some point you might see Giongco following into a bathroom.
Las Vegas Review-Journal sports columnist Ed Graney can be reached at egraney@reviewjournal.com or 702-383-4618. He can be heard from 3 to 5 p.m. Monday and Thursday on "Monsters of the Midday," Fox Sports Radio 920 AM. Follow him on Twitter: @edgraney.
Vote on who will win tonight's fight
FIGHT NIGHT
PACQUIAO VS. MOSLEY
WHAT: WBO welterweight championship
WHEN: 3 p.m. today
WHERE: MGM Grand Garden
RECORDS: Pacquiao 52-3-2, 38 KOs; Mosley 46-6-1, 39 KOs
WEIGHTS: Pacquiao 145 pounds; Mosley 147
OFFICIALS: Referee Kenny Bayless; judges Duane Ford, Dave Moretti, Glenn Trowbridge
TV: Showtime PPV (Cable 501) $54.95, 6 p.m.
LINE: Pacquiao minus-900; Mosley plus-600