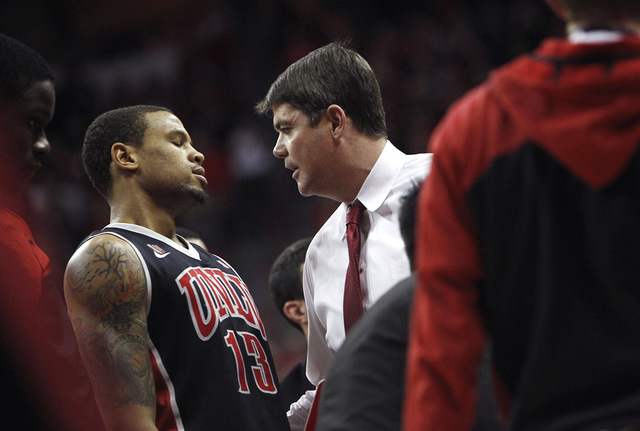 There was about a minute remaining in UNLV's basketball game against San Diego State on Friday evening when Aztecs fans began a popular chant for teams about to win on another's court.
"This is our house!" the San Diego State faithful sang in unison at the Thomas &Mack Center as the Aztecs closed out a 59-51 victory.
Actually, it was everyone's house.
It was UC Santa Barbara's house. It was Illinois' and Arizona State's house.
It was Air Force's and UNR's house … in the same week.
It was even Dixie State's house.
Doesn't that debacle of an exhibition loss seem years ago now?
College basketball teams that lose as much as the Rebels did at home this season tend to spend Selection Sunday studying the NCAA Tournament bracket rather than being included on it, a fate UNLV will experience today when the field of 68 is announced.
The Rebels will then wait to learn if the 32-team National Invitation Tournament believes them worthy of a berth. I would suggest UNLV doesn't hold its collective breath.
So much to dissect. So much harsh reality to accept.
The team bounced from the Thomas &Mack floor in a Mountain West tournament semifinal is close to contending for a league title in some ways and miles from it in others.
Dave Rice has or soon will conclude his third season as coach, and the process by which to move UNLV into contention and back to the NCAAs must begin with him and a mirror.
He needs to take a good, long, hard look.
"I always do that first," Rice said. "Always. And the guys need to understand that everything they do — on the court, off the court, in the classroom — has to be for the sake of building our brand."
Want ironic?
In a season during which dysfunction again tainted Rice's team, a scuffle reportedly broke out after Friday's loss between juniors Bryce-Dejean Jones and Jelan Kendrick, the former of whom definitely will not return next year, while the latter also might have played his final game for UNLV.
Players late for team buses. Players late for practice. Punches thrown after what could be the season's final game. These things and others have added up the past two years to draw a conclusion that Rice needs to enforce a far stricter culture of discipline.
He doesn't need to be a raving lunatic on the sidelines for UNLV to win, but he needs to start holding players accountable far more for negative actions.
That's off the court.
On it …
UNLV needs an experienced, savvy, team-first lead guard, an ingredient that could be solved if Cody Doolin's transfer waiver from San Francisco is approved. There are conflicting opinions in college basketball on Doolin as a player. Some like him a lot. Some aren't convinced he's good enough to put UNLV over the top.
The Rebels need junior forward Khem Birch to return for a senior season. They need more shooters. Kids who can stretch the floor. They need a heralded recruiting class to perform as well as the hype around it suggests.
Rice has recruited to his offensive system for three years now, and the Rebels still don't have the personnel to run it. I'm not even sure what it is. Things can be that slow and disjointed at times.
That's on him. It's all on him.
It's his program.
UNLV needs smarter players, because the Rebels at times appear to have some of the lowest basketball IQs at the college level.
Some of that is coaching.
Some of it just can't be taught.
Some kids just aren't instinctive enough.
Fact: The Rebels have won 20 games this season in about as unimpressive fashion as you can.
Their best win was at New Mexico.
Their next best win against the Ratings Percentage Index was against No. 81 Boise State.
Their best nonconference win was against No. 208 Omaha.
It's one of the weaker 20-win resumes you will find. The Rebels beat up on a bunch of bad teams and defeated only one that is NCAA worthy.
UNLV assistant coach Heath Schroyer reportedly will interview for the head coaching position at Tennessee-Martin, and whether he lands the position or not won't change this fact: Rice needs to improve his staff.
They seem like nice guys who care about players and are hungry for success. But this staff has been outcoached far more often than not, usually against teams with not near the talent level of UNLV, and Rice absolutely needs a veteran aide who can help him navigate different situations.
Whether it's through Schroyer taking a head coaching job or merely finding the funds to support it, a hire needs to be made.
Justin Hutson departed as a UNLV assistant last season, returned to San Diego State and coordinated one of the nation's best defenses this year for a 29-4 team that won the league's regular-season title.
Rice replaced him with a high school coach whose main responsibilities deal with academics and other administrative duties.
It's time to get serious, no?
"There is no doubt I am going to spend every waking minute between now and next season making sure we improve our program," Rice said.
I'm guessing he won't get much sleep between now and October.
Las Vegas Review-Journal sports columnist Ed Graney can be reached at egraney@reviewjournal.com or 702-383-4618. He can be heard from 11 a.m. to 2 p.m. Monday through Friday on "Gridlock," ESPN 1100 and 98.9 FM. Follow him on Twitter: @edgraney.