Fleury takes one for team, but he needs rest
Updated March 15, 2018 - 1:05 pm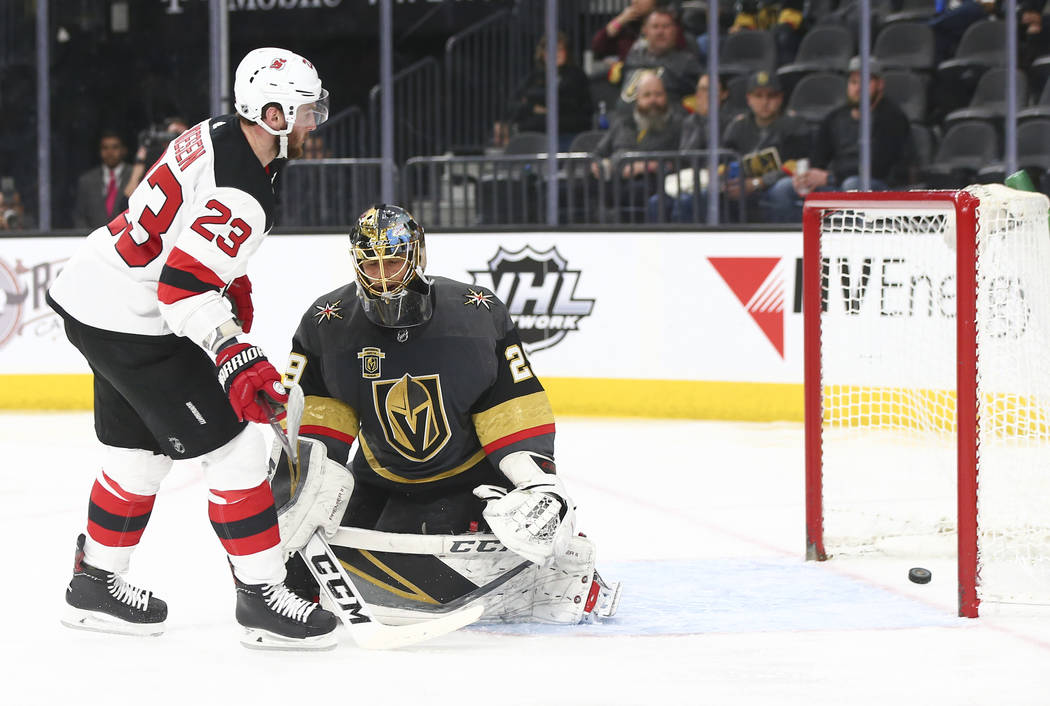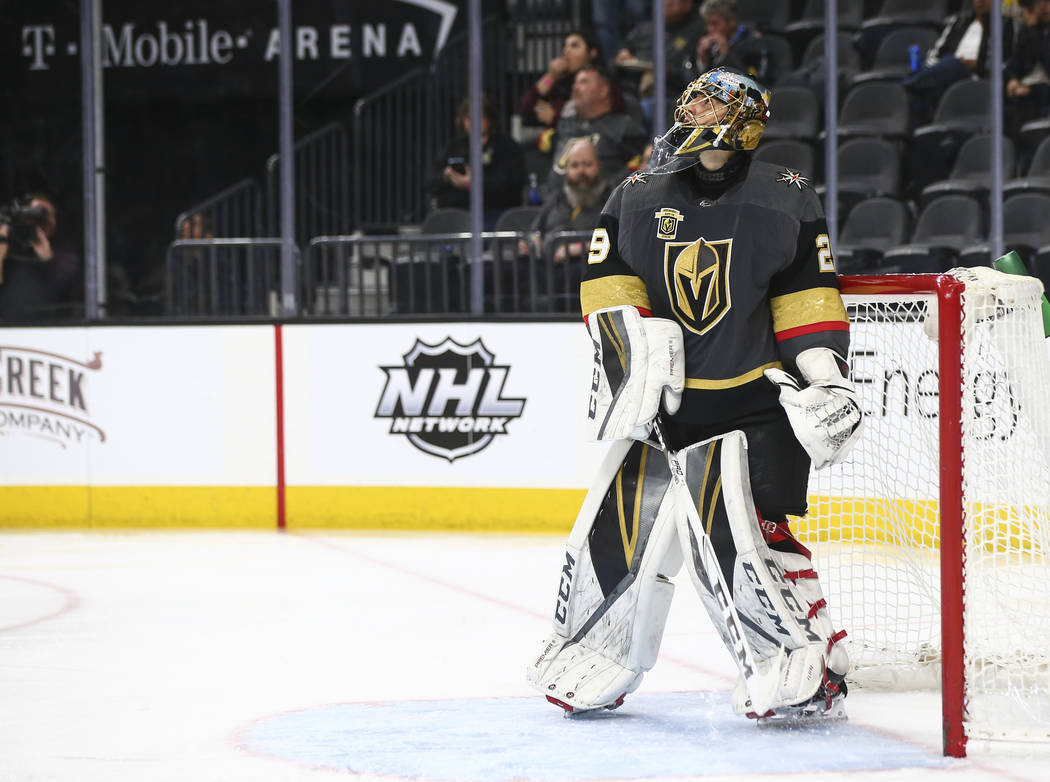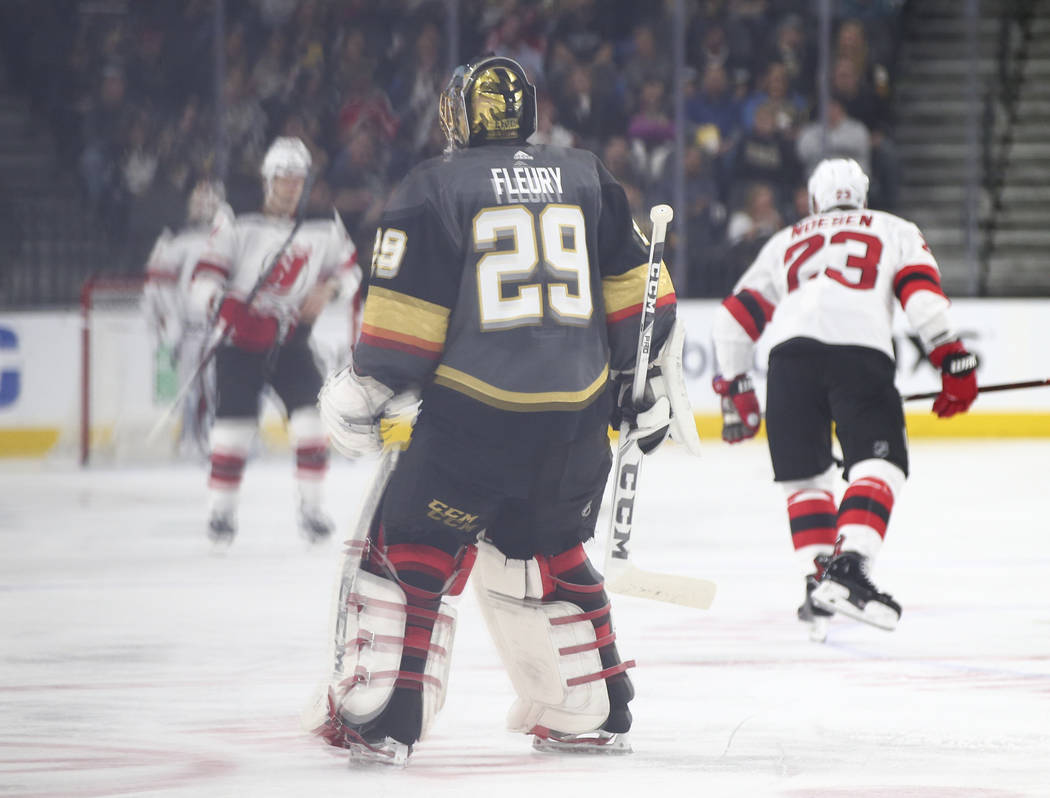 Hours before the Golden Knights returned to T-Mobile Arena on Wednesday night and for a few stretches performed more like an expansion team than one running away with the Pacific Division, a certain backup goalie spent time on ice at the team's practice facility in Summerlin.
Malcolm Subban continues to heal from a hand injury suffered at a morning skate in San Jose on Feb. 8.
He took shots Wednesday, which means he's closer to returning than not.
Which is good news for Marc-Andre Fleury, because perhaps then Vegas won't be as hesitant to give its starter a night off.
Which it should have done against New Jersey.
They chanted his name before the national anthem — Fleury! Fleury! Fleury! — and again early in the first period, but things eventually went from bad to worse to him being replaced.
Fleury skated off with 17:29 remaining in the second period, his team down 4-0 in a game it would lose to the Devils 8-3 before a season-high announced gathering of 18,420, his pride no doubt hurt more than anything.
"It's not a lot of fun being scored on that much," Fleury said. "I was a little slow to react sometimes, but no excuses. Being sick, being tired, it's your job. You have to find a way to be good every night. It has happened before and it will happen again. I have to be better making saves and keeping our team in the game."
He sat there afterward and answered each question, as stand-up a leader as I've ever covered. Few players with Fleury's career and number of championships (three) have come close to the class he displays.
If he owns a star's ego, it must be hidden among all those pads.
His emotions were a far cry from Monday night in Philadelphia, when Fleury won his 400th career game, becoming just the 13th goalie in history to reach the milestone.
Belonging to such an exclusive group invariably brought over the last few days more talk of how Hall of Fame worthy his candidacy will ultimately appear, understanding that 400 should rise exponentially over the next several years if Fleury remains healthy and hungry to compete.
The latter won't be a problem, and if those eventually voting have any debate about what the numbers happen to be, any edge given to the sort of professional Fleury has been should make the decision beyond easy.
"No question, he will be deserving of (the Hall of Fame)," said Knights goalie coach Dave Prior. "I don't think they should spend much time (discussing) it."
Someone should discuss getting Fleury time off before these games get really important.
He said after Monday's historic victory it would be good to get home and have some rest and sleep in his own bed.
It would have been smart of Vegas to rest him from his own goal.
Fleury was replaced by Maxime Lagace who, despite having played in 15 games this season when not down in the AHL with Chicago, obviously isn't thought ready enough by the Knights to spell Fleury in a manner Subban would if healthy.
The Knights have been consistent with sitting Fleury on the second game of back-to-backs, but including the recent five-game road trip, the schedule doesn't allow for consecutive days off until April 1-2.
Fleury wants to play every second of every minute of every period, part of that competitive spirit many believe has allowed his career to reach such an elevated level that will one day lead to him receiving a Hall of Fame plaque at 30 Yonge Street in Toronto.
But his workload after returning from an eight-week absence because of a concussion has been extensive for today's NHL, and the emotion of chasing and reaching 400 showed Wednesday.
He has started 18 of the past 19 games and 34-of-41 since coming back, and has for the most part been fantastic, ranking second in the league in goals against (2.15) and save percentage (.930).
Some of the stops he made Monday were stupid good.
But he wasn't sharp at all Wednesday, and neither was anyone else for the home side.
"The entire team struggled," Knights coach Gerard Gallant said. "The team lost this game."
With a starting goalie that appeared spent from the start.
Fleury could have used a night off.
He would just never say it.
Too stand-up.
Too much of a pro.
Contact columnist Ed Graney at egraney@reviewjournal.com or 702-383-4618. He can be heard on "The Press Box," ESPN Radio 100.9 FM and 1100 AM, from 11 a.m. to 2 p.m. Monday through Friday. Follow @edgraney on Twitter.