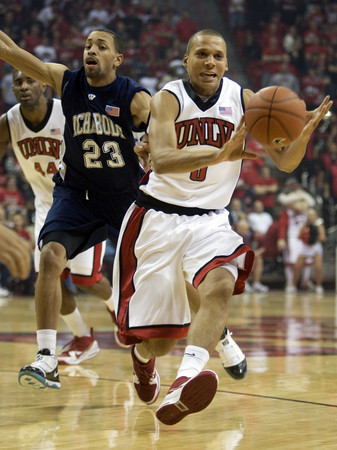 Jerry Tarkanian remembers Utah, how that NCAA Tournament regional semifinal in 1977 came down to a block-charge call that could have gone either way.
He remembers Southern Methodist, how Larry Johnson almost played college basketball for the Mustangs.
He remembers Ball State, how if a last-second shot by the Cardinals in a Sweet 16 game had fallen 20 years ago, UNLV might not have an anniversary of its national championship to celebrate.
"You have to be lucky," Tarkanian said. "If Utah gets that call, we probably lose and everyone starts saying Tark can't win the big one. If Ball State doesn't turn the ball over and miss some shots at the end, we probably lose and not win the championship. You have to get bounces. Being good is a must. But you need luck. Luck to get great players. Luck to win big games.
"You know, we went to the Final Four in '77 and thought, 'Hey, we're going to go every year.' We didn't go again for 10 years and then got on a roll and went three times in five years. We had things going … . Whoever coaches here is going to have a tough time doing what we did. We'd have a tough time doing what we did coaching now."
Chasing legends can be tougher than catching Usain Bolt over 100 yards while wearing sandals. History can be that daunting, even if it covers just specific pockets of a program that first bounced a ball 52 years ago.
UNLV on Tuesday night played Division II Washburn in an exhibition game at the Thomas & Mack Center, which was followed by an alumni game, which concluded a few days of remembering the school's finest basketball moment two decades ago.
What should the annual expectations be for a program that owns the fourth-highest winning percentage in Division I history, that at .712 ranks ahead of UCLA and Duke?
How realistic is it to assume in the current climate of major college basketball that UNLV today can and should flirt with similar achievements earned by one of the best college teams ever assembled?
Consider: Since the Rebels won it all by humiliating Duke in 1990, not one team from a non-Bowl Championship Series league has been crowned national champion. Just five have made the Final Four, and it's tough to count Massachusetts and Memphis, which were coached by John Calipari and probably run more like pro teams than the Knicks of today.
Consider: Many who purchase UNLV tickets and bleed scarlet and gray could care less.
"Fans are fans," Kruger said. "Some are extreme and think you should be in the Final Four every year. Others understand how tough it is. (Comparisons to Tarkanian) don't bother me. I don't talk a lot about what we do, but I don't lack for confidence, either.
"We can't worry about comparisons. All we can do is control today, and that's what we worry about. When you think about the really outstanding teams that didn't even get to a Final Four since 1990, that's a pretty good indication of how tough it is."
They turned down the lights at halftime Tuesday. They showed clips of that beatdown UNLV gave Duke, and Bobby Hurley still looked scared out of his shorts. Members of the 1990 team were then introduced. They walked a red carpet and gathered around Tarkanian, who sat in a chair complete with white towel.
The scoreboard read UNLV 28, Washburn 24.
Three minutes into the second half, it was 28-28.
Two minutes later, Washburn led 35-30.
Final: UNLV 62, the mighty Ichabods 52.
Times are different, and exhibition results are meaningless. Ask Syracuse.
But more than any coach since Tarkanian departed, Kruger has returned the Rebels to a point where the national spotlight has found reasons to shine on them at some point most seasons. It's not enough for most. Maybe it shouldn't be given the program's history. The majority will probably never be completely satisfied.
UNLV should annually contend for conference titles and NCAA berths in basketball. The Rebels should always be good enough that they play in some tournament beyond Selection Sunday.
And if the stars align and basketball gods offer favorable whistles throughout March some year and the perfect mix of skill is developed, maybe the Rebels again know a Final Four feeling.
Hey, great expectations are good. They beat the heck out of the alternative. But never discount reality.
"Lon is doing a great job," Tarkanian said. "He has good players, and they expect to win. It's not easy. If we started all over again today, it would be really tough to get back there."
Which makes a 20-year memory even more special.
Las Vegas Review-Journal sports columnist Ed Graney can be reached at egraney@reviewjournal.com or 702-383-4618.