For now, Raiders holdout star Khalil Mack is still just late
Updated August 21, 2018 - 5:01 pm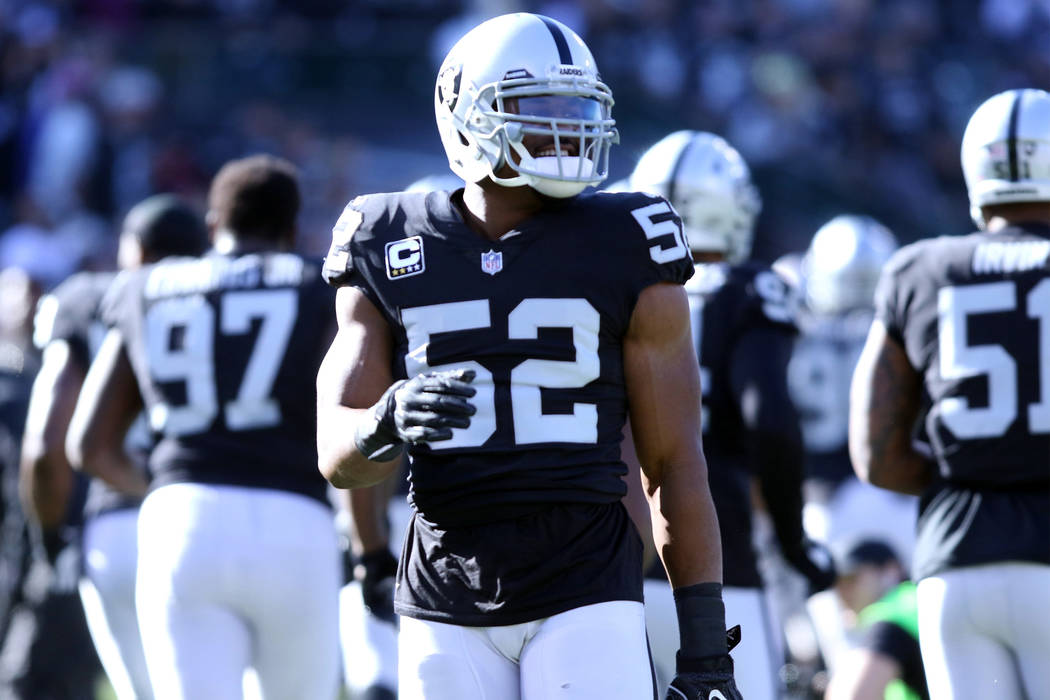 It hasn't been an ideal progression, given NFL players of the elite level Khalil Mack possesses are often compensated with vast contract extensions before their final year of a rookie deal arrives.
It's usually done by now.
But while some continue to update daily odds on which teams would most likely trade for the Raiders defensive star — a lot of folks sure think the Packers could cement their Super Bowl chances with such a move — the fact remains Mack's holdout is more standard than anything when such an impasse exists.
At this point, he's still just late, is all.
I have failed miserably connecting those dots many have suggested in terms of the Raiders ever seriously looking to trade Mack, because in what universe would it make sense for a team that is set to relocate to a new town and into a palatial stadium in 2020, and having just guaranteed its head coach $100 million to leave a television booth, move its best player in his prime?
A player who happens to compete on the side of the ball in which you still need the most help, who last year recorded his third straight double-digit sack season, whose dominance is as obvious as his team's logo is to fans.
They're not trading him.
At least not now.
I suppose there are teams that would be willing to overpay for Mack at a ridiculous rate, or that Mack could simply hold out all the way until Week 10 before reporting to get credit for an accrued season, or that the Raiders might then franchise tag him in 2019 and flip him for a few first-round picks.
But for now, he's late.
The Raiders know they eventually have to pay Mack handsomely — his numbers suggest market value for the league's best will assuredly climb above $20 million annually — and likely make him the richest defensive player in NFL history.
Whether or not reports are true that putting that much money in escrow now would prove difficult for a team that paid others when not coming to terms with their star earlier, it's the only long-term option for Mack to be the centerpiece of new coordinator Paul Guenther's system.
Which means the Raiders need to find a way, because as our intrepid beat writer Michael Gehlken says, guys in this league who can play, well, can play, and Mack is 27 and phenomenal.
But the process is different for every player and team, specifically what sort of impact missing a player of Mack's caliber for such an extended time might have. It won't bother him much at all. Mack will be in terrific shape when reporting and his main objective — hit the guy standing behind the other team's center as hard and as often as possible — never changes.
Teammates missing out
But how has his absence affected others?
It has been good in the way of reps, meaning younger players are seeing more in practice, meaning those like third-round pick Arden Key and second-year pro Fadol Brown (when healthy) gain more experience by taking more snaps.
It has been bad in the way of reps, also, meaning those across the defensive front have been unable to watch and learn from Mack, meaning a rookie like projected starting left offensive tackle Kolton Miller hasn't benefited from being tested and, yes, consistently beat during drills.
Guys are being robbed of the important reality of being made to look silly.
How long does this last?
It's one thing to miss training camp and have the threat of fines totaling more than $800,000 for each preseason game skipped as possible discipline, but be assured such financial losses would be waived if Mack reports.
It's another thing when the season kicks off Sept. 10.
There is no saving game checks for those still holding out. They're gone.
That's when you really learn how sturdy or weak a player's resolve is.
No one really knows if Mack and the Raiders are waiting to see what deal the Rams strike with defensive end Aaron Donald so as to assess the market's top tier, or if there is truly a cash flow problem with the Raiders, or if Gruden absolutely grasps how important this particular piece is to the puzzle.
But you also don't go from wanting to make a guy the richest defensive player in history to trading him in the same breath.
So, for now, Khalil Mack is just late.
More Raiders: Follow all of our Raiders coverage online at reviewjournal.com/Raiders and @NFLinVegas on Twitter.
Contact columnist Ed Graney at egraney@reviewjournal.com or 702-383-4618. He can be heard on "The Press Box," ESPN Radio 100.9 FM and 1100 AM, from 11 a.m. to 2 p.m. Monday through Friday. Follow @edgraney on Twitter.