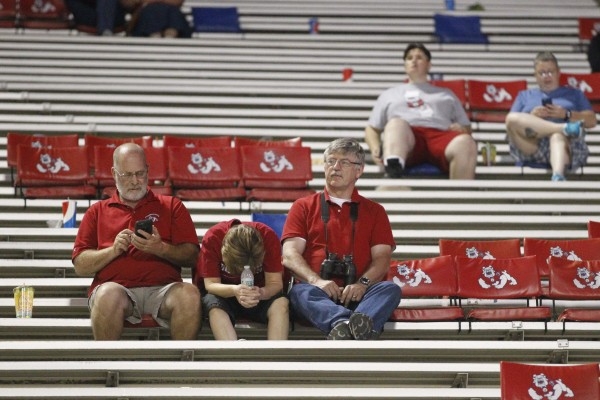 The poster is from 2001 and hangs in the office of Vernon Fox, a reminder of another time for Fresno State football, another era.
You can see the green letter V with a red stripe though it placed prominently on the back of helmets. It defines the school's pride in representing the San Joaquin Valley, and the color scheme was selected to honor the importance of the agriculture industry to the region.
"They're Bulldog strong up there," Fox said. "Above all, we don't want to lose that legacy. We don't want to lose that edge. We want things to get back on track."
Two years ago, the Bulldogs were 11-2 and the talk of the Mountain West, a conference champion that played Southern California in the Las Vegas Bowl and was seemingly preparing for a long and successful run of annually challenging the likes of Boise State for league supremacy under a new coach who produced 20 wins over his first few seasons.
Friday night, the Bulldogs are 6-point home underdogs to UNLV.
And you thought the California's multi-year drought was the region's biggest disaster.
The annual crop reports continue to trend downward throughout Fresno County, but nothing compares to the sudden and massive fall that has been the beloved local football team this season, one former players like Fox hope is more short-term illness than long-term disease.
There were signs of trouble last year even as the Bulldogs were winning the West Division of the Mountain West, hints that finishing the season 6-8 overall and a 30-6 loser to Rice in the Hawaii Bowl just might be the sort of negative clues Fresno State didn't want to admit existed.
Put it this way: UNLV was an awful 2-11 last season and its two wins came against an even more pitiful Northern Colorado side and … Fresno State.
But nothing could have prepared those who love and support the Bulldogs most for what has occurred through six games this season, a 1-5 record and having been outscored 37-18 on average.
In four of its losses, Fresno State has surrendered 71, 45, 49 and 56 points.
The lone victory is against Abilene Christian, enrollment 4,400.
"The fan base isn't very happy," said Robert Kuwada, who covers football for the Fresno Bee. "You can understand it to a degree. But the program also hadn't won a conference title since 1999 when it did so in 2013. Many just expected them to sustain it for years and years. Outside of Boise State, who has been able to do that?"
Fox was a star safety for the Bulldogs who then played eight seasons in the NFL and now is head coach at Faith Lutheran. He is a Las Vegas native who attended Cimarron Memorial but chose to become a member of Pat Hill's first recruiting class at Fresno State in 1997.
Hill, who instituted the green V on the back of helmets, would coach the Bulldogs to 112 victories and 11 bowl games before being fired following the 2011 season. Hill was replaced by an Air Force graduate in Tim DeRuyter, whose reputation was one for turning around college defenses.
Nearly four years later, the Bulldogs can't stop anyone.
"I've been around the game at its highest levels and understand it's a business," Fox said. "Coach Hill will always be a legend up there. There was a sense of disappointment when he (was fired), but it's part of the business. You still have to embrace and support your program."
How things went so wrong so fast: Derek Carr left.
It might not be as simple to suggest all issues point directly to the quarterback who led them to that 2013 championship departing for the NFL, but the Bulldogs have had a mess of a time discovering a replacement for the player who now leads the Oakland Raiders.
Fresno State will start redshirt freshman Kilton Anderson against UNLV, the fourth different quarterback to open a game for the Bulldogs this season. No other team from the Football Bowl Subdivision level has started more than three this year and the Bulldogs before now had never started more than two in a season dating to 1979.
In fact, Fresno State has now started five different quarterbacks in its last seven games, including the Hawaii Bowl blowout defeat to mighty Rice.
But the Bulldogs are also young in all sorts of spots, having seen 29 players experience their first major college football action this season. Included among that group are four true freshmen and 13 redshirt freshmen.
"Our guys come out every single week with a resolve to get better," said DeRuyter, who will make $1.4 million this year and is signed through 2018. "We're trying to find ways to give our guys an advantage on game night. The fact we're not having success is killing all of us. We're looking at all possibilities on how to get this thing fixed. We have to keep fighting.
"Two years ago, we had a fifth-year senior starting at quarterback and three NFL wide receivers. There are cycles when you have really good players and then young players. I understand the frustration of our fans. We are all frustrated. We'll get there. At some point, our guys are going to get it and take off. Hopefully, it will be (Friday night). We will have a great effort."
The pride in representing the San Joaquin Valley remains visible.
The talent, not so much.
Ed Graney can be reached at egraney@reviewjournal.com or 702-383-4618. He can be a heard on "Seat and Ed" on Fox Sports 1340 from 2 p.m. to 4 p.m. Monday through Friday. On Twitter: @edgraney
Check our GameDay page for all the news leading up to the UNLV-SJSU game.