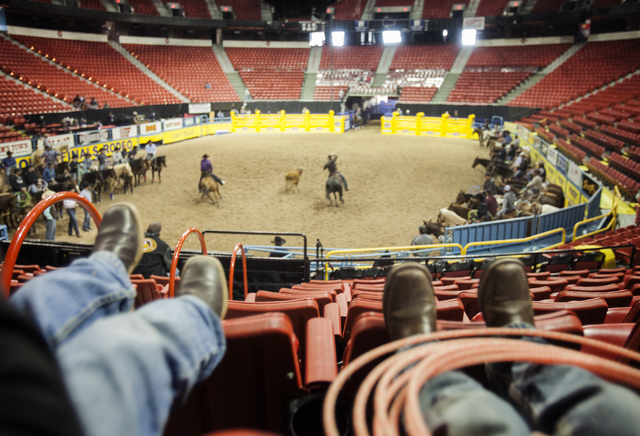 Paul Brown was the first to do it, the original, the late professional football coach who pioneered the use of videotape to scout opponents.
That was five decades ago.
Just a guess: When he sat down to evaluate an upcoming game, Brown never envisioned a time when others listed the strengths and weaknesses of a steer.
And we're not talking Ndamukong Suh.
I suppose it's like anything. If a football coach can see on film the tendencies of Wes Welker, of how he comes off the line of scrimmage and out of his breaks, a cowboy can appraise how a certain breed of cattle might bolt from its chute.
Team ropers at the National Finals Rodeo embrace the technological side of sport as much as anyone, relying on wives and girlfriends to use iPads and video cameras during practice runs while taping how a cowboy's horse might begin a run and how the steer its chasing reacts.
"We can critique ourselves, our horse, which steers might hesitate when the gates open," team roper Justin Davis said. "We look at any piece of information that allows us to minimize mistakes and have the cleanest, most dominating run we can have so that we make a good living.
"(Ropers) have been using video for more than 10-12 years. You can go back and look at every mistake that was made during a run."
He can't go back and discuss those mistakes with the horse, although I figure talking to the animal would be a more pleasurable experience than anything Tom Brady endures in a Monday morning film session with Bill Belichick.
And far more entertaining.
Those significant others holding cameras filmed 60 steer earlier this week at the Thomas & Mack Center, meaning all the heads of cattle that will be chosen during the NFR for a header and heeler to take down in as few seconds as possible. Anything under five seconds should cash nightly.
Riley Minor and his partner (older brother Brady) did so during Opening Night on Thursday, winning the team roping competition in 4.6 seconds and securing the $18,629.81 first prize. The tw0 had roped the same steer in practice on Tuesday and then watched film of that run before doing it for real.
"It's probably more important to break down video in a sport like football, but for us, it's nice to know what kind of steer you're dealing with," Riley said. "They will run these same steers in the fourth round, so you can go back and see how they performed (Thursday). I thought we had a pretty (average) steer on film and it worked out that way. He was about medium."
Translation: He was more T.Y. Hilton than Calvin Johnson.
It's just as important for the cowboy to know his horse, animals trained for years before competing at an NFR level, taught not to break early in a discipline that separates winners and losers by 10ths of a second.
Can you imagine the scouting reports after watching film?
Midnight Blue had a bad day. Was late breaking barrier. Too much pause in his giddyup. Appears tired. Might be the Thomas & Mack turf, given how slow UNLV basketball players have reacted defensively to screens this season. Check quality of hay at breakfast. More brushing needed … Not impressed with steer No. 43. Goes by the name Diesel and moves like a Volkswagen Golf. Little-to-no change of direction. Junior-college talent. Should rope in under 4.7 or search for another profession.
"You can study a steer's patterns over time and really get familiar with it," said Davis, who along with partner Clay O'Brien Cooper finished second on Opening Night and earned more than $14,700. "The more you know what it might do, the better chance you have at a good run. We draw numbers for steers 90 minutes before a performance, which gives us time to go back, look at the film and see what we are dealing with for a particular night.
"The idea is to get as close to a perfect run as possible. Technology is amazing, even in our sport. We definitely have it easier than guys back in the day who couldn't film everything, guys who were there for the beginning of our sport. Film allows us to see how fast a steer runs, how best to turn them, what we need to do better to go faster.
"That's what I was doing when you called … watching film."
I'm certain this isn't what Paul Brown had in mind 50 years ago.
I'm also convinced breaking down film with Midnight Blue is a heck of lot more fun than with Bill Belichick.
Pass the popcorn, big fella.
And stop drooling on the furniture.
Las Vegas Review-Journal sports columnist Ed Graney can be reached at egraney@reviewjournal.com or 702-383-4618. He can be heard from 11 a.m. to 2 p.m. Monday through Friday on "Gridlock," ESPN 1100 and 98.9 FM. Follow him on Twitter: @edgraney.