George McPhee constructed Stanley Cup Final teams
Updated May 27, 2018 - 9:12 pm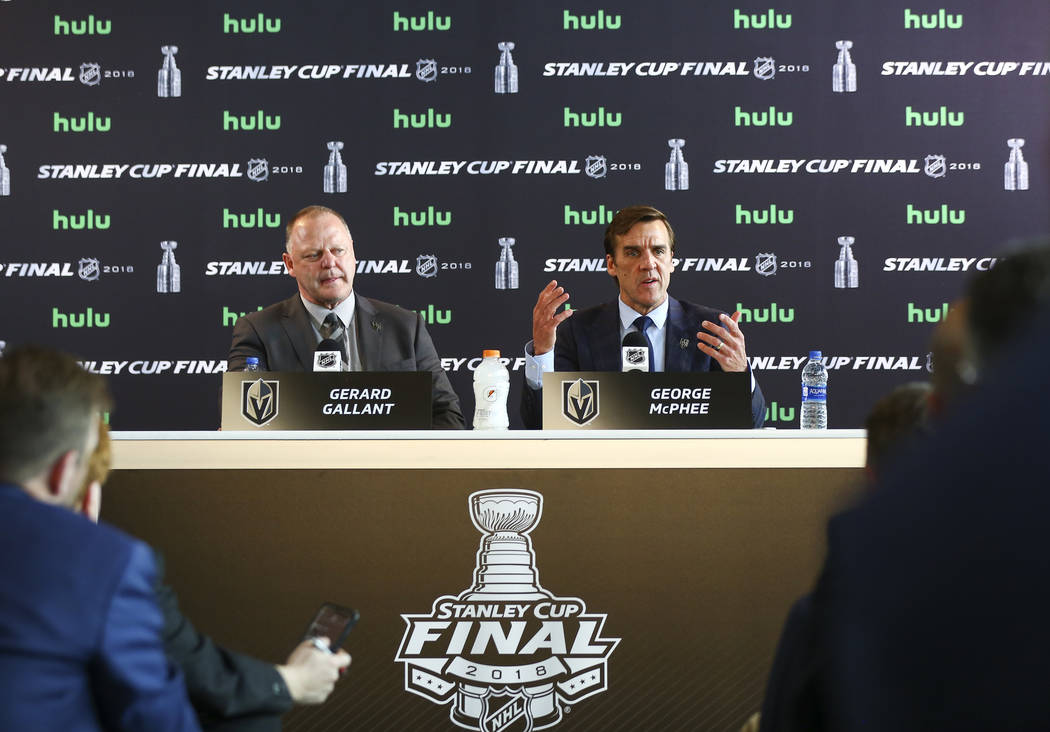 I don't know how many rocks there are in Ann Arbor, Michigan — although I'm guessing that loony Jim Harbaugh has challenged some 7-year-old to a contest skipping them across a lake — but it's where George McPhee says he was kicking a handful of them two years ago.
He wanted to work but couldn't find a job.
"It's funny," McPhee said, "how life goes."
Rare is the time now when you can reach a championship series of a major professional sport and discover something history hasn't delivered, and yet this Stanley Cup Final between the Golden Knights and Capitals might have done so.
Meaning, it's McPhee who built both teams.
You will see his fingerprints all over the T-Mobile Arena ice when Game 1 of a best-of-seven commences Monday evening, the general manager architect of an expansion Vegas side and the man who spent 17 years with Washington in the same capacity.
Jerry West built the Lakers, Pat Riley coached them and then he built the Heat. John Schuerholz built a World Series champion in 1985 with the Royals and 1995 with the Braves.
Bryan Murray built the Florida Panthers side that made a Stanley Cup Final, built the Anaheim side that did the same, and then coached the Ottawa team that lost to those Ducks in the 2007 final.
See what we mean?
For one person to have had the hands-on influence of McPhee with two teams in the same final rivals Gerard Gallant tipping his hand on pregame line changes.
It's sort of unprecedented.
Who are we kidding?
It never happens.
"I'm certainly proud of the Washington team and the players," McPhee said. "We made good selections. And they turned out to be real good players. I can certainly take pride in that.
"When you're working with them, they're sometimes like your own kids. You're on call for them all the time. You're trying to help them. You're trying to steer them in the right direction, and then you get fired, and you're suddenly persona non grata because nobody wants to be too close to you in the organization.
"I understand that things change quickly. And that's the business. But, certainly, really happy for them and really proud of this team we have in Vegas."
Building things differently
He constructed things with the Capitals primarily through the draft and developing young players into veterans. He did so in Vegas with current pros unwanted by their previous organizations.
Many of his front office hires with the Knights were those who worked under him in Washington.
Fingerprints.
Everywhere.
It has all occurred when the job of a general manager has been made incredibly difficult within a salary cap era, when your global scouting must prove beyond effective, when the process of evaluating players never really ends, certainly not once they reach the NHL.
Washington's roster has 12 players drafted by McPhee, including the likes of Alex Ovechkin and Braden Holtby and Nicklas Backstrom and Evgeny Kuznetsov and John Carlson. The Capitals made a Cup final under McPhee's stewardship in 1998 — his first as general manager there, just as with Vegas — but never advanced past the second round thereafter.
He was fired in 2014.
"(McPhee) drafted me (in 2008), is a good friend and I'm really happy he is having this success in Las Vegas," said Carlson, the Capitals starting defenseman. "But it's no shock to anyone who knows him that he was able to build two such great teams. It might be a surprise how fast things happened with Vegas, but in terms of building a culture and foundation for what comes next, he has done all that here, as you would expect with him."
It was Dec. 23 when the Capitals visited T-Mobile, McPhee's first game facing his old team with the Knights.
Kelly McCrimmon, his assistant general manager with Vegas, sent McPhee a text wishing him and the team luck.
He also wrote that his boss should be proud of both teams.
"(McPhee) is a really intelligent person," McCrimmon said. "He is a very good leader who empowers the people around him. We hired really, really good people here, and I think he would be the first to admit that of all the things we've done well, that's what we did best."
McPhee built both teams that will play for a Stanley Cup.
Seems as though he did a lot of things well.
Hey, it beats kicking rocks.
More Golden Knights: Follow Golden Knights coverage at reviewjournal.com/GoldenKnights and @HockeyinVegas on Twitter.
Contact columnist Ed Graney at egraney@reviewjournal.com or 702-383-4618. He can be heard on "The Press Box," ESPN Radio 100.9 FM and 1100 AM, from 11 a.m. to 2 p.m. Monday through Friday. Follow @edgraney on Twitter.