Gloves off: Ultimate Fighting has boxing on ropes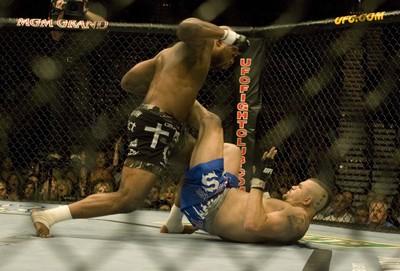 The national magazine covers were important. Critical even. The obsession from a fan base that borders on demented in its hunger for violence only increases the level of insanity. But if you want to know what has brought UFC from a dying niche sport six years ago into a worldwide mainstream of interest that today reaches beyond some fixed demographic, it's this:
Of five fights on the UFC 71 card at the MGM Grand Garden on Saturday night, four were won by underdogs.
This is what UFC has all over boxing (besides undercards that don't put you to sleep quicker than Tylenol PM), a truth that the sport's most critical figure, its dominant fighter and the face that has introduced mixed martial arts to millions, can be floored not two minutes into a main event and no one is all that shocked.
Chuck Liddell lost his light heavyweight belt to Quinton Jackson because he made a mistake, got caught by a right hand he never saw and didn't realize the fight was over until the referee saved his face from all sorts of potential damage. The last time Liddell looked this lost in a cage, he was trading lines with Johnny Drama on "Entourage."
It would have been like Oscar De La Hoya knocking out Floyd Mayweather Jr. on May 5 with a flurry of first punches, had a flurry of anything been thrown that night.
Not an hour before Jackson proclaimed himself the world's best UFC fighter (and who's crazy enough to argue with someone with a chain hanging around his neck large enough to secure a warehouse?), some guy named Houston Alexander made his UFC debut with a less-than-intimidating media bio that spoke of his community work and job as a radio broadcaster.
He was a plus-300 underdog in fighting Keith Jardine in a three-round bout that was thought to be such a huge mismatch even some individuals from the Nevada Athletic Commission felt it unworthy of pay-per-view stature.
Jardine is a rising UFC star. People spoke of him as a future opponent for Liddell. Alexander knocked him out 48 seconds into the first round, meaning some previously unknown guy made anyone willing to bet on him some money.
It's important that UFC fighters Saturday threw more punches getting their hands wrapped than either De La Hoya or Mayweather did during their over-hyped fight. It's exciting to think of the possibility for more blood spilling over three rounds than in an entire night at your average hospital emergency room.
But the not-yet-hooked fan undoubtedly will love this fact: In the last four UFC pay per views, the main event underdog has won.
It was Thursday afternoon when UFC president Dana White held those two magazines up like a proud new father of twins. His smile was bigger than you would see on any toothpaste commercial. Niche sports officially enter the mainstream about as often as De La Hoya runs low on cash, so the moment's significance was hardly lost on the man who has delivered UFC into the kind of national spotlight few would have forecast when he purchased the fading discipline.
"We've made it," White said. "We've gone over the tipping point."
This is what making the covers of Sports Illustrated and ESPN The Magazine in the same week does for a sport that has waited and hoped and demanded and now deserved such exposure. Right or wrong, the perception is now that UFC matters to a far larger audience than before. The reality is even more promising.
UFC 71 wasn't just another large step forward for a sport whose ceiling for advancement is still too high to clearly identify. It was the first event after the recent torrent of publicity it had yet to receive, critical to a sport that is still new in the sense its first pay-per-view card was in 1993.
Liddell was fighting and everything. The face of UFC. The ultimate star.
He was down and done not two minutes into the first round.
"The only problem we have is that we're growing too fast," White said. "I did envision this. I really did. Now, we finally have the acceptance from a mainstream audience.
"We're on the cover of Sports Illustrated. I don't care what you are — baseball, football, basketball, boxing, UFC — that's a big deal. We're climbing, man. We're climbing and climbing."
With no clear picture of who might win next. It's what UFC has all over boxing.
One of many things, really.
Ed Graney's column is published Wednesday, Thursday, Saturday and Sunday. He can be reached at 383-4618 or egraney@reviewjournal.com.
ED GRANEYMORE COLUMNS