GM McPhee puts trust in data as he builds Golden Knights
Updated June 26, 2018 - 8:14 pm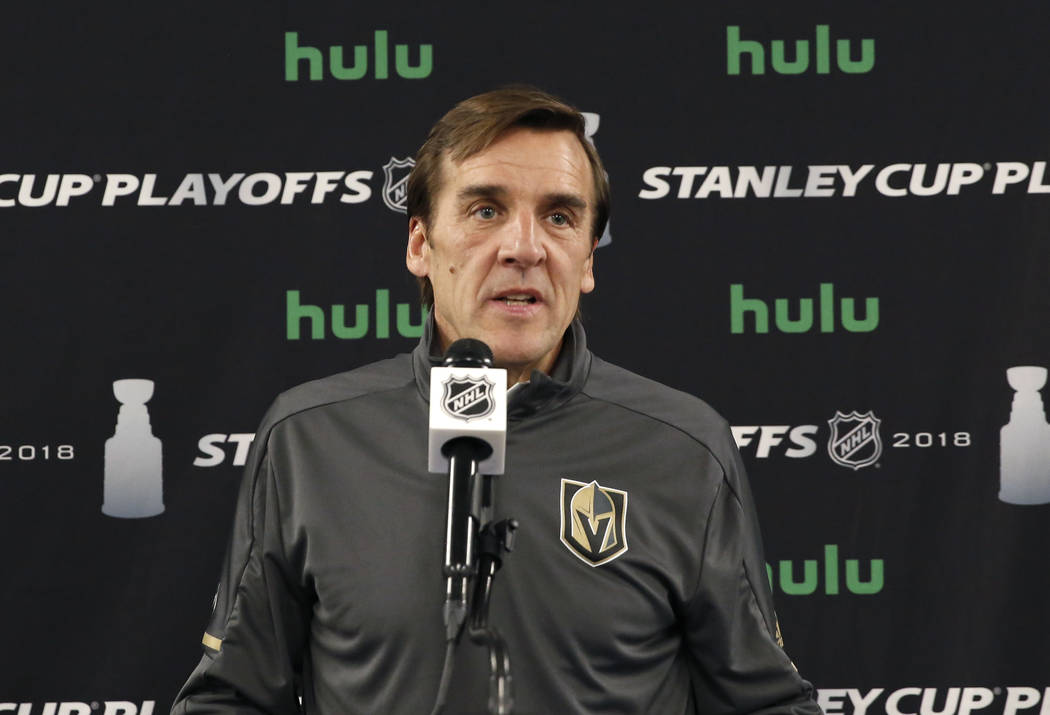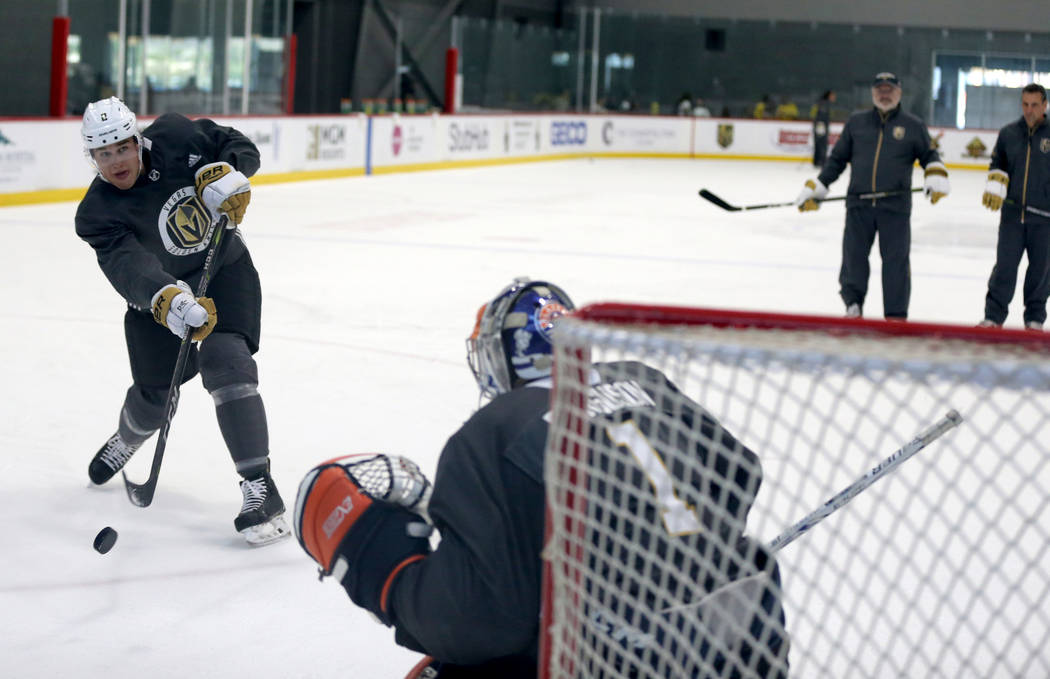 The roster has 42 names on it, hockey players from the Medicine Hat Tigers and Mississauga Steelheads and Kamloops Blazers and other sorts of teams with nicknames you might confuse with your kid's AYSO league.
They won't all one day wear a Golden Knights sweater while skating for the home team at T-Mobile Arena, those players on the white and grey teams who opened a weeklong development camp on Tuesday, but there are a handful who are sure to eventually play significant roles for the franchise.
It's those more well-known Vegas players that have most interested.
Offers have been made, both qualifying and to those Knights who own unrestricted free agent status, and now it's time for the business side of major league professional sports to exist for Vegas.
It's a tough reality for fans to accept.
Nothing ever remains exactly the same.
George McPhee watched camp at City National Arena on Tuesday, the league's General Manager of the Year darting his eyes from Cody Glass to Nick Suzuki to Nicolas Hague to Erik Brannstrom and other top prospects, all the while continuing to chart a course he feels is best when building on the implausible season Vegas just concluded.
Fact: No matter what occurs in free agency — which big names the Knights might sign, which ones they might miss out on, which if any UFAs return to the team — McPhee will steadfastly trust in analytic evaluations.
No matter what happens, a player is who the data suggests.
"Certainly, different environments can help a player and playing with different people can help a player, but you really have to pay attention to the story that the data is telling you, because it's reliable," McPhee said. "We've worked with it long enough now. It's harder than in some other sports, but it's pretty darn reliable.
"We're finally there (with analytics). I'd rather rely on the science now than just opinion. We understand that our instincts matter, our experience matters, but that data has become really reliable."
Neal, Karlsson cases
Take a few of the more prominent Vegas names whose immediate futures are uncertain:
James Neal is a UFA who, according to the Calgary Sun, was offered a five-year, $25 million deal by the Knights at the trade deadline in February. Neal's girlfriend denied such an offer on Twitter this week before the tweet was deleted, and yet you would think she has a better source than anyone in the matter.
But if true, I was far more surprised at length than compensation, given Neal will be 31 when next season arrives.
He's a proven 20-goal scorer, but you can find and develop scoring with much younger players.
I would understand a contract of three years for Neal.
But five?
Heck, Alex Tuch had 15 goals this season on an entry-level deal and had he finished a handful of missed chances, his total is 20-25.
This is where teams make mistakes: Say the Knights don't land those free agent forwards they are pursuing and Neal's agent circles back around for a better deal. You don't alter your perception of a player merely to fill a hole. You don't ignore the data and increase the contract's length, only to make a bad decision and be trying to move him in a few years.
You trust the analytics.
It's a different but no less interesting situation with center William Karlsson, a restricted free agent in line for a hefty pay raise after his 43-goal regular season. He will assuredly decline the team's qualifying offer and potentially meet Vegas in arbitration.
Does the data suggest Vegas try and lock up Karlsson for several years or instead offer a shorter bridge deal that would allow them to see if he's really the star of 2017-18 or instead the guy who scored a total of 15 goals the previous two seasons in Columbus?
How much long-term risk of losing him is there in a shorter contract?
"Every decision you make is hard, but we've dealt with the salary cap long enough that we have all learned lessons," McPhee said. "Analytics have become reliable enough that you have to pay attention to it. We trust it."
His eyes darting from one prospect to the next, the message was pretty clear.
No matter what happens over the next several weeks, the player is who the data says, and McPhee will negotiate as such.
Emotion has no place this time of year.
Contact columnist Ed Graney at egraney@reviewjournal.com or 702-383-4618. He can be heard on "The Press Box," ESPN Radio 100.9 FM and 1100 AM, from 11 a.m. to 2 p.m. Monday through Friday. Follow @edgraney on Twitter.