Golden Knights double down on belief in Nate Schmidt with extension
Updated October 25, 2018 - 5:44 pm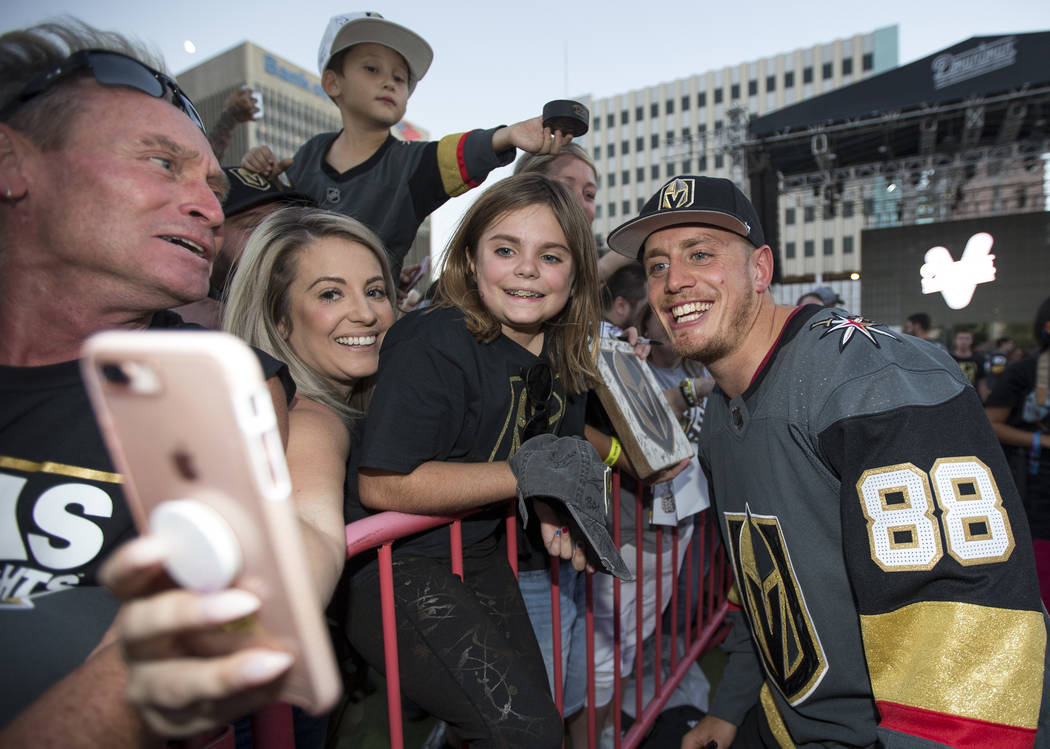 I'm guessing it's this: Within the Golden Knights organization exists someone fascinated by Roman timekeeping, when midnight sat halfway between sunset and sunrise or, in this instance, about 90 minutes after Vegas tends to make major roster announcements.
The Knights, curiously so, have made habit of such things.
Timing might be an illusion, but there was nothing wrongly perceived or interpreted when it came to Vegas on Wednesday night announcing it had signed suspended defenseman Nate Schmidt to a six-year contract extension worth $35.7 million.
On paper, both sides won big, far more than Vegas in losing to Vancouver 3-2 in a shootout just minutes before an ancient sundial atop T-Mobile Arena began rotating and the team broke news of the extension.
Schmidt is serving a 20-game ban without pay to begin the season for violating the league's performance-enhancing drug policy and can return to the ice Nov. 18 at Edmonton.
He appealed, had the case heard by an arbitrator — the only impartial person with all the evidence — and was denied.
It's not often — ever? — a franchise might announce such a lucrative deal for a player in the midst of a PED suspension, but it's obvious how much Knights general manager George McPhee supports Schmidt.
And, not to bury the lead, how important he is to the team's long-term success.
"Nate turned out to be a pretty good defenseman for us," said McPhee, who in 2013 signed Schmidt as an undrafted free agent in Washington. "There's still a lot of room for growth with Nate if he wants to continue to work at it, and I'm sure he does. The relationship (between Vegas and Schmidt) is obviously in a good place, otherwise this deal wouldn't have happened."
I'm not certain it occurred at this particular time as a way for McPhee, who testified on behalf of Schmidt at the appeal and since publicly backed the player, to not-so-subtlety tell the league office what he thought of the suspension.
You know, a little flip of the bird to the NHL in the form of a long contract extension to the guy popped for PEDs.
More likely, it happened for a good 'ol fashioned reasoning of professional sports: The player is a valuable asset, the team needs him to win consistently and nothing else matters.
Vegas isn't as good to start the season without Schmidt as it was with him while marching to a Stanley Cup Final, an expansion run that saw him lead the team in average ice time at 22:14 while offering five goals and 31 assists in 76 games.
So if you're the Knights, and you truly believe the PED case was a misunderstanding and Schmidt really isn't aware of how a banned substance made its way into his system, you get him now at a term that might not have been as favorable had he tested free agency following the season.
And even if you quietly have your doubts as an organization and believe something nefarious led to the positive test, you understand any further similar acts will be on Schmidt to answer.
Vegas is more than protected in this sense.
Sports in 2018
It's like the NFL team that might learn through its vetting of a potential draft pick about some sinful skeletons in the player's locker. If not totally appalling in nature and the prospect is sure to help the bottom line of winning, you take him.
You don't even blink.
That's pro sports in 2018.
If you're Schmidt and unsure how a free-agent market might have reacted with any potential offers given the suspension, if a label of damaged goods might have been attached to your resume, a deal such as the one Vegas dangled is sort of like waking up in October to one's every glorious Christmas wish being granted over your 27 years.
It also means that with such newfound wealth and the fact a second PED violation would bring a 60-game suspension without pay, Schmidt should seriously consider hiring a person whose sole and undivided attention is monitoring anything that passes into his mouth.
For now, both sides won big.
As for the next major Vegas roster announcement, well, we'll have to wait for Jupiter, son of Saturn, brother to Neptune, Pluto and Juno, god of sky and thunder, to alert everyone.
More Golden Knights: Follow online at reviewjournal.com/GoldenKnights and @HockeyinVegas on Twitter.
Contact columnist Ed Graney at egraney@reviewjournal.com or 702-383-4618. He can be heard on "The Press Box," ESPN Radio 100.9 FM and 1100 AM, from 7 a.m. to 10 a.m. Monday through Friday. Follow @edgraney on Twitter.