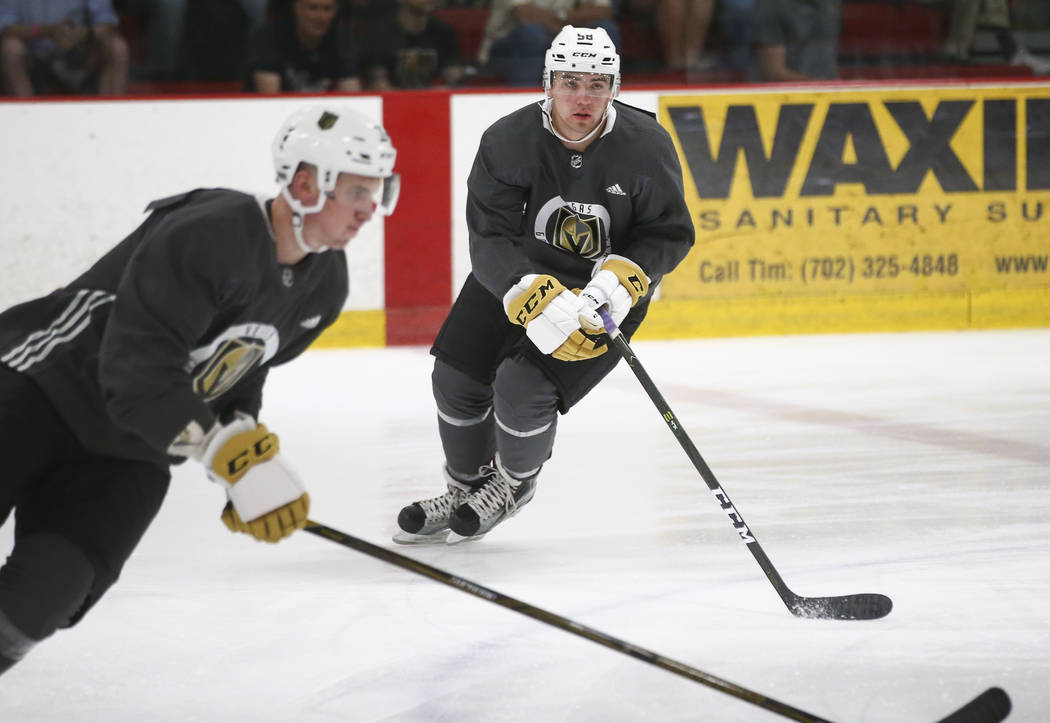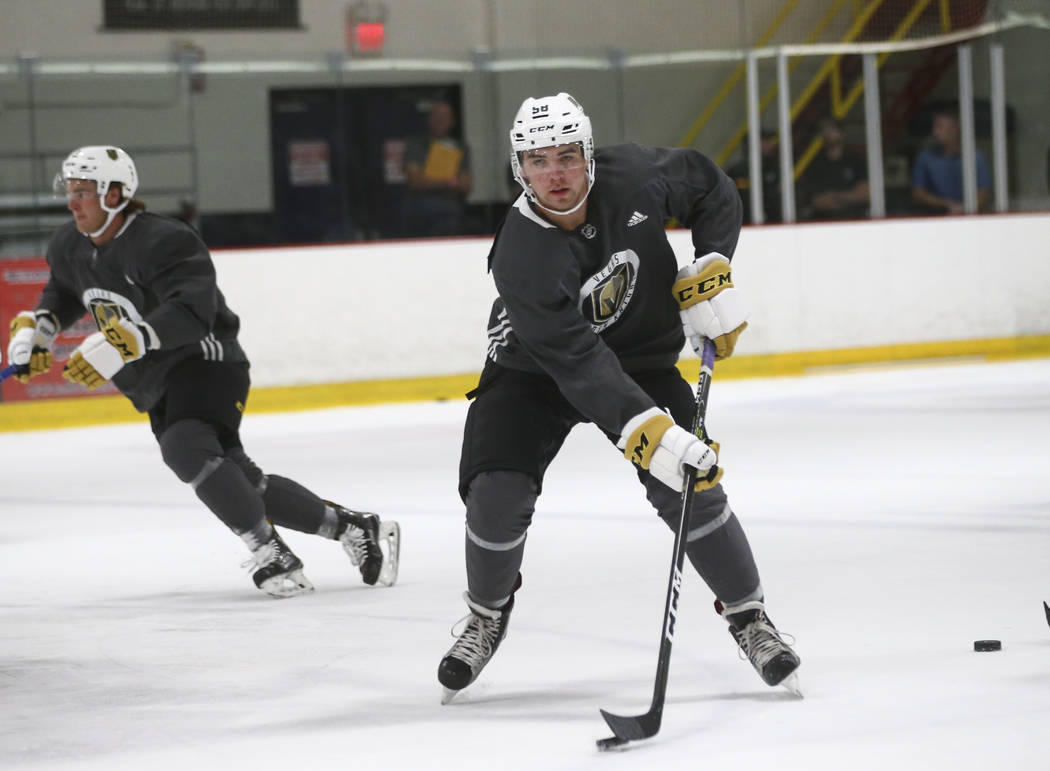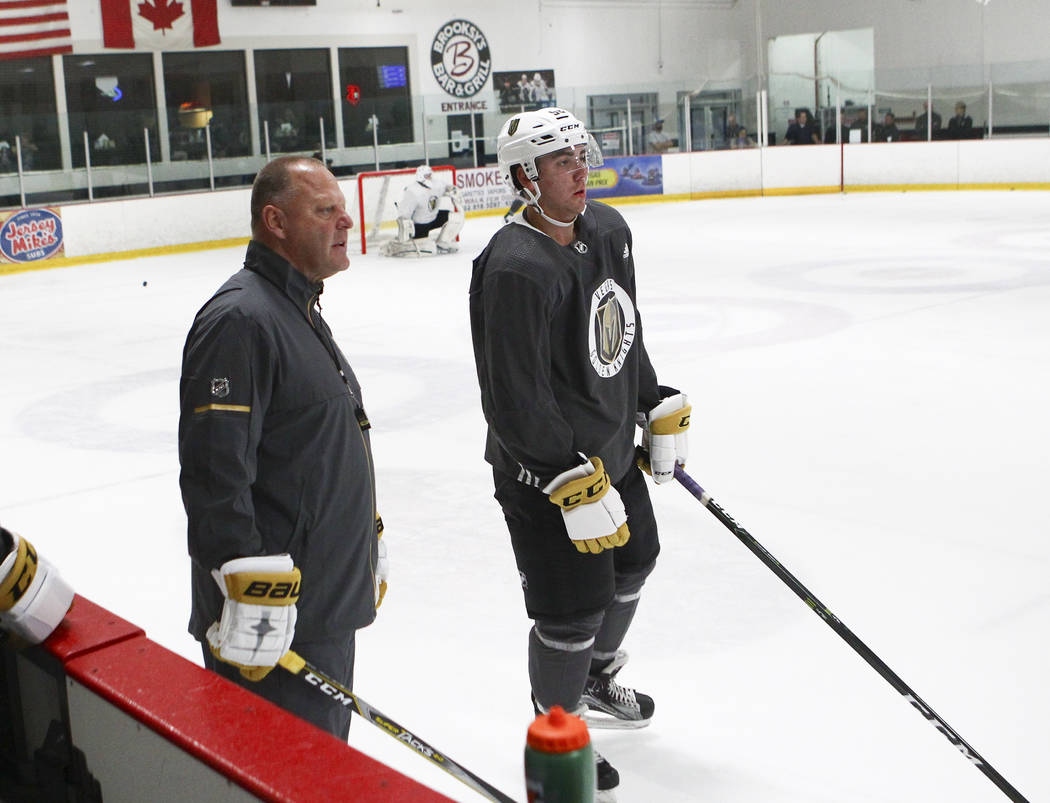 Jack Dugan dreams in stages, a sort of progressive bucket list in which he hopes his hockey career will follow at a swift but memorable pace.
One such ambition exists on a picturesque college campus founded in 1917, a Roman Catholic university tucked into the capital city of Rhode Island.
He waited until a scholarship offer came from Providence College, waited while 15 or so other schools made contact, waited to make a decision until the one team he wanted to play for most finally reached out.
Dugan is spending this week at the development camp of the Golden Knights, a fifth-round pick in the entry draft, a center from Rochester, New York, who knows, in a perfect world, how his journey to T-Mobile Arena would play out.
He wants to win a national championship at Providence like an elephant wants his next liter of water, a title Dugan became fixated on when watching college hockey as a kid.
"The (college game) is a more intimate experience than the pros," Dugan said. "It's not a realistic goal when you are young, but as you grow and get better, it keeps coming and coming until it is realistic. That's why I love the idea of playing college hockey, and I'm lucky the opportunity is there."
He is 19, listed at 6 feet 2 inches and 185 pounds, was state Player of the Year in New York at McQuaid Jesuit High and spent the last two years at Northwood School, one of the northeast's top college prep schools.
At Northwood, he had 56 goals and 146 points in 96 games, numbers that assuredly drew the interest of NHL scouts.
Providence, national champions in 2015, will wait to issue Dugan a black and white Friars sweater until 2018-19, as he will play next season for the Chicago Steel of the United States Hockey League, the best junior league nationally.
He hasn't yet met academic requirements for the NCAA Clearinghouse, and will do so by taking online classes while with the Steel. Then, he will continue chasing his NHL his dream on that picturesque college campus of fewer than 4,000 undergraduate students.
Then, who knows?
A plan for the pros
That perfect world would have him play a year in Chicago, a year in college and then officially begin his professional career with the Knights, but perfection and reality often struggle to connect when talking athletes and advancement up the pro ladder.
That's where a week such as this can prove significant for a player who is at least two years from skating for the Knights, a chance to have the eyes of coaches and front office types watching you compete against those of like experience.
"It's the first camp, so it's nice to see what I'm up against," Dugan said. "We're all here for the same organization, but at the end of the day, we are all here battling for a spot and trying to make a team. That's my biggest thing this week — knowing what I'm up against and what I have to do to beat guys out down the road.
"I got drafted for a reason and I'm trying to showcase that the best I can. By playing next season in Chicago and then at Providence, I'll be able to build my game up and show the Knights what I have as I mature. If they would want me to come after two years, that would be incredible."
He chose Providence most for its coaching staff, for Nate Leaman and his assistants and their belief that Dugan could absolutely play in the NHL one day, that they would like to be the ones to help check off that part of his bucket list.
Leaman has coached nearly 30 draft picks with the Friars, and will add Dugan to that collection a year from September.
Dugan talks of winning a national championship like few college athletes of any sport. If one comes during his time at Providence, all the better, but his attitude is one of purpose and drive and commitment and desire to make certain it does.
The kid who played more high school hockey than most of his skill level dreams of making T-Mobile Arena home one day, giving him a well-visualized journey on how his career will progress.
Which means for a young man who says he loves the heat of Las Vegas, there are still a few more harsh winters to endure before possibly knowing what it's like to live in a furnace rather than a freezer.
"I got into town (Monday)," Dugan said. "I was able to hang out at the (Red Rock Casino and Resort) pool for a while, so that was great."
Does he still like the heat?
"Yes. Love it."
And the pool?
"Oh, yeah."
I'm guessing by his wide smile, he wasn't thinking about water temperature.
Contact columnist Ed Graney at egraney@reviewjournal.com or 702-383-4618. He can be heard on ESPN Radio 100.9 FM and 1100 AM from 11 a.m. to 2 p.m. Monday through Friday. Follow @edgraney on Twitter.