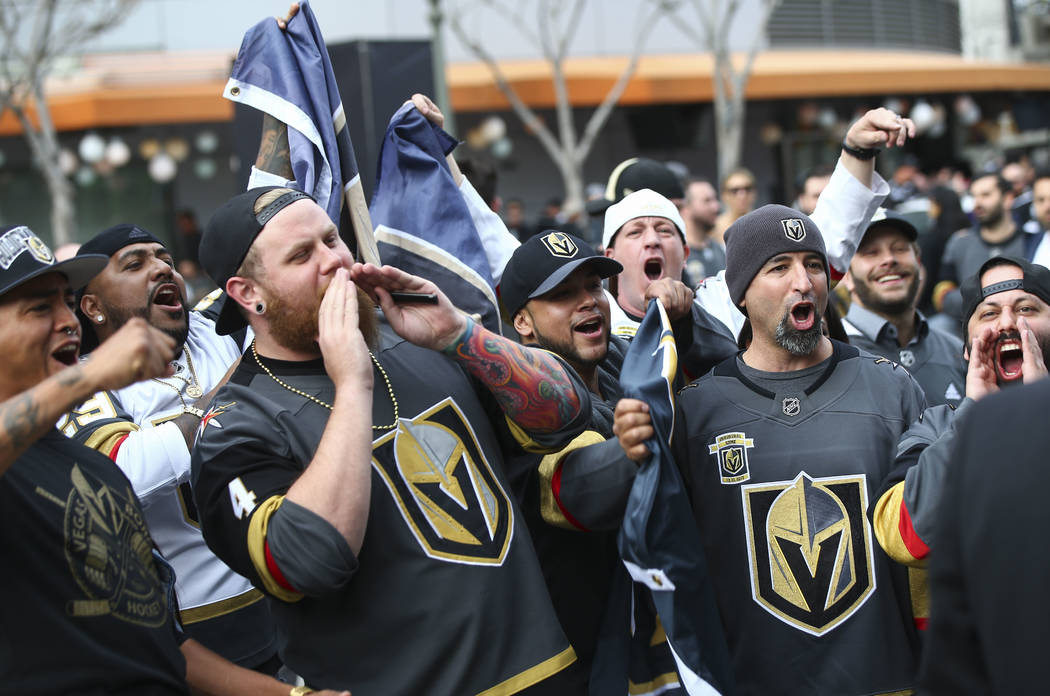 LOS ANGELES — A video screen high above the Staples Center ice welcomed fans with a familiar motto Sunday night, reminding them what happened in Las Vegas the last several days stayed in Las Vegas, that their beloved Kings were home and things would be different.
Not so much.
Not at all.
The amazing season that is continues for the Golden Knights, who after a 3-2 victory before an announced gathering of 18,484 now lead this best-of-seven Western Conference playoff series 3-0 with Game 4 here Tuesday.
A win then would propel Vegas into the next round against the winner of a San Jose-Anaheim series.
"When you're on the road, it becomes about the room and playing for the guy next to you," said Knights forward James Neal, whose first goal of these playoffs gave the Knights a 2-1 lead at 14:23 of the third period. "Sometimes, it's the best environment to play in if you can score early and just take the home crowd out of it … when it gets real quiet."
That didn't happen Sunday, when the Kings from the outset hit anyone wearing white.
It got chippy fast and the intensity never decreased all that much.
But eventually, the Knights gave those Vegas fans in attendance much to cheer and, until a late goal drew the Kings within one, turned Staples Center into a morgue of sorts.
What changed for many who made the four-hour trek from Las Vegas was how affordable these playoffs suddenly became to witness firsthand, as secondary market ticket prices fell far below what they were for Games 1 and 2 at T-Mobile Arena.
It makes sense.
The whole supply-and-demand theory was definitely going to inflate numbers for a first-year team in a town that has so fanatically adopted it. History tends to cost more.
A lower-level seat for game 5 on Thursday in Las Vegas can be found right now for $300 before fees. There were similar areas going for $180 here Sunday. An hour before the puck dropped at Staples, you could have walked in for $128.
"I paid $80 each for all three (upper level) tickets," said Mike Hortin, a Henderson-based chiropractor who brought his son and daughter. "We saved enough money to go to Knott's Berry Farm before the game. It was important to be here to support the Knights. The whole season has been a bonding experience for our family, for what the team has done for our city."
There were enough souls wearing Vegas sweaters Sunday and screaming "Knight!" at the appropriate time during the national anthem to believe a substantial number of such faithful were here.
Where's King Arthur?
One such group brought enough folks to fill two suites that sat 40 each at $135 per ticket, a collection of Knights fans who met through a Facebook page dedicated to the team.
Jason Naimi was part of the ensemble, a 44-year old Las Vegas-based attorney who was born and raised in Montreal and played hockey at La Salle.
"If we had all driven instead of flew here, it definitely would have been cheaper than what it costs to attend a game in Las Vegas," Naimi said. "I've been to numerous (NHL) arenas and nothing has come close to the atmosphere at (T-Mobile Arena). It is unequivocally the best. I've never seen anything like those games in my life. But we needed to be here also."
Naimi then mentioned the fellow who dresses as a Golden Knight and pulls a sword from a rock in pregame ceremonies at T-Mobile.
"He's our leader," Naimi said.
I'm not sure whether he meant in a Round Table sort of way, as if parties include some sort of chivalric order and everyone ends up jousting, but his message was clear: They love the Knights and all pageantry that comes with them.
It was like that for Las Vegas mail carriers Angel Thompson and Lora Shipman on Sunday, for their friends Rich and Tracy Griffin, for musician Jim Day, for buddies Robert Saputo and Giovani Balistreri, for a guy named Vegas Ralph and his name on a hat to prove it.
All made the trip.
All said it was more than a bargain.
This was Naimi before the game, before all the crazy sorts who might actually sit around a Round Table back in Las Vegas began partying the night away: "If the Knights win and go up 3-0 in the series, this is over. It's done."
It's not yet.
But, man, it's close.
At this point, even a few swings with Excalibur might not save the Kings.
After all, they've tried hitting Vegas with everything else and haven't made a dent.
More Golden Knights: Follow all of our Golden Knights coverage online at reviewjournal.com/GoldenKnights and @HockeyinVegas on Twitter.
Contact columnist Ed Graney at egraney@reviewjournal.com or 702-383-4618. He can be heard on "The Press Box," ESPN Radio 100.9 FM and 1100 AM, from 11 a.m. to 2 p.m. Monday through Friday. Follow @edgraney on Twitter.