Golden Knights' Gerard Gallant wants players who will work on, off ice
Updated April 13, 2017 - 11:04 pm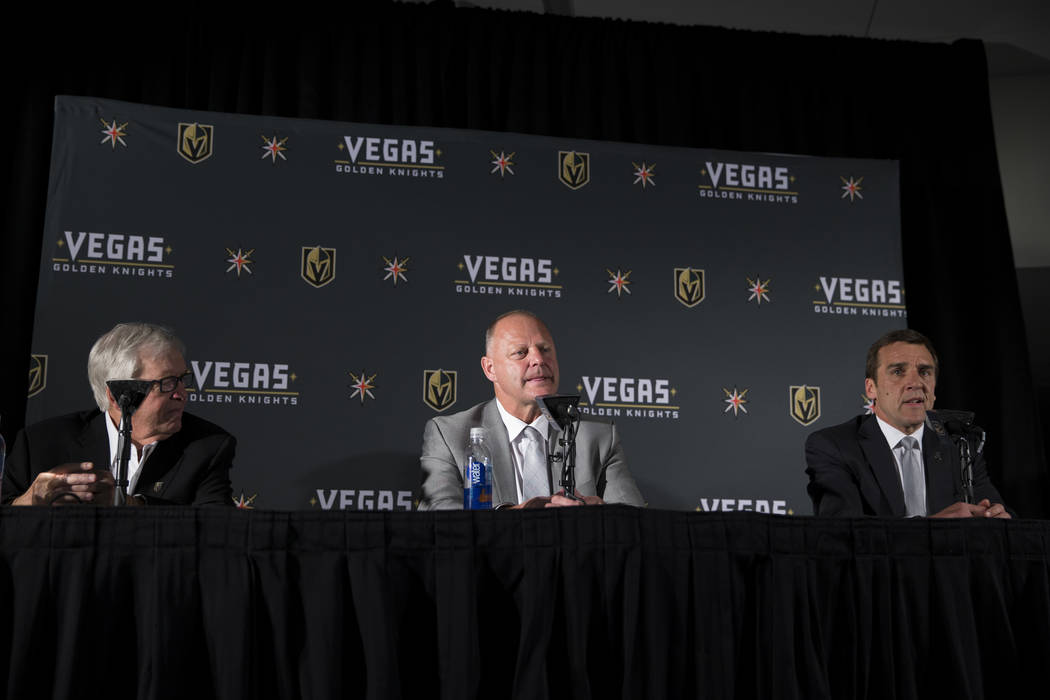 Summerside is a Canadian city in Prince County, Prince Edward Island, the second-largest town in the province. Its census rating counts just over 13,600 residents, one of those places where everyone knows everyone else.
When he was a boy, Gerard Gallant and his friends would spend most of their waking hours at a local hockey rink, and to earn extra ice time, were handed brooms and told to sweep the stands before being allowed to sweep pucks across a sheet.
"We knew when there was open ice, it was about first getting to work cleaning things up," Gallant said. "If you're going to be successful, you have to work hard. We'll come to the rink, we'll practice and we'll work hard. We don't spend all day at the rink, but an hour and a half day, we can all do that. It's not too much to ask."
If it's true the best coaches in sports are those who overcame limited athletic gifts to produce successful playing careers, the Golden Knights couldn't have found a better inaugural leader for the NHL expansion franchise.
Gallant was introduced Thursday as the team's coach, the next significant step for an organization being constructed by general manager George McPhee and under the approving eye of owner Bill Foley.
The resume McPhee built while running the Washington Capitals more than suggests he understands those nuances that best fit a coach to a particular team, and on the surface, which is all we have to evaluate one that has yet to draft a player, his selection of Gallant appears to have checked every necessary box for an expansion side.
Which is to say that in the beginning, the Knights probably will have to succeed more on will and determination than pure skill.
Which is to say exactly how Gallant became an 11-year NHL player who worked on Detroit's top line alongside the likes of Hall of Famer Steve Yzerman.
"(Gallant) turned himself into a player," McPhee said. "He didn't have a genetic gift, and he wasn't blessed with all kinds of talent. He scrapped and improved and became a good player. Those are the kinds of people I believe make good coaches, guys who have had to persevere and find ways to understand the game in ways the gifted player never had to learn.
"I expect he will do the same things as a coach. He has turned himself into a good coach and will continue to learn and continue to be good."
Hockey is different now. Has been for a while. In the days when Gallant was routinely averaging 200-plus penalty minutes a season, things escalated and you dropped your stick and gloves and handled your business right then. Fighting became more tactic than instinctive, and it hurt the game.
Now, in this skill-based age of player safety departments and videotape and the game being policed like never before, how you build a team is nothing like those earlier times.
Gallant also was good enough to score 93 points for the Red Wings in 1988-89, a total that would have ranked second in the NHL this season, and for this, he and McPhee agreed Thursday: They will absolutely take a guy who can get 93 over one who is always wanting to drop his gloves.
More than anything else, they want those who if handed a broom to sweep the stands, would do so enthusiastically.
"An honest hockey player is the guy who shows up," said Gallant, 53. "Everyone tries to play the same way two straight games. It doesn't happen, but the guy who tries to do it the most is that guy. I don't want my players trying to play like Gerard Gallant or Steve Yzerman. Just give us the best of what you do each night. You don't have to be Yzerman. Be who you are, and be at your best."
There are worse things for any new franchise than having those in charge with something to prove, those proverbial chips on a shoulder that, while indiscernible to most everyone else, motivates those supporting them.
Gallant's firing as coach of the Florida Panthers after an 11-10-1 start to this season, one year removed from a franchise record 47 wins and 103 points, brought all sorts of negative reaction from fans and media and personnel across the NHL. It was ridiculed as a shortsighted overreaction by management.
For his part, McPhee was fired by the Capitals in 2014 after 17 seasons, but the Washington roster that could win this year's Stanley Cup has his fingerprints all over it.
Two men, perhaps supporting two indiscernible chips.
"Gerard was a well-respected player who played hard and played honest and had that street fighter in him that you want coaches to have," McPhee said. "They never give up, they keep fighting. We'd like to build a team like that. It will take some time, but we will get there."
Coached by a man who is not afraid to sweep the rink.
Contact columnist Ed Graney at egraney@reviewjournal.com or 702-383-4618. He can be heard on "Seat and Ed" on Fox Sports 98.9 FM and 1340 AM from 2 to 4 p.m. Monday through Friday. Follow @edgraney on Twitter.