Golden Knights get face of franchise in Marc-Andre Fleury
Updated June 21, 2017 - 10:16 pm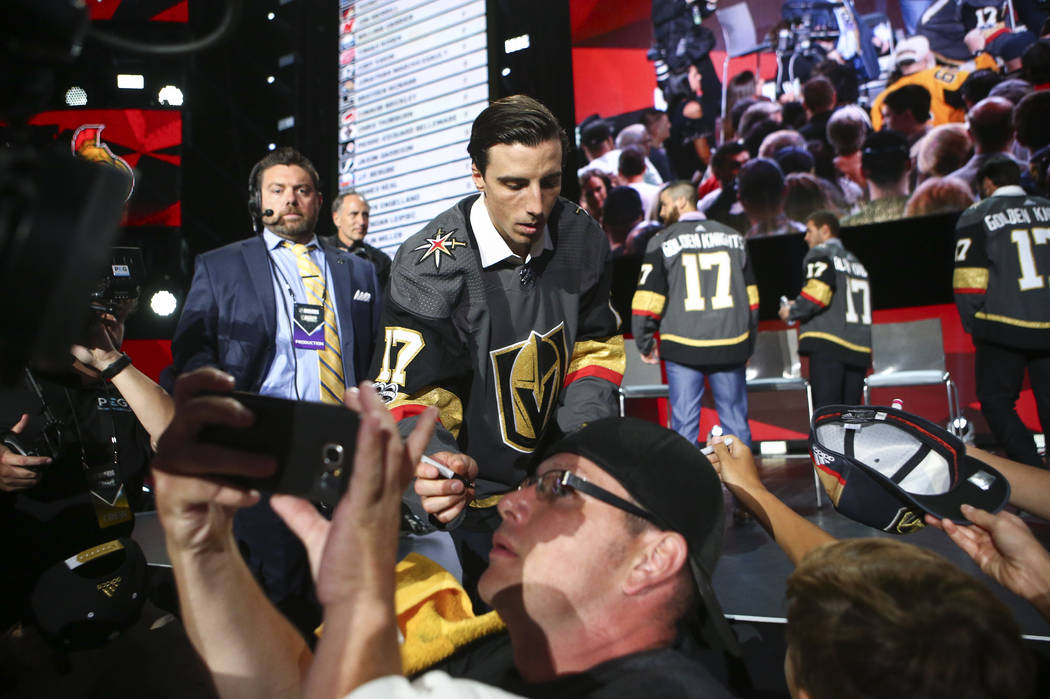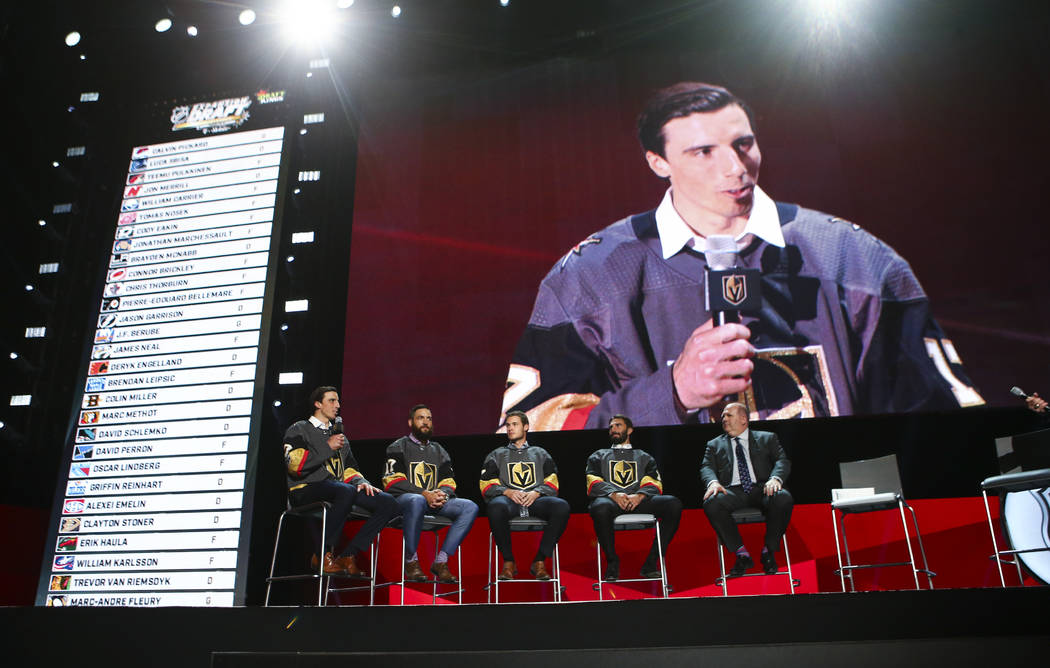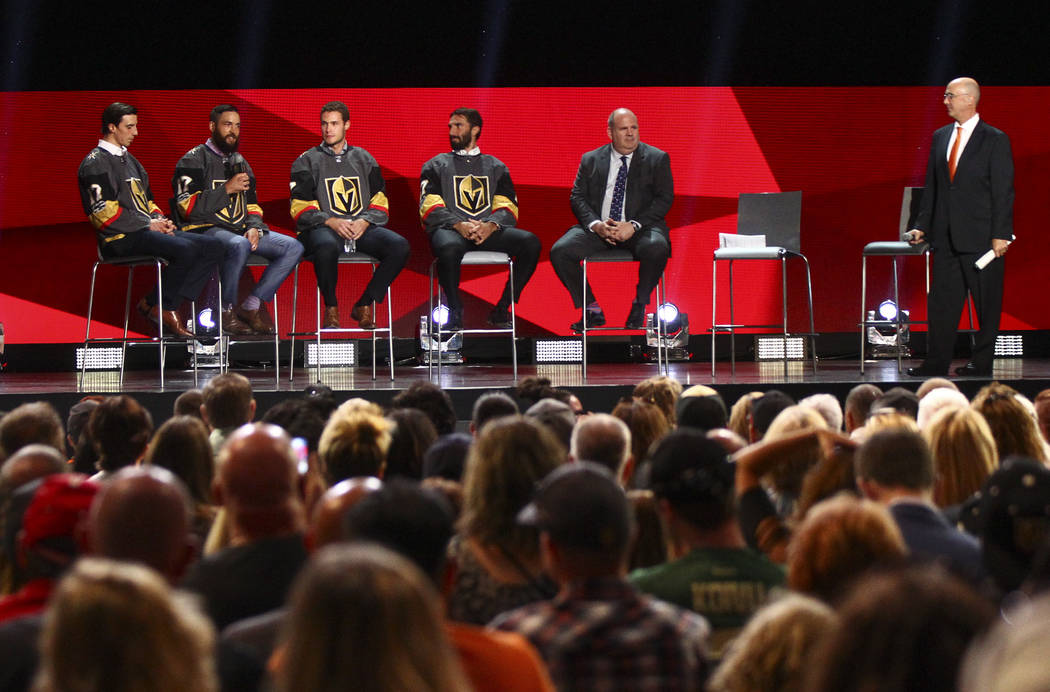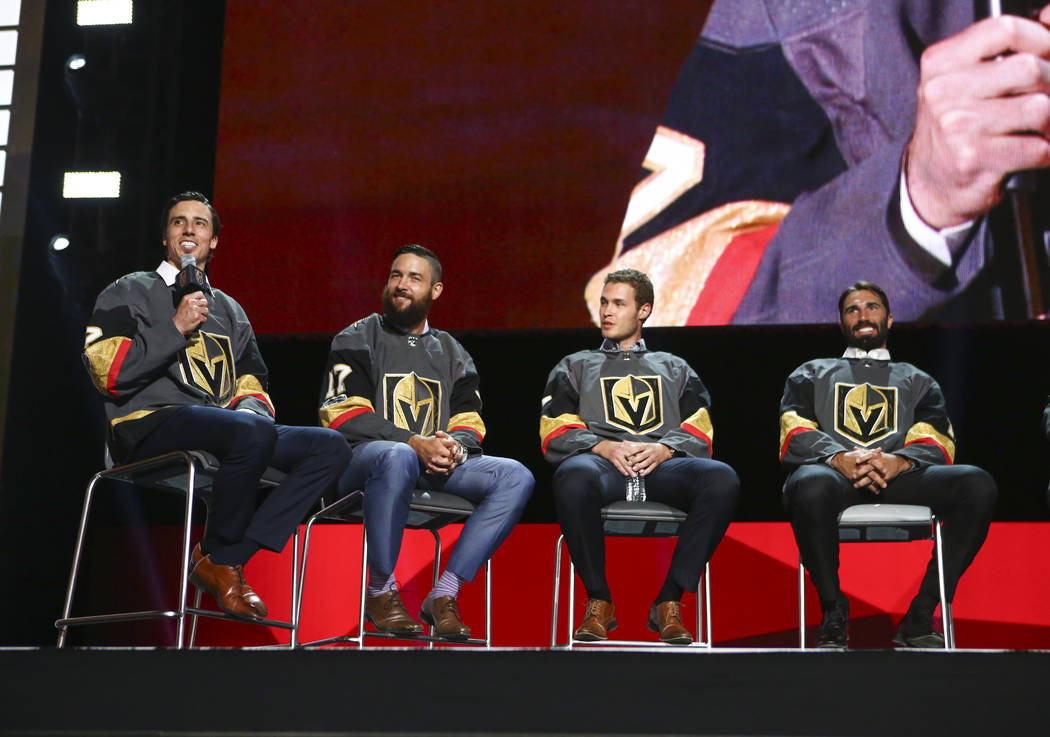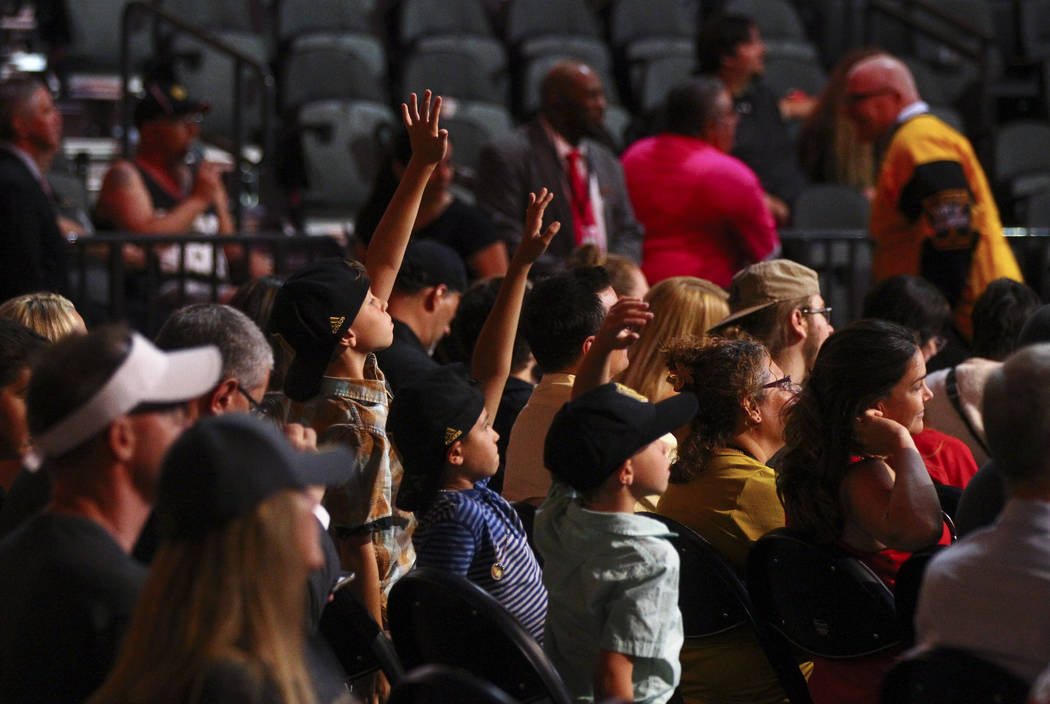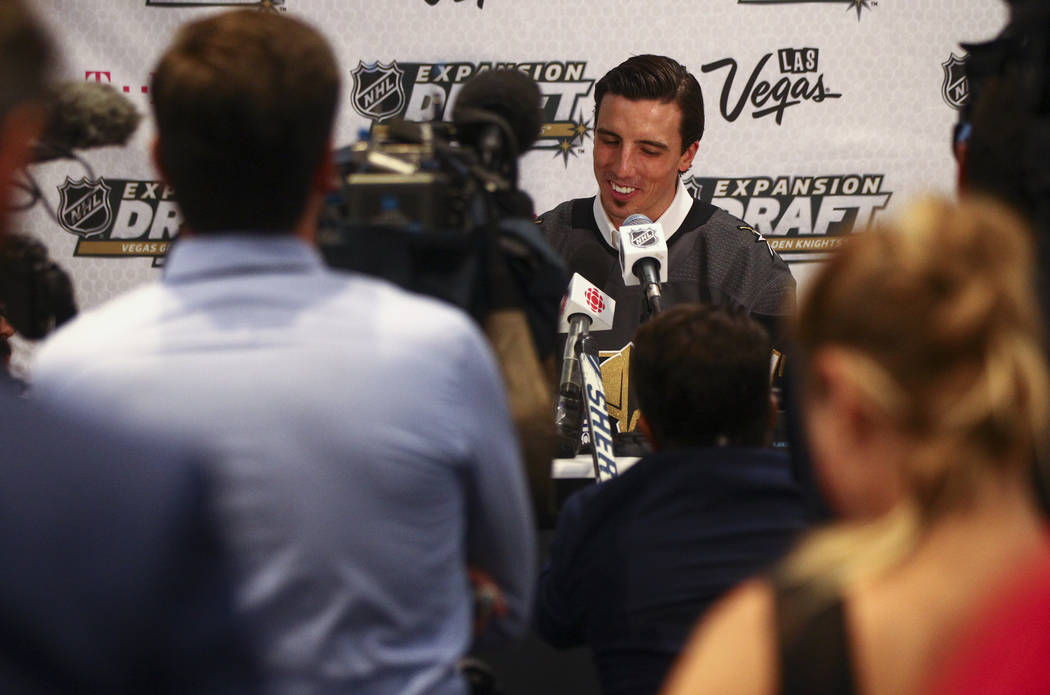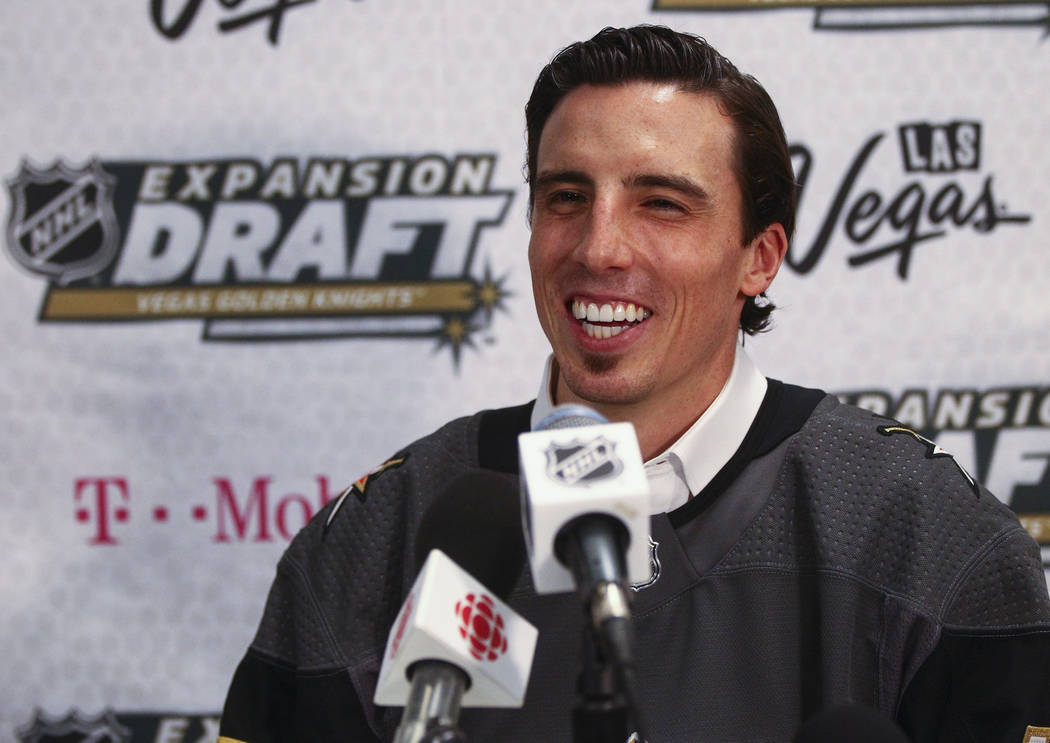 There is this long-standing debate regarding expansion teams in major league professional sports, this question whether a new team needs a famous face on which to build its foundation.
Some believe it's not necessary, that part of being a fresh addition to any league includes expected struggles regardless of names on a roster.
Others disagree, insisting a player of star status with a championship resume makes the transition smoother in every manner.
Las Vegas?
It appears a huge fan of the latter.
Marc-Andre Fleury says he's not sure about being the face of anything beyond playing his best and helping the Golden Knights win games, but he apparently won't have much say in the matter of being the one by which most define the town's franchise.
He's it.
He's the face.
Oh, yeah. It comes with three Stanley Cups.
History teased those during the NHL Awards/Expansion Draft on Wednesday night at T-Mobile Arena until nearing the show's end, when Vegas made the pick everyone knew it would and yet still produced the sort of emotional and authentic and thunderous reaction that proved how much local hockey fans wanted Fleury in a Knights jersey.
"I didn't know that was coming," he said. "I was surprised by it. That was a warm welcome, and I'm excited about it. It was awesome. Obviously, we have great fans already by selling all the season tickets and the reception tonight … I'll give it everything I've got to win games and get into the community and meet people and spread the word about the Golden Knights."
You sort of got the idea those predraft rumors about the Knights taking Fleury and the $11.5 million owed him over the next two years and then trading him weren't all that likely when he was introduced to the crowd, gave owner Bill Foley a big hug and used the word "we" in his first answer about coming to Las Vegas.
He used the word again a short time later to assembled media.
You really got the idea he was staying when he talked about he and his wife shopping for somewhere to live in the next few days.
Fourteen years ago Wednesday, he was drafted No. 1 overall by Pittsburgh, the only NHL sweater he has worn until now, and arrives to Las Vegas with those three championship rings and ranked 15th all time in wins by a goaltender.
Knights general manager George McPhee and coach Gerard Gallant have often reiterated the fact you build a winner from the net out.
That's one thing about Fleury. The guy has won a lot.
But perhaps just as important is the character everyone speaks of when talking about him, how there is no one better to lead and advise and guide what should be many young Knights players, that his class and dignity when losing his starting job to Matt Murray in Pittsburgh delivered ample evidence to the kind of person Fleury is.
Now, he will apparently get another chance to tutor a young goalie in expansion pick Calvin Pickard of Colorado, arguably the best player on an awful Avalanche team last season.
"It's great to be reunited with (Fleury)," said Las Vegas resident and expansion defenseman Deryk Engelland of Calgary, who played with Fleury in Pittsburgh from 2009 to 2014. "He's amazing, top notch in every aspect. Never too high, never too low, great in the community, great around the ice. I could never say anything bad about that guy."
It's true Fleury brings a high salary cap hit (5.75 million through 2019) and that he played on great teams in Pittsburgh and will face far more pressure behind an expansion side, and that at 32 with a young talent backing him up, it's likely the 25-year-old Pickard will get his share of starts.
But you can't overstate the importance of something like the Instagram post Pittsburgh star Evgeni Malkin posted in saying goodbye to his teammate.
In it, Malkin is wearing a Penguins jersey backward with Fleury's No. 29.
Across the top is this: MY MVP.
You can't overstate the importance of having that sort of leader, that strong a heartbeat in a locker room sure to be filled with kids, that kind of character when adversity hits.
Fourteen years later to the day, Marc-Andre Fleury slipped on a new NHL sweater, this one with the crest of a Knight, walked onto a stage to a thunderous ovation and hugged a team owner.
"It was time," Fleury said. "I've been on good teams in a great organization for 14 years with great teammates that taught me. I can share my experiences, my playoff experiences, with my teammates here. We can be good right away. We can win games right away.
"I never wore (another jersey). It's a little different. I'm thankful for the opportunity, and I will wear it with pride."
The Knights made history Wednesday. They have a team.
More important, they have a face.
Even better, it's one the town already loves.
Contact columnist Ed Graney at egraney@reviewjournal.com or 702-383-4618. He can be heard on ESPN Radio 100.9 FM and 1100 AM from 11 a.m. to 2 p.m. Monday through Friday. Follow @edgraney on Twitter.