Golden Knights hit season's midpoint in amazing fashion
January 7, 2018 - 11:31 pm
Updated January 8, 2018 - 12:21 am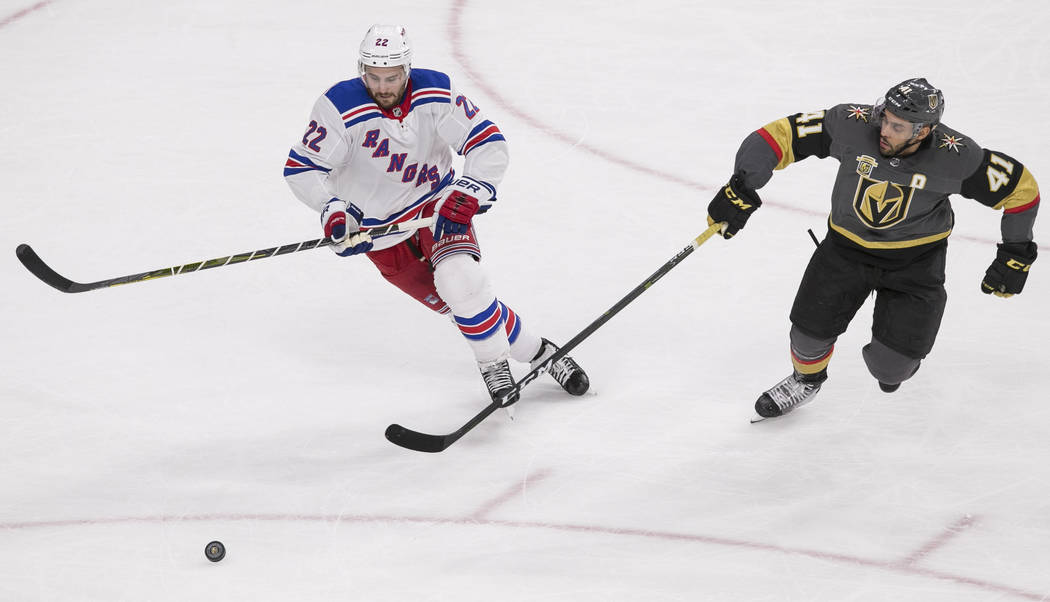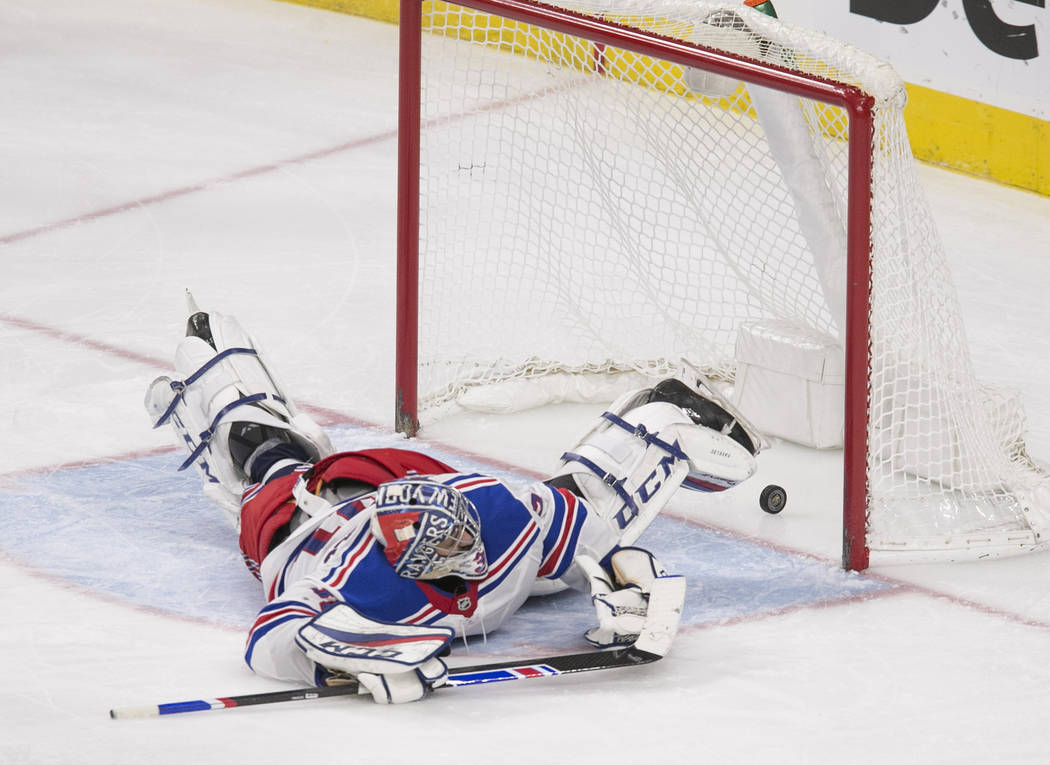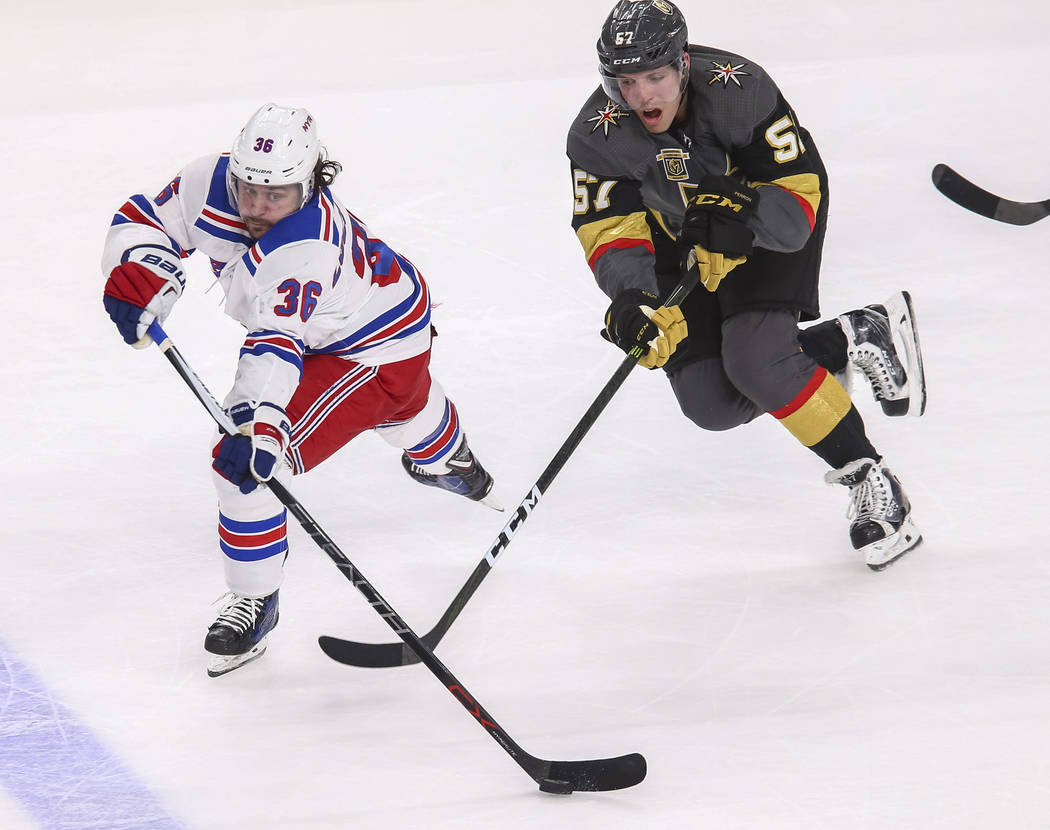 The numbers have been showcased from one coast to the next, the gaudy accomplishments and historical significance and implausible results produced by the Golden Knights thus far this NHL season.
But those are big picture facts about an inaugural season going the way nobody could have imagined. The quick snapshots are just as important.
Depending on the opponent, even more so.
If the forecast of a Knights' playoff appearance ultimately proves accurate, recent games have more than offered the sort of intensity and drama that accompanies the postseason.
It was no different Sunday.
The Knights departed for their off week by beating the Rangers 2-1 before a season-high 18,234 at T-Mobile Arena, another close and impressive victory in a place where there have been many.
"(Momentum) is a great thing," said Knights forward James Neal, who scored his 18th goal of the season. "Rest, recover, take your mind off hockey for a little bit. For us, it's a grind. With all the travel we have and games piling up (in the season's second half), this will be good for us."
So now comes those mandatory rest days, where I'm not sure if rumors are true, but players could supposedly be sentenced to 20 years of hard labor should they even think about lacing up a pair of skates and touching ice.
Or something like that.
The Rangers were much like the Predators and Blues of the last week, teams that offered the Knights and their fans a good sense of what games in April (and perhaps beyond) could look and feel like.
Not all such matchups produced victories — St. Louis was just better on home ice Thursday night — but wins against Nashville and now New York did.
There was a common theme to all of it: Marc-Andre Fleury is playing out of his mind right now.
"Another close game, you know," the Knights goalie said after stopping 28 of 29 shots against the Rangers. "Two good teams. Not much room on the ice. Fast teams. Very proud of how our guys stepped up and stuck with it all night long. We got a big win.
"Every night, the strength of our team is how hard we play. It has been great."
You can't overstate the importance Fleury has played — even with missing him two months and 25 games with a concussion — in where the Knights exist at the season's midpoint. His presence in goal creates a palpable confidence in those in front of him. He plays like a guy with three Stanley Cups, and his teammates respond to it.
The lone goal allowed Sunday occurred when Fleury picked up Mika Zibanejad's wrist shot too late and it sailed past him. The lone blemish on an otherwise terrific performance.
And now, the Knights have hit their bye week:
First place in the Western Conference.
Second place overall in the NHL.
Owner of 60 points.
Twenty-nine wins, 18 at home.
They have destroyed most all benchmarks for a new franchise, the current points percentage higher at the midpoint mark than any expansion team in either the NBA, MLB or NFL/AFL.
That's all big picture stuff.
On Sunday, Vegas was again just as good in one of those quick snapshots.
"Pretty amazing," Knights coach Gerard Gallant said of the 41-game start. "We've played great hockey from the first night. We've competed and battled and we are beating good hockey teams.
"We're ready for a week off. The guys are looking forward to it. We push them all the time. But we need a break and to get away from hockey, come back Friday and get ready for Saturday."
That's when Edmonton and the world's fastest (and perhaps) best player in Connor McDavid visits. It might not be as much a snapshot — the Oilers sit in sixth place in the Pacific Division with 39 points — but it is a team that handed Vegas an 8-2 thrashing back on Nov. 14.
Thus, the second half begins against the team that has to this point delivered the Knights their worst loss and, get this, only divisional setback. It's a different sort of motivation than playing the Blues or Predators or Rangers at this point, but incentive all the same.
"Come back and get ready to go for a good push," Neal said.
Toward, yes, a playoff berth.
Pretty amazing, is right.
Contact columnist Ed Graney at egraney@reviewjournal.com or 702-383-4618. He can be heard on "The Press Box," ESPN Radio 100.9 FM and 1100 AM, from 11 a.m. to 2 p.m. Monday through Friday. Follow @edgraney on Twitter.