Golden Knights lose game and another goalie
October 30, 2017 - 9:34 pm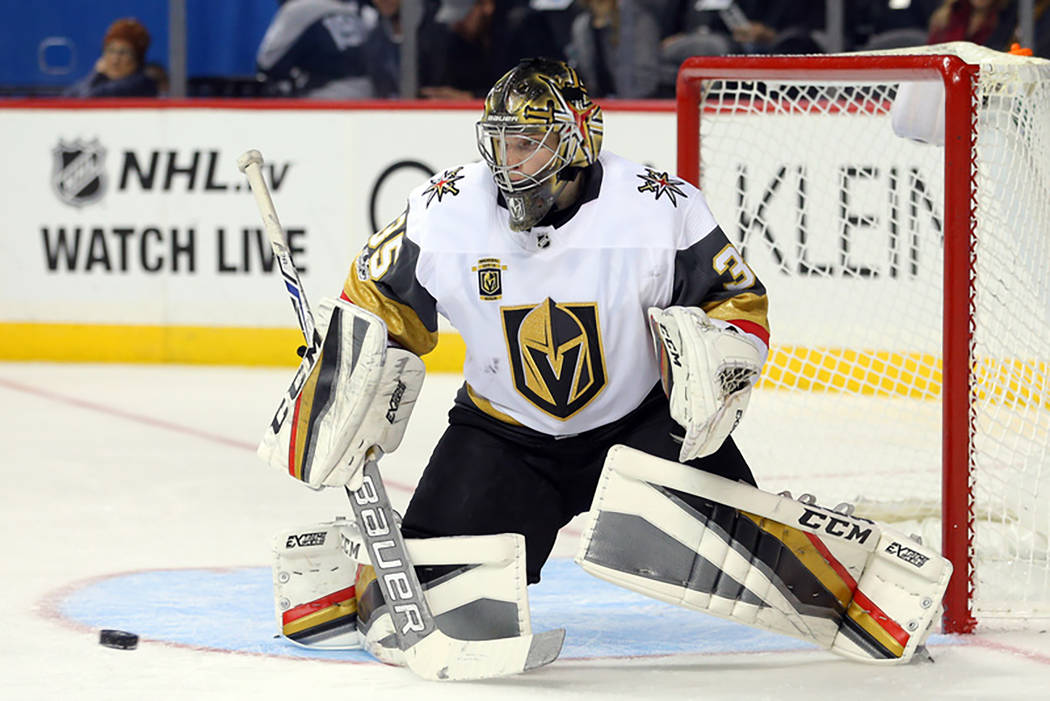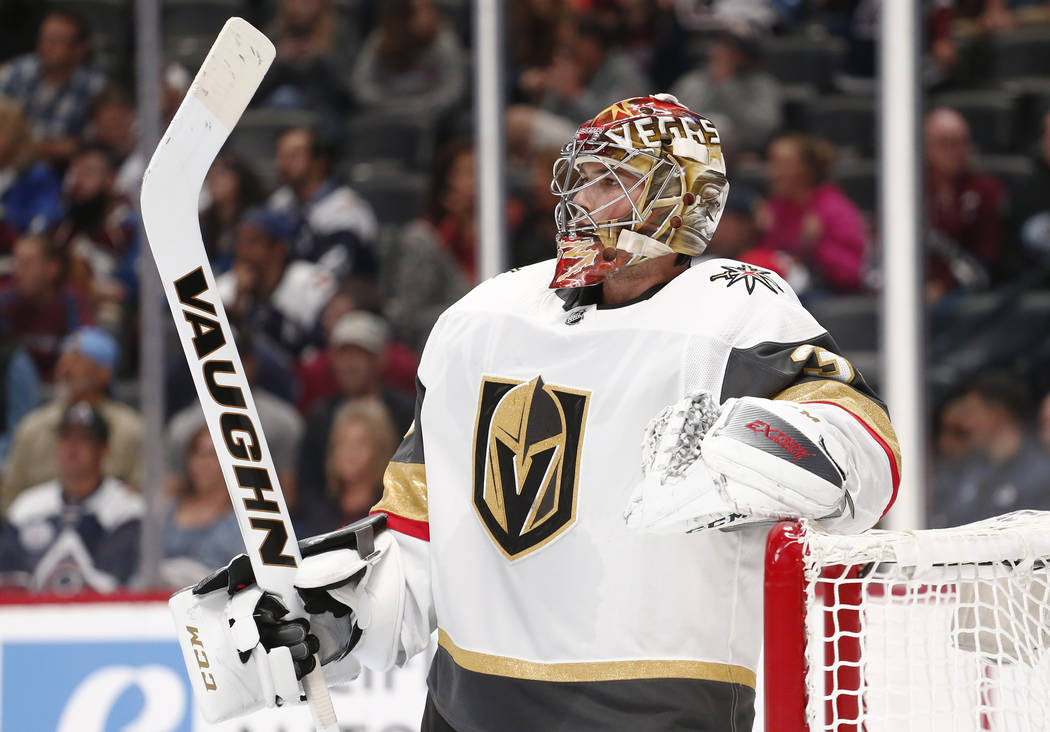 NEW YORK — The resume has some interesting stops, from a small town in southern Quebec to a maritime province off New Brunswick and Nova Scotia to one of the more mountainous states in this country.
Maxime Lagace has played the part of rising hockey goalie through the junior and minor ranks, often the beneficiary of living among some fairly picturesque islands and villages and swaths of wilderness.
He also played in Bakersfield, Calif., but not even that hardened his resolve enough to prepare him for the terror of this sight: John Tavares on a breakaway.
"I just wanted to stop the shot," Lagace said. "The game obviously didn't go the way I wanted. I was a little nervous."
He didn't stop it.
He isn't near ready for this.
It's not his fault.
On a day when the biggest news regarding the NHL expansion team was supposed to be working toward a conclusion that is the obvious swing and miss in signing forward Vadim Shipachyov, the Knights incredibly saw a dire situation in net become even more grim.
Looking past a 6-3 loss to the Islanders on Monday night and seeing their five-game win streak snapped before an announced gathering of 11,113 at Barclays Center, the Knights find themselves playing their fourth goalie in just 10 games to open the season.
The Islanders, by comparison, used four over the first five years of their existence.
Someone should check if that one-way ticket to Russia is non-refundable.
Maybe the Knights can cancel it without penalty.
Maybe our guy Shippy can throw on a mask.
This is a bad spot even for an expansion team, and depending on how serious the lower-body injury that Oscar Dansk suffered in the second period Monday proves to be, general manager George McPhee will undoubtedly have spent most waking moments the past 24 hours looking for yet another goalie before his team engages the Rangers on Tuesday night.
That, or perhaps he just calls the trainer and hopes for good news.
The mystery that continues to be the recovery of starter Marc-Andre Fleury from a concussion becomes even more accentuated now. He remains day-to-day, having joined the Knights for this six-game road trip, and yet he still needs to prove he's ready on the ice before being activated.
Everyone recovers from a concussion at a different rate and there is no question, given Fleury's history with head trauma, he and the Knights are being extremely careful with returning the face of the franchise to active play.
But if his absence from net lingers and the Knights are forced to continue playing Lagace, even for just the bulk of this trip, those in front of him better be a whole lot sharper than they were Monday.
Lagace made his NHL debut by allowing four goals on just 11 shots, but his teammates did him zero favors over the final 13 minutes, when the Islanders scored on two of three breakaways, including one from the super-skilled Tavares.
Too many penalties. Too many turnovers.
Too many risky chances.
Too much disorganization to win on the road.
"I haven't seen anything like this," forward Alex Tuch said of the team's goalie issues. "Max is a hard-working kid who was put in a tough spot. We let him down. It doesn't matter how long you have played, it's tough to come in cold like that.
"We have to play harder, smarter hockey. We weren't getting pucks deep or on the forecheck and were sort of running around too much. We got away from our style of hockey."
Reality: Lagace and Dansk were supposed to spend this season in Chicago with the team's American Hockey League outfit. They weren't supposed to be here, never mind being asked to play such major roles.
Head coach Gerard Gallant insists his team adopt a "Next Man Up" mentality, but those men are getting less and less experienced. It's a nice source of motivation to test a team's resolve but is pretty removed from the real world when you travel this far down a depth chart of goalies.
Whatever happens with Shipachyov — trade him, have the two-year, $9 million contract terminated and ship Shippy and his skates back on a one-way ticket via the St. Petersburg Express — doesn't compare at this point to the growing saga that is "A Nightmare in Goal."
One immediate option would be to bring in Dylan Ferguson to back up Lagace against the Rangers.
Ferguson was signed by the Knights to an entry-level deal in September and plays juniors for the Kamloops Blazers in the Western Hockey League.
Hey, it's Halloween.
The kid could dress up as an NHL goalie.
He'll fit right in.
Contact columnist Ed Graney at egraney@reviewjournal.com or 702-383-4618. He can be heard on "The Press Box," ESPN Radio 100.9 FM and 1100 AM, from 11 a.m. to 2 p.m. Monday through Friday. Follow @edgraney on Twitter.