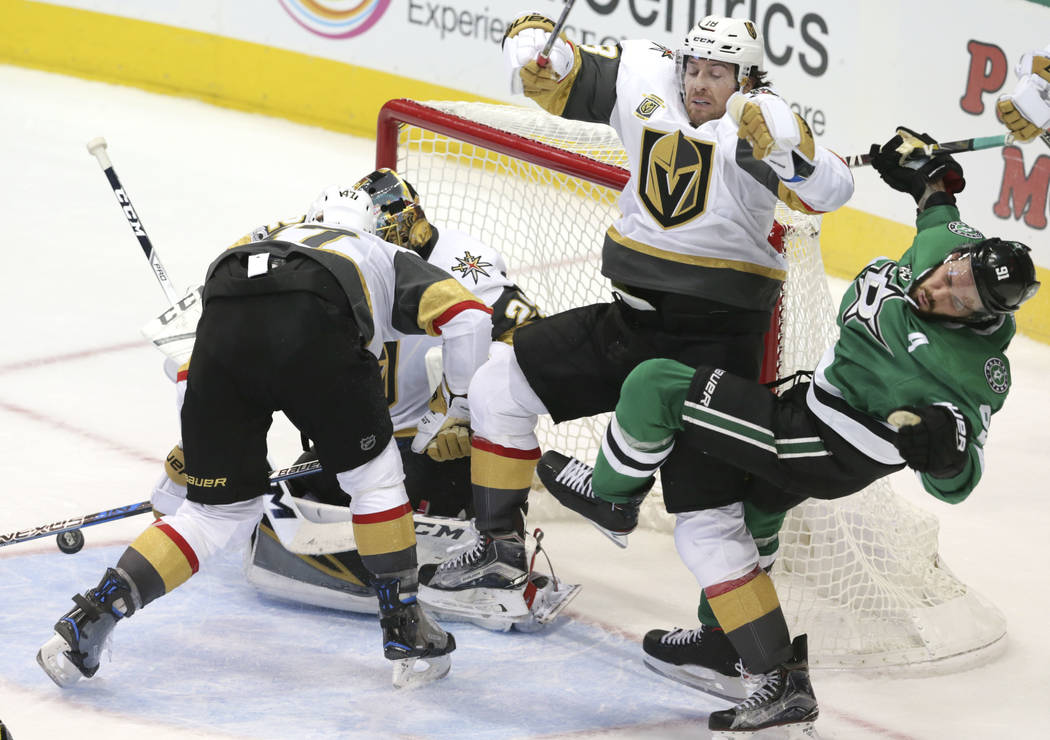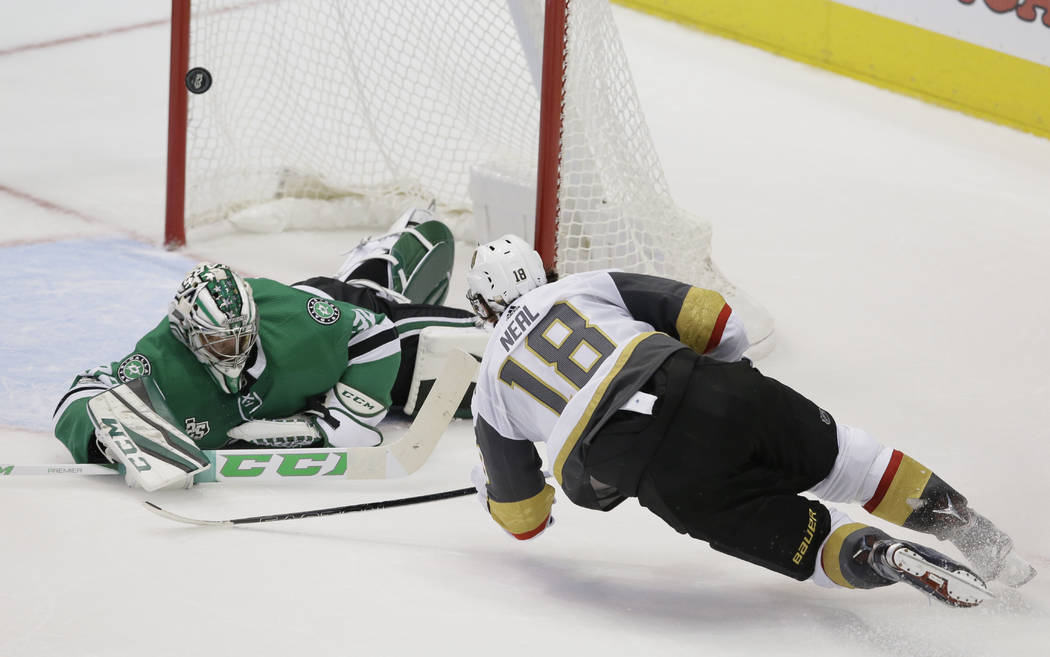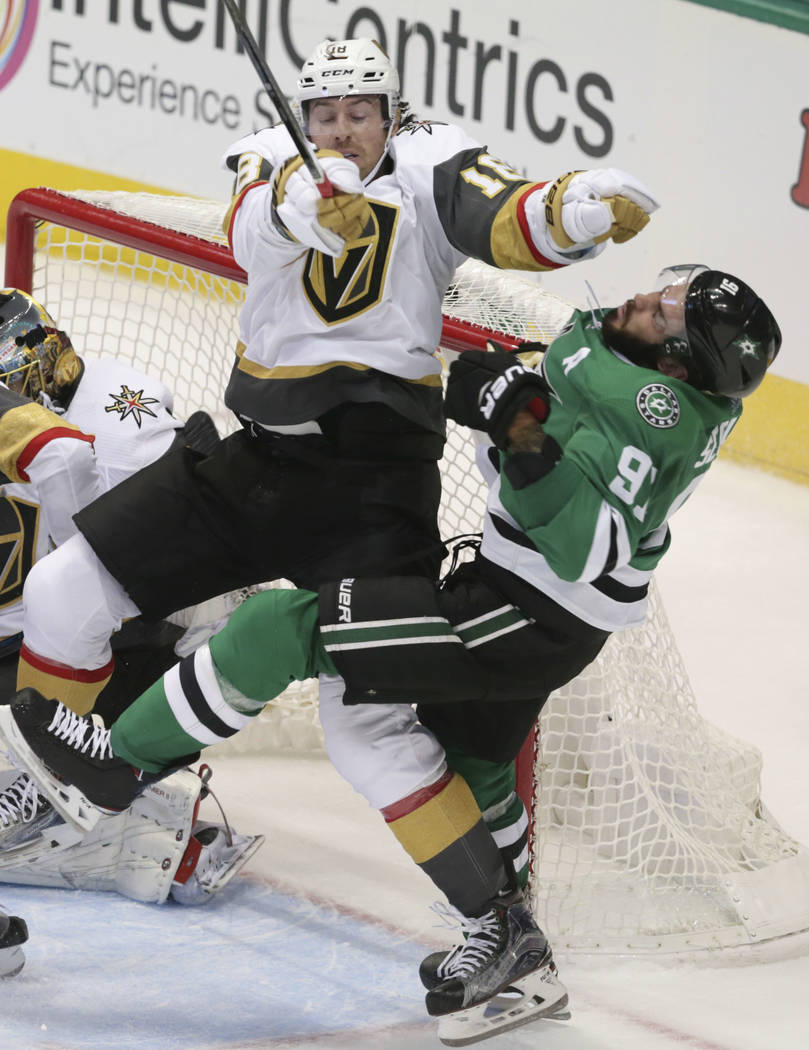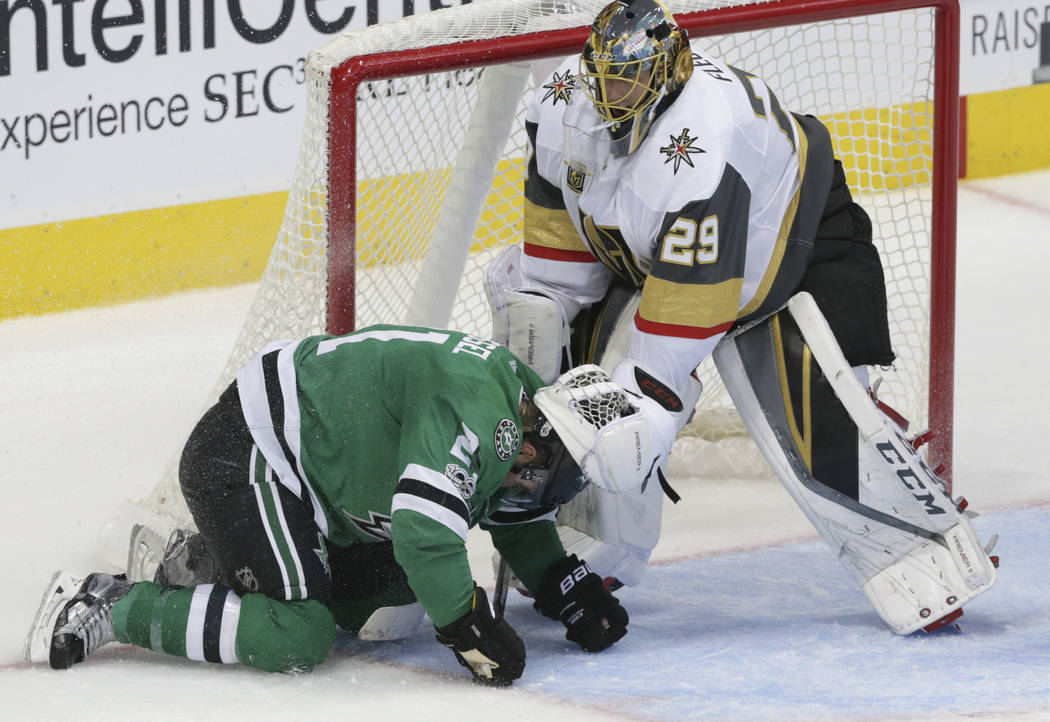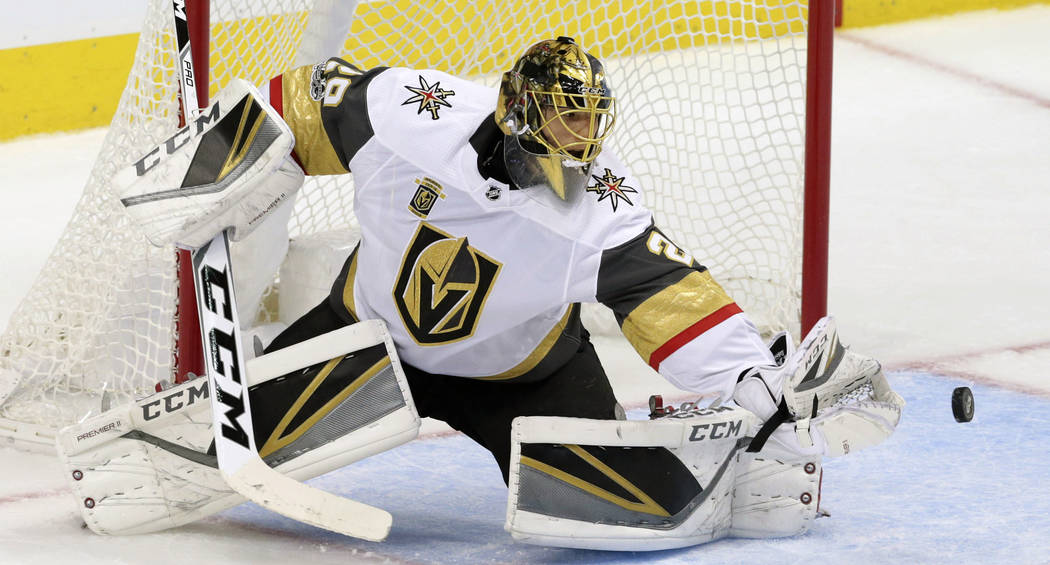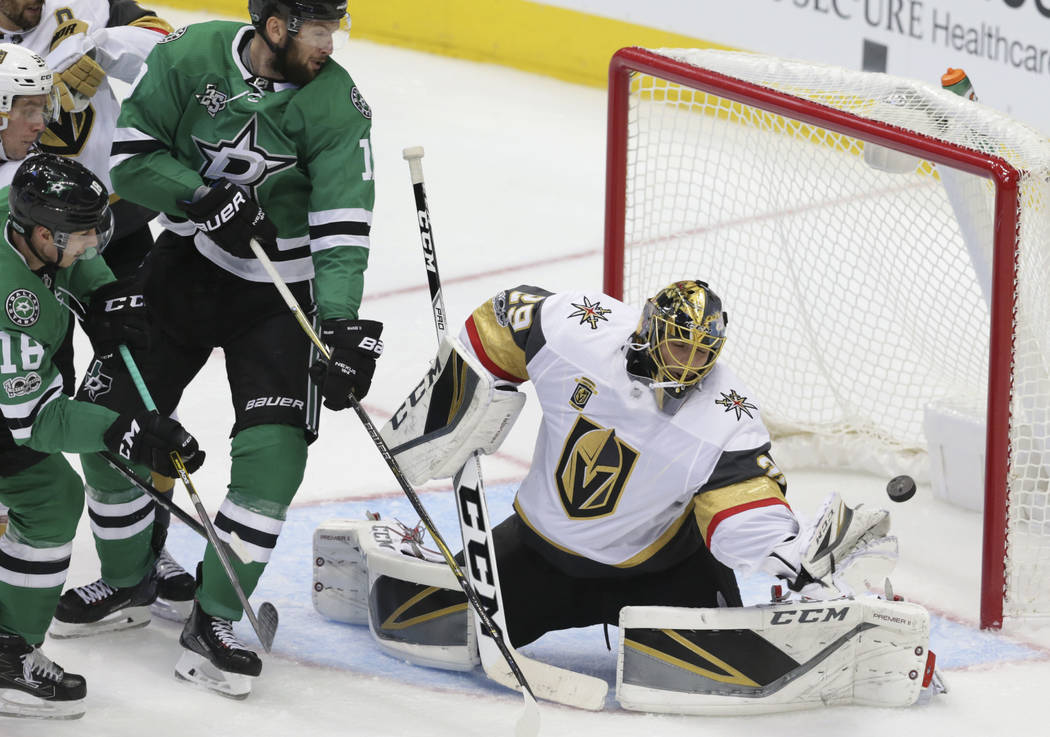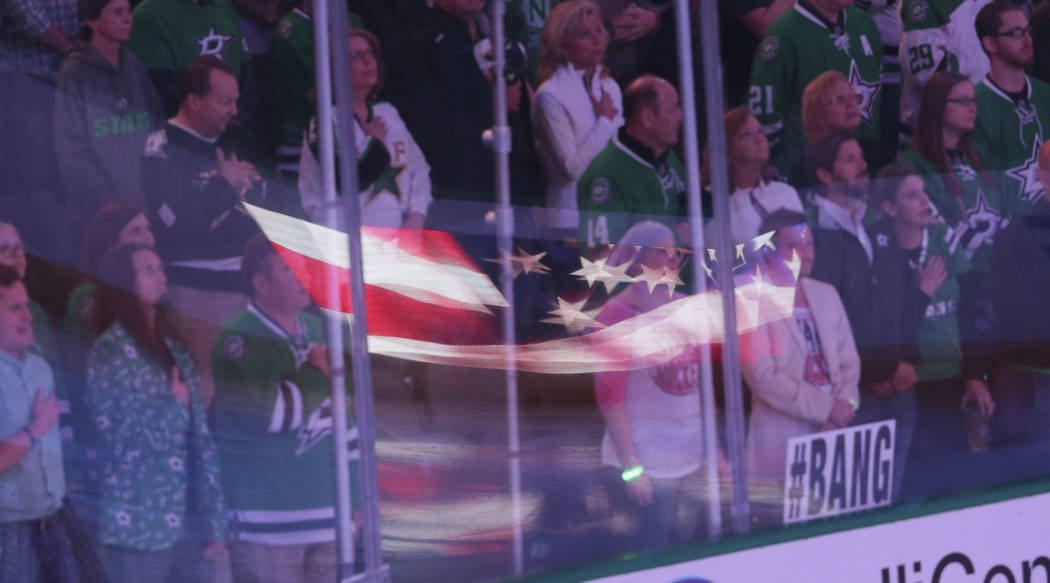 DALLAS
The green wristbands sparkled in the darkness like a wave of togetherness, American Airlines Center home to NHL history on Friday and yet also a building that remembered those lost and injured in the deadliest gun massacre in modern U.S. history.
In a week when fear and death and incomparable sorrow tested the faith and resolve of Las Vegas like never before, major league professional sports officially joined its ranks.
Everyone did their best here to honor those affected while the visitors also celebrated the latter.
The inaugural expansion season is underway for the Golden Knights, and future record books will tell generations they beat the Dallas Stars 2-1 before 18,532, a night of firsts for the franchise punctuated with a victory.
"A happy ending and yet a lot of people are still suffering at home," goalie Marc-Andre Fleury said. "For us to win the first game, to work hard all night to get it, hopefully it made people in Las Vegas proud of us, proud of their team fighting through adversity."
Fact: There could be a season's worth of these types of tight, contested, close, grind-until-the-end games.
But what the Knights lack in skill, they certainly make up for in grit, and yet my vote for the three stars of the night would have read this way:
1. Fleury, who more than flashed the talent that was part of three Stanley Cup championship teams in Pittsburgh. He stopped all but one of 46 shots. He was unbelievable.
2. James Neal. The forward, who didn't begin skating with the Knights until this past week after undergoing offseason wrist surgery and didn't anticipate being active for the season opener, scored both goals.
The winning goal came sliding from his knees with 2:44 remaining.
3. The puck that went through the mask of Dallas goalie Ben Bishop in the third period.
No. Seriously.
Bishop went off holding a towel to his bloody face and didn't return, forcing a much lesser talented Kari Lehtonen into action and opening the door for the Knights.
To that point, Bishop had stopped all 19 shots against him. He was as stellar as Fleury while facing far fewer shots in a lot less traffic.
"We worked hard all game," Knights coach Gerard Gallant said. "We stuck around and got a couple good opportunities and capitalized. We'll enjoy this. This is a great win for our franchise. We're pretty excited."
I'm not sure even Fleury can keep up the sort of level he offered, but he will have to be great more nights than not for the team to find success. The Knights were 0-for-7 on the power play and have failed to score off 28 straight dating to the preseason.
That's more than a little slump.
That's a sign.
It was one of those games in which Dallas led 1-0 after two periods and yet it felt like 4-0. But that's who the Knights are going to be, and it was enough on a night when the thoughts of many were 1,200 miles away.
The evening began with Dallas honoring a staff member who died in a car wreck during the offseason, then paying tribute to Dave Strader, the team's play-by-play voice who died of cancer Sunday at age 62.
The same day of the shooting.
The lights were turned off and green wristbands sparkled in the darkness, and the Stars slowly skated to the blue line and in position behind the Knights, forming a sign of solidarity against the horror and one of respect for the innocent.
On the video board high above, this flashed: Viva Las Vegas.
"Obviously, it's terrible what happened," Neal said. "I think in times like this, having a sports team to rally around will help the community in a good way.
"It's time for all of us to come together. It's a point where we can rally behind the city and shed some light on a terrible situation. You've seen it with other teams in such hard times when terrible things happen that fans can really find something positive in sports. Hopefully, that happens with us."
Las Vegas never will be the same for many reasons, but in the wake of terror, sports has offered a potential pause to all the chaos and heartache.
One game does not make a season or even a week, but this was different.
History is a starting point, and for theirs, the Golden Knights skated off a winner.
And in the process, gave a grieving city reason to smile, if only for an instant.
Contact columnist Ed Graney at egraney@reviewjournal.com or 702-383-4618. He can be heard on "The Press Box," ESPN Radio 100.9 FM and 1100 AM from 11 a.m. to 2 p.m. Monday through Friday. Follow @edgraney on Twitter.