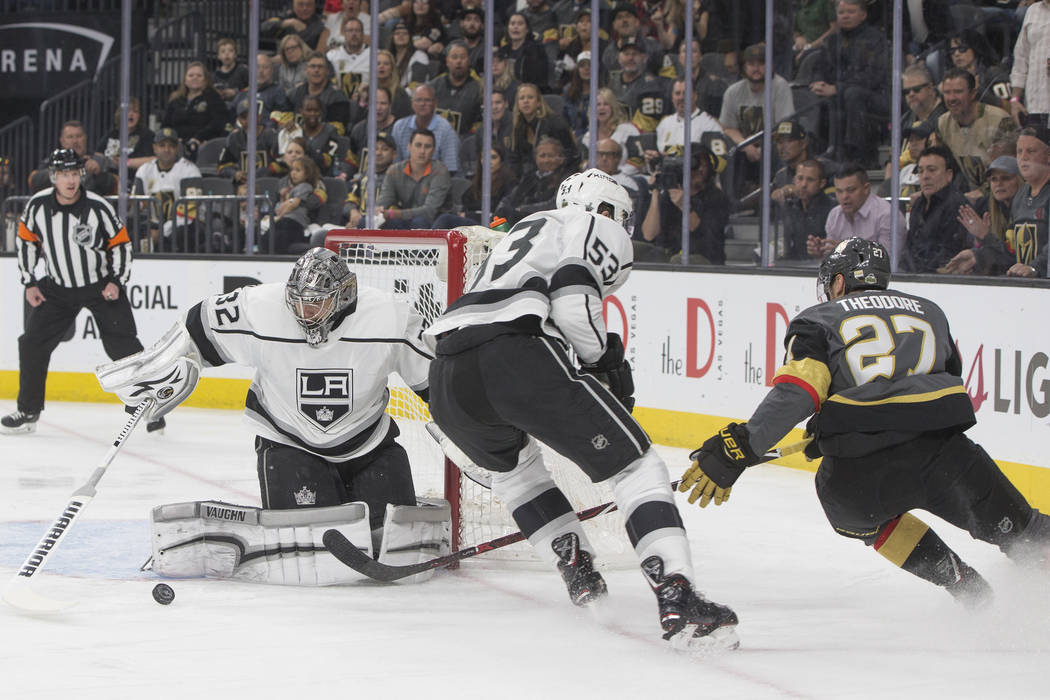 LOS ANGELES — The puck found net at near 11:30 p.m. Friday, more than 95 minutes of ice time after the Golden Knights and Kings began their Western Conference playoff game, three periods and almost two overtimes later, most players dragging their dog-tired legs toward the bench more than the offensive zone before Vegas clinched its 2-1 Game 2 victory.
And yet I'm pretty sure Knights defenseman Shea Theodore is still somewhere skating past people without breaking a sweat.
He's like Forrest Gump on blades.
The guy never stops.
One of the central reasons Vegas has a 2-0 edge in the best-of-seven series — other than the fact that Marc-Andre Fleury in goal is matching the dazzling play of Jonathan Quick — is an obvious advantage in conditioning.
Things switch to Game 3 at 7:30 p.m. Sunday at Staples Center, where the Kings have little time to dwell on being down while also having played so long the previous outing just to taste defeat.
If there isn't any jump in their legs, they sure need to manufacture some.
It's one thing to be fast. It's another to be fast and in maximum shape.
The Knights are both.
"I'm not too familiar with how other sports do things, but I know how we as hockey players train in the offseason to be prepared for games like (Friday)," Knights defenseman Jon Merrill said. "That's why we put in the extra work all summer long, so we have legs for those types of moments.
"I think we'd all like to skate like (Theodore). It seemed like he got faster as the game went on, but maybe that's because the rest of us got slower."
Back when someone such as Knights coach Gerard Gallant played, training camp was a place you came to get into shape for a long season. Now, it's the place you arrive having spent months merely preparing to pass a conditioning test.
There is no court in hockey, no grass, no oval track, no batter's box. What might be important physical attributes in various sports wouldn't prove as significant on ice.
A vertical jump isn't near as critical to James Neal as James Harden.
But size and strength and, especially, speed is.
Mobility, movement, power.
To a player, the Knights credit their training staff for developing such a group, for a diet and exercise and massage and rest program that delivered most to the postseason at an optional level after 82 games.
Support staff of the Knights such as trainers are not made available for comment during the playoffs, a silly practice that speaks to a misguided paranoia from upper management when it comes to certain media requests.
Who knows. Maybe they're afraid a trainer will slip and mention Fleury coughed last month.
Trusting his players
The ability to unwind when things get long and tough over six months is, as much as anything else, why the Knights appeared so fit in such a game as Friday's. Gallant has been an NHL head coach for seven seasons and knows well when to push and when not to, when to light a fire and when to hold back.
"The longer you go, the more experience you get," Gallant said. "When you're a young coach, all you want to do is practice and skate them hard. But it's a grind, an 82-game season, a long training camp, so you have to balance it out.
"I trust my players. When they come to me and say they are tired and need a day off or an optional skate, usually we do it. I just want the guys to be honest."
Hockey rosters at this level can be a smorgasbord of cultures and dialects, not to mention how each player good enough to make the NHL trained in his younger years.
Some have been lifting weights since they were teenagers. Some not much at all as kids.
Some, like Knights forward Pierre-Edouard Bellemare, didn't even have ice during the summer while growing up in France because it cost too much for rinks to maintain year-round. So he kept in shape by running and biking through mountains.
"We didn't have full knowledge of (conditioning) to be that consistent player," Bellemare said. "It wasn't until I was 21 when I realized how much work off the ice I had to do. The (Vegas) trainers are great at working with each of us, making sure we are doing what we need to play at a high level."
It sure paid off in Game 2.
The puck found net at near 11:30, when the better conditioned side took a 2-0 series lead.
More Golden Knights: Follow all of our Golden Knights coverage online at reviewjournal.com/GoldenKnights and @HockeyinVegas on Twitter.
Contact columnist Ed Graney at egraney@reviewjournal.com or 702-383-4618. He can be heard on "The Press Box," ESPN Radio 100.9 FM and 1100 AM, from 11 a.m. to 2 p.m. Monday through Friday. Follow @edgraney on Twitter.
Schedule
All games on AT&T SportsNet
Game 1: Golden Knights 1, Los Angeles 0
Game 2: Golden Knights 2, Los Angeles 1, 2 OT
Sunday: at Los Angeles, 7:30 p.m.
Tuesday: at Los Angeles, 7:30 p.m.
x-Thursday: at Golden Knights, 7 p.m.
x-Saturday: at Los Angeles, TBA
x-April 23: at Golden Knights, TBA
x-if necessary