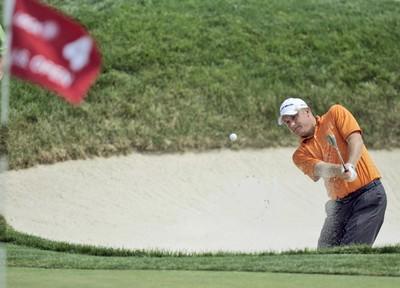 OAKMONT, Pa. — The worst part was being 1,000 miles away, a distance that forced Jason Allen to gather information in a more hectic than precise manner. He pieced it together the best he could, one telephone call after another, the puzzle of injuries seemingly growing more frightening with each ring.
Two shattered legs. Five broken ribs. A collapsed lung. Something about titanium rods. Something about brain clots and multiple strokes and a medically induced coma. Something about spending a week not remembering anything after 1994.
"It's panic, it's fear, it's astonishment," Allen said. "You're just floored. When you're this young, you're not thinking of losing a best friend."
Allen is a 33-year-old Las Vegas loan officer who will face the terribly demanding and potentially demoralizing Oakmont Country Club golf course today in the first round of the U.S. Open, having qualified through a sectional tournament in Colorado not two weeks ago.
On his bag will be Pete Severson, the guy who suffered all those frightening injuries in April 2006. The guy who wasn't supposed to walk for a year.
When is life better than merely qualifying for your second Open and first in nine years? When your best friend, the one you played high school and college golf with in Pueblo, Colo., the one who was in your wedding and he yours, the one who was just chatting with a few people outside a friend's bar that night back home when struck by a drunken driver being chased by police, is your caddie.
Amazing. It's a word Allen and Severson used often Wednesday. It's how each will certainly feel today, even when they're staring at that par-4, 482-yard beast of a first hole, the one that devours faulty tee shots the way a child might his favorite desert. Even if Allen manages to avoid driving into the famed Church Pew bunkers on No. 3 but can't stop an approach from running off the back slope of an elevated green.
Even if that blind tee shot or those cavernous fairway ditches at No. 15 does him in. Even if the roaring thunderstorm that hammered its way through this place late Wednesday afternoon doesn't excessively soften what many believe could play as the toughest Open track in history. Amazing.
"To have Pete here with me sharing the experience, walking down the middle of these fairways instead of being pushed down the side of them in a wheelchair, is an incredible thing for both of us," Allen said. "I'm sure he's getting a bigger kick out of this than me. Amazing."
It pretty much describes Allen's entire week here. He is with his wife and three sons, who range in ages from 5 months to 14 years old. He is hoping the experience of his other Open — he shot 76-78 and failed to make the cut at The Olympic Club in San Francisco in 1998 — improves his chances of playing on the weekend.
You've heard his story countless times. A good college player dreams of making the PGA Tour, never advances past the second phase of Q-School, has some success on mini-tours, gives up the game, comes back, gives it up, comes back, loses his sponsor, gives it up, plays once a month or so, discovers his putting touch in a sectional and qualifies for the Open.
"You get to a point where there is no sponsor and it's a very expensive sport to play and travel and give yourself a real chance," said Allen, who works for Southern Fidelity Mortgage. "You wonder what it would be like to go to work at 9 a.m. and be home at 4:30 and be with your family and do yard work … You start to think, 'How am I going to feed my kids?' That's why I quit. That's why I stopped playing."
So he won't feel much pressure here. He'll do his best to bask in the moment. Invariably at the Open, some unfamiliar name makes its way near the top of the leaderboard over the first two rounds before the course eventually sifts out all pretenders. Why not Allen?
"He called me 20 minutes after qualifying and said, 'Get ready for Pennsylvania,' " said Severson, who spent a month in the hospital and six more in a wheelchair while recovering. "I'm here to keep him company and keep him relaxed and keep his mind where it should be. Jason is like a brother to me. Being on the bag for him here after all that happened … this is really special."
You might even say amazing.
Ed Graney's column is published Wednesday, Thursday, Saturday and Sunday. He can be reached at 383-4618 or egraney@reviewjournal.com.
ED GRANEYMORE COLUMNS