Gonzaga basketball rightly compensated for staying in WCC
Updated October 18, 2018 - 5:38 pm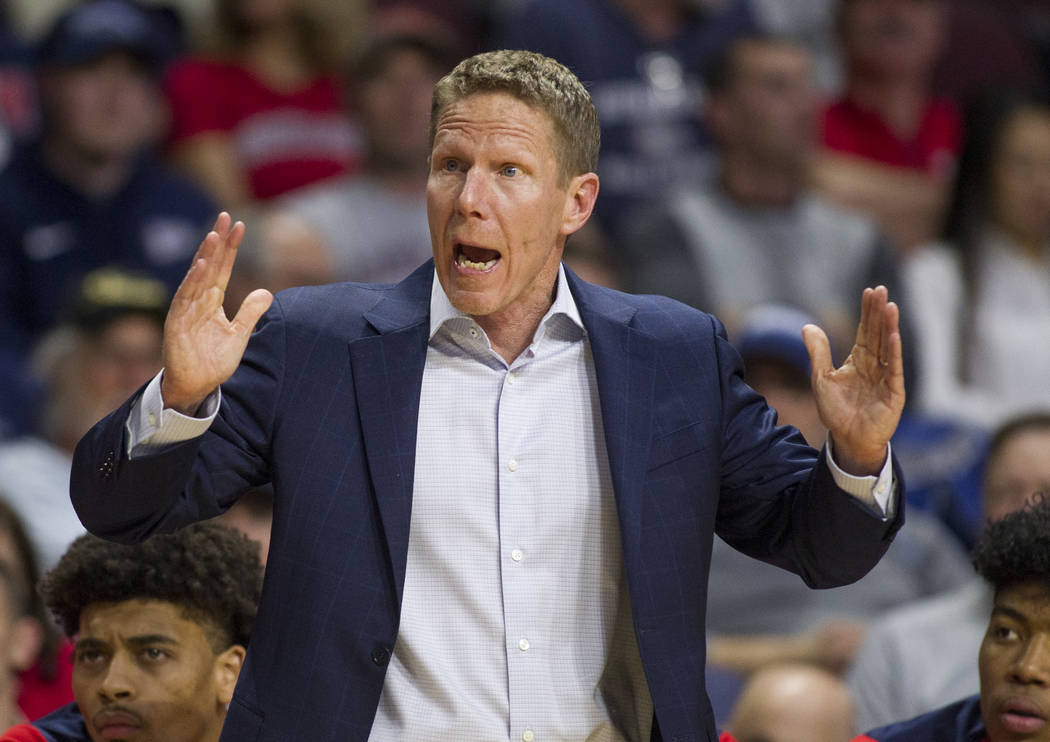 The star actor, the one getting paid more than anyone else per episode, the one whose fame and success far outweigh those of his contemporaries, decided not to leave for another show.
He was compensated greatly for it, because when the choice is to either keep things as they are and continue reaping the rewards of such a talent or risk becoming a ratings disaster, well, it's best to get in line and not complain.
Gonzaga basketball still makes the West Coast Conference home, and the league continues to be defined by one of the nation's elite programs.
But such reality wasn't so secure in the spring, when Gonzaga investigated jumping to the Mountain West.
It was hardly a modest flirtation.
"We certainly took it very seriously," said Zags coach Mark Few on Thursday, when the WCC held its preseason media gathering at The Orleans. "We were trying to figure out what was going to serve us best moving forward. Sure, there were days when I wondered how it would be not playing here but instead there and in places like the Thomas &Mack Center. But it wasn't about that."
I mentioned he could have also been making an annual trip to Laramie, Wyoming, and, by the look on his face, surmised it really wasn't about that.
This was about leverage, and Gonzaga owned all of it, which the WCC understood when it took the necessary steps to keep its prized program: The Bulldogs over the next seven years reportedly will receive $1.2 million annually in back pay for NCAA Tournament credits, along with an increase in shared money, and can now schedule two additional nonleague games, a result of the WCC decreasing its conference schedule to 16. The latter ensures Gonzaga's RPI isn't hurt as often when it's playing the Pepperdines of the world.
More than anything, Few wants other WCC programs to begin investing in basketball far more than Gonzaga has, to make the sort of financial commitment off the money received from Gonzaga's NCAA success that exhibits a legitimate interest in elevating one's product.
More than anything, he wants presidents and athletic directors throughout the conference to care about getting better.
"For 20 years, we've been donating our (NCAA) shares while we have basically spent our adult lives professionally making Gonzaga as good as we can possibly be," Few said. "So to just share all of that (money) like socialism with other administrations that weren't as (committed), I mean, we've been taking some risks.
"Building a big arena and a practice facility and traveling the way we do and scheduling the way we do — it's not fair to split it evenly when other programs aren't even trying."
Zags unanimous pick
It was right of the WCC to meet Gonzaga's demands — it has to, at nearly all costs, keep a program that has reached 20 straight NCAA Tournaments and played in the national championship game two years ago — just as it was right of the Mountain West not to.
The Mountain West already failed its members miserably in 2012, when it kept Boise State's football team from jumping to the Big East Conference, leveraging far too much when guaranteeing the Broncos an annual windfall of near $1 million through TV contract bonuses. It didn't need a repeat of such shortsighted thinking to land Gonzaga.
But while another season will soon commence and — big shock here — Gonzaga on Thursday was named a unanimous choice to again win the WCC, the idea of a future move to the Mountain West by the Zags hasn't been erased.
It's not something Few thinks about daily.
He also didn't dismiss the thought.
"Had they left (now), certain things would have obviously gone with them," said San Francisco coach Kyle Smith. "That program was ranked No. 1 in the country two years ago and played for a national title. We all benefit from that.
"I think (Few) is 100 percent right about all our programs investing in basketball. I think he's very much a capitalist. I don't blame him. He wins big and when money is distributed back, it should go to men's basketball. I'm on the same page.
"But, you know, I also wouldn't have minded watching them have to make that San Diego State-New Mexico road trip and catch it on television. That would have been OK, too."
He was laughing and not all that serious.
I think.
Contact columnist Ed Graney at egraney@reviewjournal.com or 702-383-4618. He can be heard on "The Press Box," ESPN Radio 100.9 FM and 1100 AM, from 7 a.m. to 10 a.m. Monday through Friday. Follow @edgraney on Twitter.