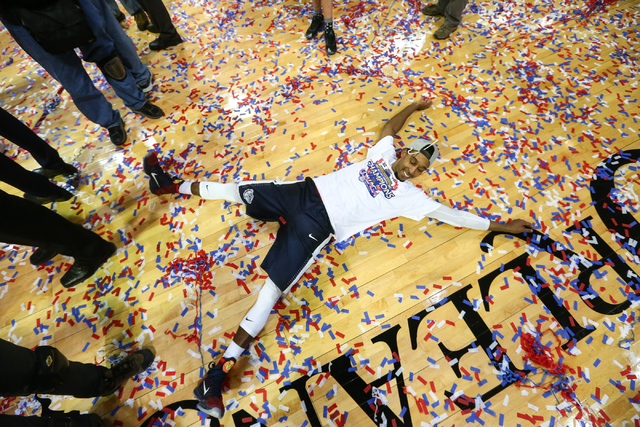 I had Lasik surgery several years ago and still see at a pretty sharp clip, but the whole eye test theory when it comes to which college basketball teams are most deserving of an NCAA Tournament berth isn't always the most reliable.
Whose vision should we trust, anyway?
You listen to some of those spouting opinions and swear they are blind.
Gonzaga on Tuesday night made worrying about such matters null and void and altogether meaningless with how it reacted to the possibility of Spokane suffering through a March without Madness, beating Saint Mary's 85-75 in the West Coast Conference tournament final before 7,418 at Orleans Arena.
The streak lives because Gonzaga played as a championship team when it absolutely had to, meaning the Zags have earned an 18th consecutive NCAA berth under head coach Mark Few because they did things like this against the Gaels:
Shot 62 percent from the field.
Shot 46 percent on 3s.
Shot 95 percent on free throws.
The definition of responding.
"This is as courageous a run as we've ever had in the years I have been doing this," Few said. "To show as much guts and toughness and determination from all the stuff they were hearing and feeling and seeing out there … When we lost to (Saint Mary's) on Senior Night, we went from winning the league to not being in the NCAA Tournament and all this noise and the sky is falling and Armageddon and blah, blah, blah … We were the hunter this whole tournament, not the hunted. It's a little nice to be in that position. We haven't been in it a lot.
"All is good in Zags-ville.
"Surprise. The sun came up."
The NCAA bubble can cause more stress than taking a final exam or preparing for a job interview or being Donald Trump's publicist, and it was obvious those who both cheer and play for Gonzaga arrived here this week with a level of uncertainty than years past, when the main thing Few's team played for was seeding on Selection Sunday.
The faithful rooted a little harder and lived and died with each basket a little longer this time, knowing that anything less than another trophy would likely mean setting plans for the National Invitation Tournament. The last time Gonzaga played in the NIT, MP3s had just been created and Monica Lewinsky was being introduced to the nation as not your typical White House intern.
It has been a long while.
But there will be no such second-fiddle event for the Zags yet again, mostly because the Gaels didn't defend much of anything or anyone, certainly not the Gonzaga front court duo of Domantas Sabonis and Kyle Wiltjer.
They combined for 32 points and 12 rebounds.
"It was huge for us to (keep the streak alive) because, obviously, nothing is guaranteed and we didn't want to be on the outside looking in," said the senior Wiltjer, named the tournament's Most Outstanding Player. "I'm really proud of our guys for having the will to win. Tonight was a great example. It wasn't perfect, but we stayed with it. We kept fighting. For us, controlling our own destiny was huge."
Saint Mary's no longer owns that ability and finds itself securely on that stressful bubble just days before the bracket is announced. The Gaels have a championship over 18 conference games — including two wins against the Zags that gave them the tiebreaker atop the league standings — but no top 50 victories and 18 results against sub-200 RPI teams.
They do own six wins against the top 100.
This is when that weird eye test might come into play when a selection committee places the Saint Mary's resume on a projection screen and compares it to other bubble teams. I suppose the Gaels' fate might depend on whose vision carries the most influence in that room.
"It is out of our control, so we will find out Sunday," Gaels coach Randy Bennett said. "We are 27-5, one of the top five records in the country. We played who was on our schedule, and our losses are against some pretty good teams. We've done what we can. We won this league. The only thing we didn't do was beat Gonzaga three times. If we don't (get in), there are some really good teams in this country."
Gonzaga was one Tuesday night. It responded like a champion.
Anyone could see that, even those with blind opinions.
Ed Graney can be reached at egraney@reviewjournal.com or 702-383-4618. He can be a heard on "Seat and Ed" on Fox Sports 1340 from 2 p.m. to 4 p.m. Monday through Friday. On Twitter: @edgraney