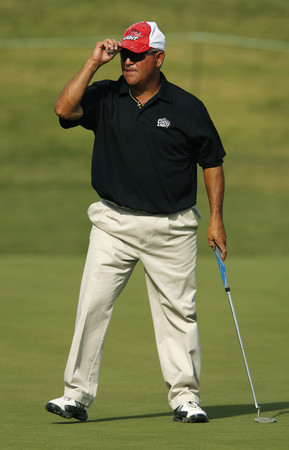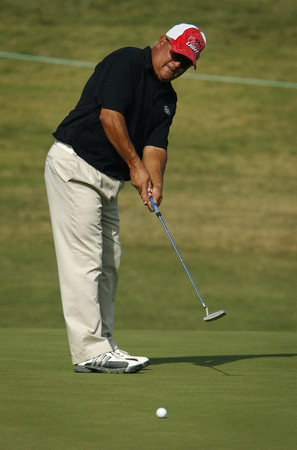 There is a proverb about adversity that says if you faint in the day of it, your strength is small. Ernie Gonzalez believes he has help in such troubling times.
That if he in fact determines his destination, the road he travels always will include a partner.
"I am a Christian," Gonzalez said. "I am a believer. Whatever the plan God has for me, that's what will happen."
The dream at one point was to be the next Bob Charles. Even better. The goal was to place his name among the greatest left-handers to ever swing a golf club. But dreams end quickly sometimes, and we are left to reassess.
You don't need to hold a winner's check to know what triumph means over the span of a golf tournament. For several days this week, Gonzalez hit shots that reminded those who knew of his vast talent decades ago how well he could string together terrific rounds.
He finished tied for 47th at the Justin Timberlake Shriners Hospitals for Children Open at TPC Summerlin, a placement for the Las Vegas resident on his home course that won't draw interest beyond family and friends, but one that has special meaning for him.
For the life he leads now.
For the faith he follows.
Ernie Gonzalez was going places in 1983. The San Diego native had turned pro and within two years was playing full time on the PGA Tour.
He won the rain-shortened Pensacola Open in '86 and the following season made what would be a career-best 17 cuts in 36 events. His world ranking once rose to 68.
It never would see higher than 154th again.
Prior to Sunday, he hadn't cashed on the tour since 2001.
"I just struggled all the way up through the mid-'90s," Gonzalez said. "I changed my swing. Things got a little better. Then they went bad."
There is an abundance of these stories in golf, mostly hidden deep below the surface of what championship Tiger Woods might win next. Guys have it one day, and it's gone the next. It's just gone, is all.
So you move on and live. Gonzalez played a number of Nationwide Tour events and others in Canada and Australia and the like, but upon moving his family to Las Vegas in 1998, reality eventually set in. He needed a job.
He for seven years has worked as a warehouseman for Wirtz Beverage Nevada, formerly Coors-DeLuca. He is 48 and has a graveyard shift that allows for some sleep in the morning and some golf in the afternoon. It's not like before. Golf has a different place now.
But then there are times like this week. Gonzalez qualified by winning a three-man playoff at Las Vegas Paiute on Monday and then followed with a 4-over-par 75 on Thursday that seemingly allowed him to make other plans for the weekend.
And yet before CUT could be added next to his name, Gonzalez showed up Friday and went low to the tune of an 8-under 63, which included a 5-foot par putt on the 18th he needed to make in order to survive.
It was a wonderful round where on the par-4 15th, he drove the green and left himself a 21-inch eagle putt. The entire day was for him one of those snapshots of another time.
"A pretty good week," Gonzalez said. "The most peaceful I have been in a long time. I hit it solid all week. I can't believe how well I hit it."
He gave up drinking because he wanted to set a better example for his now 17-year-old son, gave it up because it was staining that road he traveled through life. It wasn't a good thing, and he insists walking away from it was not difficult.
Faith can be a hard thing to trust. You can own the vision, the work ethic, the resolve, the dedication, and still your dreams don't always cooperate. You can be going places one day and lose it the next.
But it's often how one responds that defines the person.
How strong are you in the face of adversity?
Ernie Gonzalez finished 9 under for the tournament and earned nearly $10,800. He now will return to work at the warehouse, return to earning a living for his wife and son, to attending church services at Shadow Hills Baptist, to hoping for more opportunities like the one presented this week, to traveling life's road with a partner.
"It's not about me," Gonzalez said. "It's about God. I'm OK with how things have gone. I have to be. I wanted to be the best left-hander out there …
"He had other plans for me."
Las Vegas Review-Journal sports columnist Ed Graney can be reached at egraney@reviewjournal.com or 702-383-4618. He also can be heard weeknights from 11 p.m. to 1 a.m. on "The Sports Scribes" on KDWN-AM (720) and www.kdwn.com.
Slideshow