Graney: A sea of terrible towels a terrible look for Raiders
Updated September 26, 2023 - 7:16 pm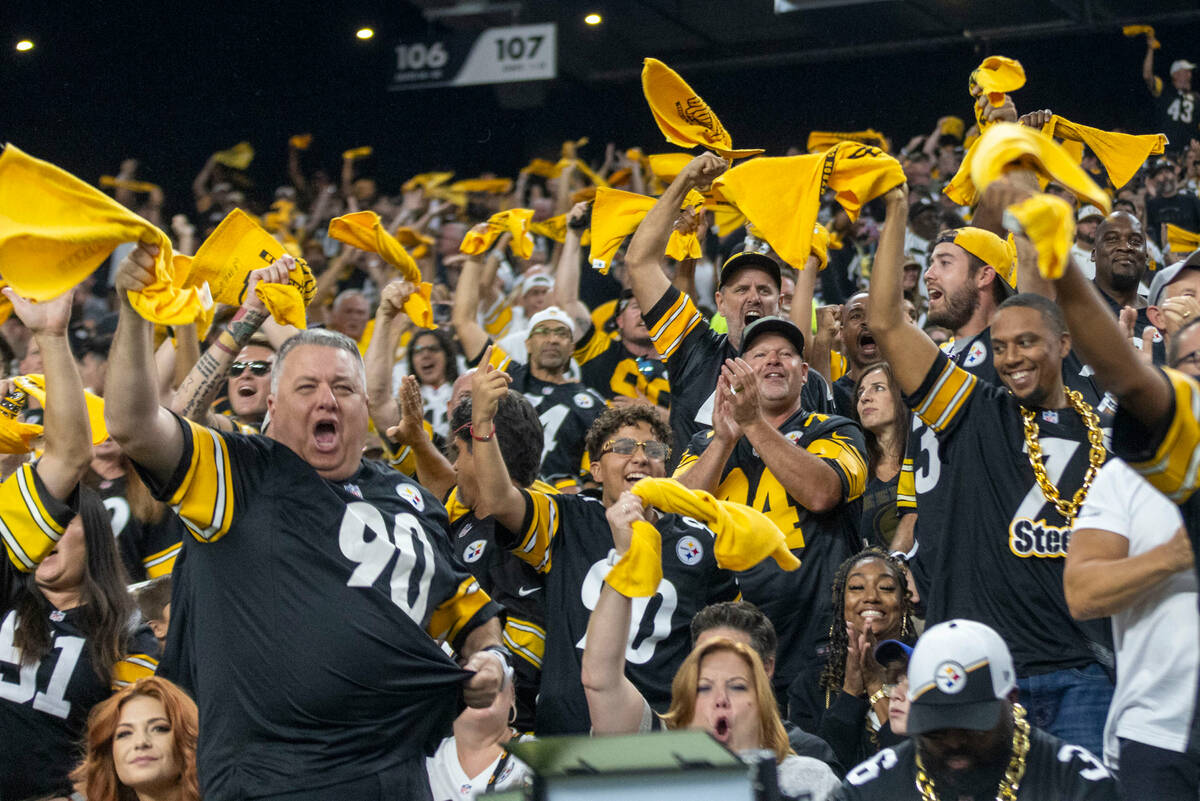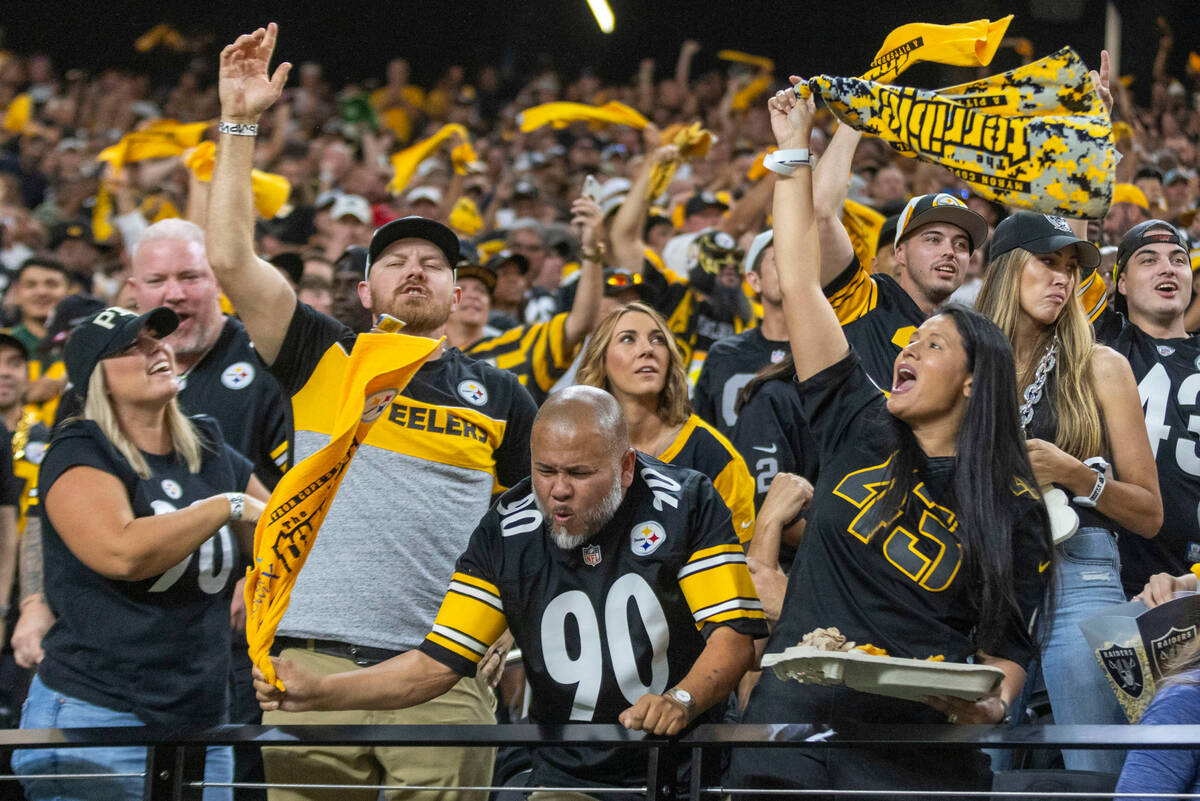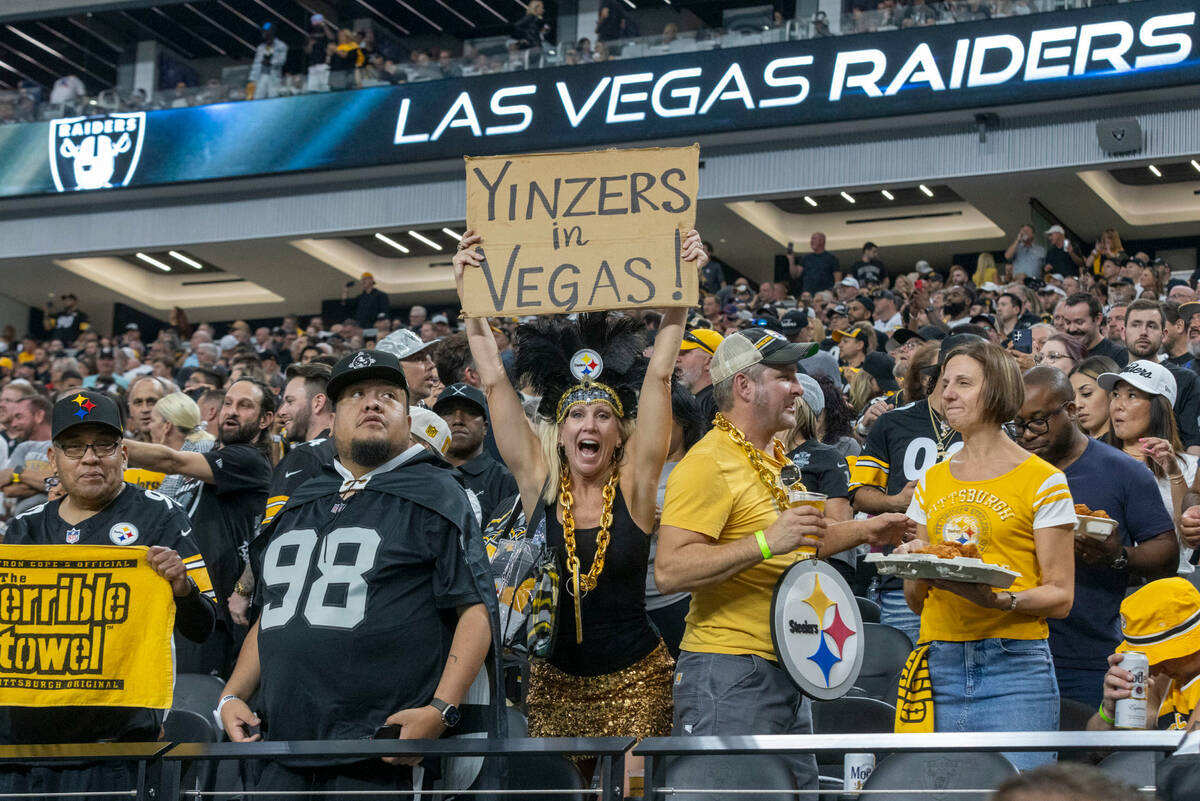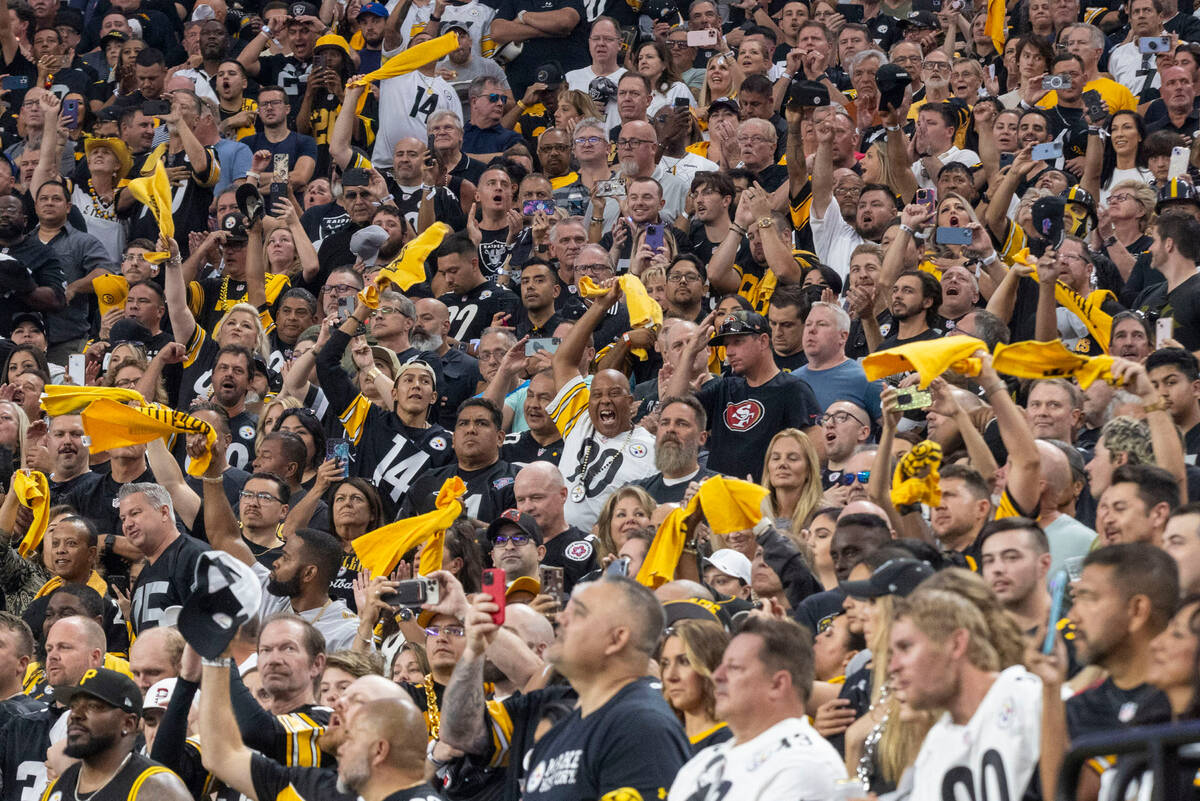 The Raiders on Sunday will play their first true home game of the season when they engage the Chargers. Site: SoFi Stadium in Inglewood, California.
Southern California is still a Raiders haven, so it's no surprise when you see more silver and black in the crowd each time the AFC West rivals meet.
Just like it's no surprise fans of certain visiting teams take over Allegiant Stadium.
The most recent example came Sunday night in prime time, when Pittsburgh West arrived to watch the Steelers defeat the Raiders 23-18.
Black and gold
This wasn't one of those times when fans of a different colored jersey only congregated in sections on the east side of the stadium and behind the visiting bench. This was a sea of black and gold throughout Allegiant, from top to bottom, an advantage difficult to quantify but obvious just the same.
The Raiders at one point went to a silent count … in their own house.
"You'd have to blow up Las Vegas to keep people from coming to our stadium," Raiders owner Mark Davis said. "It's an allure. There's nothing like Las Vegas. It's the most exciting city in the NFL and maybe the country.
"I remember the same thing with New Orleans back in the 1980s. Everyone wanted to go there. It's something we have to fight and fix. You have to put a product on the field people want to go to. The Raider Nation is as strong as ever. We just have to build a consistent fan base here. It takes time."
This phenomenon isn't exclusive to Pittsburgh. This has been occurring since fans were first welcomed into Allegiant for Raiders games. Fans of visiting teams seem to have no issue paying exorbitant ticket prices to attend, and some Raiders fans are more than willing to sell.
"It's a 50-50 proposition," said Carlos, a season-ticket holder of three seats since the team's first year in Las Vegas. "If they're playing good football, I want to be there and support them. But if you're dissatisfied with the product, it becomes financial. I've already sold my tickets to the Green Bay and Kansas City games this year and with the money have paid for next year's tickets."
He was born and raised in Los Angeles. Went to games at the Coliseum. Supported the team in Oakland.
"But they haven't played well, and to be in the black with your tickets from one year to the next is a no-brainer for me," he said.
Steph is a season-ticket holder who rarely sells but for a family conflict — Raiders to the end, win or lose — but said a friend unloaded two tickets behind the team bench to the Pittsburgh game for $4,000.
Yeah. It's a business. And not just in Las Vegas. These sorts of transactions happen weekly across the NFL but likely not to the level of a Raiders game. Davis is right. People want to visit here. Make a weekend of it. Watch their team, no matter how much ticket prices are driven up over the secondary market. The demand some weeks has been crazy.
'Winning helps'
The interesting part would be if such truths continue should the Raiders begin winning. If they became an annual contender in the division and for playoff berths. Look at the fan support generated by the Aces. Look what continues to happen with the Golden Knights.
They're different in a way that a majority of Raiders fans are out of market. There isn't the local passion for them yet as there is the WNBA and NHL sides. Problem is, 6-11 last season and 1-2 in 2023 hasn't excited the football fan base much.
"Winning helps," Davis said.
This was Pittsburgh star T.J. Watt after Sunday's game: "To be able to have a team on a silent count in their own stadium is pretty demoralizing …" for the home team.
Advantage, a sea of black and gold.
Ed Graney, a Sigma Delta Chi Award winner for sports column writing, can be reached at egraney@reviewjournal.com. He can be heard on "The Press Box," ESPN Radio 100.9 FM and 1100 AM, from 7 to 10 a.m. Monday through Friday. Follow @edgraney on X.