Graney: Aaliyah Gayles authoring a remarkable comeback story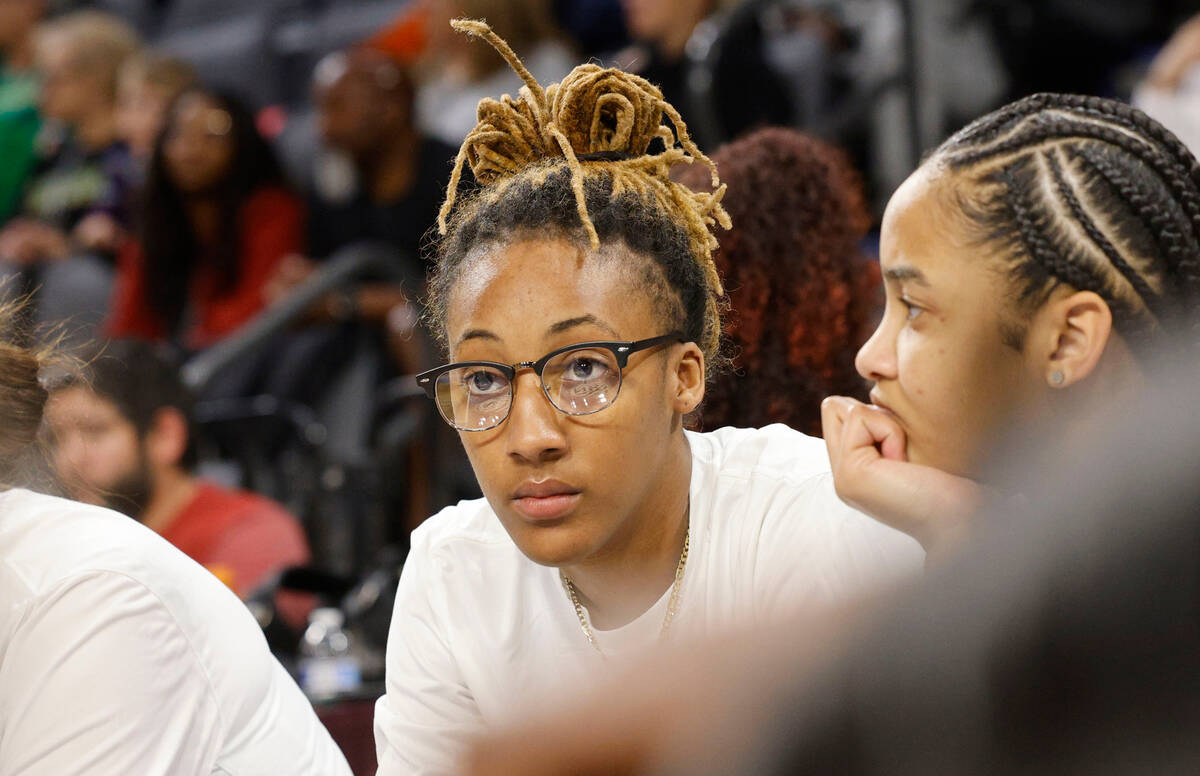 The tattoo is scrawled across her left arm: Only the strong survive.
She got it as a freshman in high school, years before her life changed forever.
How ironic.
Aaliyah Gayles was back in Las Vegas this week for the Pac-12 Tournament, a freshman basketball player for Southern California who's redshirting this season after the most life-changing of moments.
She's the former Spring Valley High star who was shot 10 times in the arms and legs at a North Las Vegas house party in April. Who nearly lost her life one spring evening over Easter Weekend.
Moving on
She has moved on now, little step by little step, never forgetting that fateful night and yet wanting to focus on realizing the dream she has held on to firmly since a little girl.
She's determined to play for the Trojans. Committed to the journey. Putting in the long, tiring and at times painful work. Had to learn how to walk again. How to function in the most basic of ways.
Her rehab continues with time in the weight room and shooting drills, her body not nearly as broken now. She lights up when talking about sinking layups with her teammates.
Something so simple and yet massive in her drive to come all the way back.
She was cleared for activity in September and her goal is to be on the court again next season, playing games and competing and doing all the things that made her a McDonald's All-American point guard.
"I know when that first game comes, it will be a little nerve-wracking," she said. "When it comes to big events, I get some butterflies until I'm in a groove.
"This whole experience definitely taught me a lot about mental toughness. I'm 10 times tougher now than I have ever been. Nothing can get in my head now. This has taught me everything."
How her game — she was ridiculously athletic as a prep standout — might change isn't yet known. But having to play a different style of ball would hardly shake someone with her resolve.
She has taken advantage of a redshirt season to sit and watch and learn and devise in her own mind how things might work with her on the floor. How she might rediscover a skill set that made her such a special player.
"There is not a day that goes by when I see Aaliyah and don't feel better for it," said Trojans coach Lindsay Gottlieb, whose team fell to Oregon State 56-48 in the first round of the conference tournament Wednesday night. "Seeing her every day and her positive attitude is inspiring to me and the entire team.
"There is still a road to go. It's an unprecedented recovery. I have no experience with something like it. So we're just taking it day-by-day."
Gayles' competitive streak is endless. Always has been. You get the feeling chatting with her that it's not a case of if she can return to form, but rather when. That nothing will impede her desire.
Why stop now?
"She has defied all odds, so what makes you think she's going to stop now?" said Billy Hemberger, who coached Gayles at Spring Valley and is now at Liberty. "I don't know what the future holds, but wholeheartedly believe she'll be successful at the college level."
Hemberger in his garage has a collage of those Spring Valley days, of when Gayles was running and up and down a court with such ease and fluidity, so talented, so in sync with every move.
In those times he doesn't feel like going to work or working out or dealing with what can be the monotony of everyday life, he looks at the pictures.
And then texts a certain former player.
"I just tell her, 'Thank you for motivating me today,'" Hemberger said. "What an inspiration. To sit here and talk about it gives me chills. I'm so happy for her and her family to truly be able to experience life. These are going to be her best years."
Only the strong survive.
Ed Graney is a Sigma Delta Chi Award winner for sports column writing and can be reached at egraney@reviewjournal.com. He can be heard on "The Press Box," ESPN Radio 100.9 FM and 1100 AM, from 7 a.m. to 10 a.m. Monday through Friday. Follow @edgraney on Twitter.