Graney: Desperate Stars push back to stay alive in series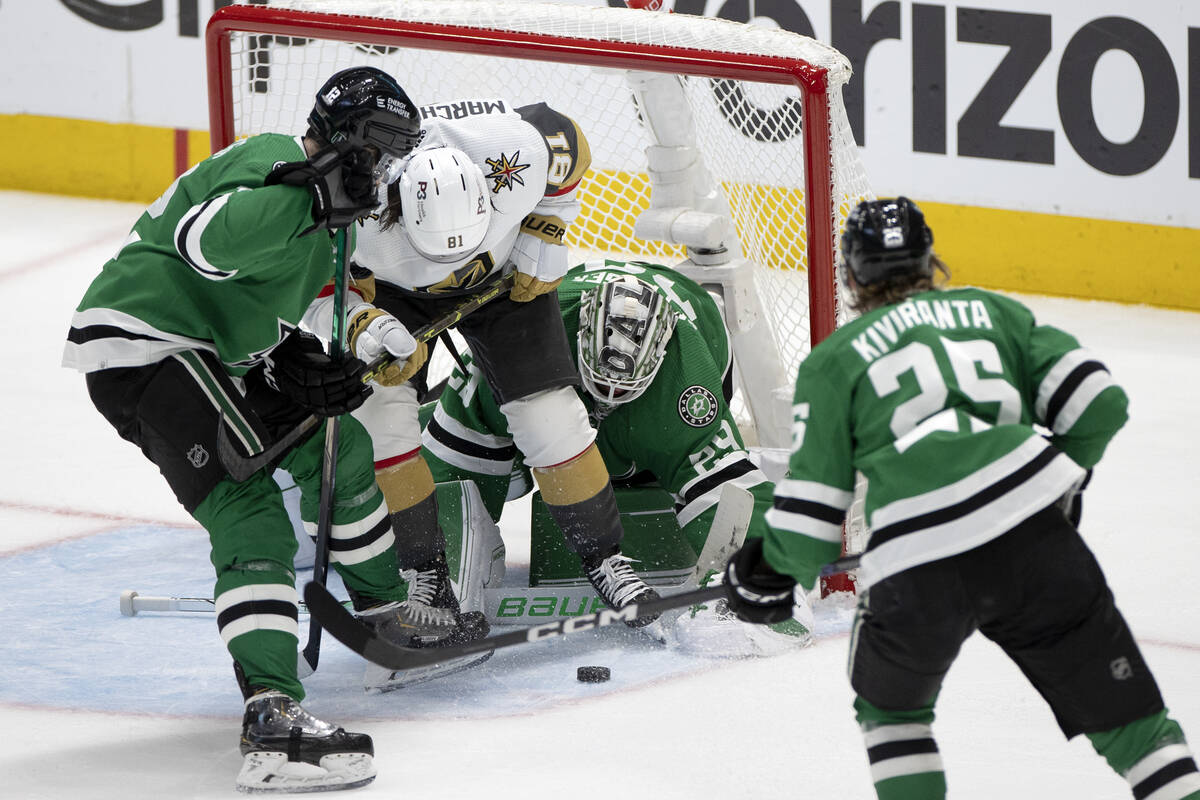 DALLAS
They knew how hard the push would be, how desperation has this way of lifting a team's level of play. There would be no celebration for the Golden Knights on Thursday night, no Western Conference title just yet, no Clarence S. Campbell Bowl to take pictures around.
It's still going, folks.
Dallas apparently has something left in its pursuit of what would be a historic comeback, the Stars having avoided being swept out of this best-of-seven series with a 3-2 overtime victory before a sellout gathering of 18,532 at American Airlines Center.
It was the best we have seen of Dallas in four games.
Certainly when it mattered most.
Prideful Stars
"Our effort level wasn't good enough," Knights forward Jonathan Marchessault said. "Just not good enough for our group. It's still in overtime, so it was right there for us. They played well defensively. Their desperation was higher than ours, and at this time of year, it's about who wants it more."
It's true, after all: The fourth one is always toughest to get.
Dallas was faster than it has been in the series, quicker, more purposeful, more potent on the forecheck to create opportunities. The Stars outplayed the Knights in the first 40 minutes to the point in which Vegas was fortunate to be tied 2-2.
It occurs in sports all the time, especially for a team with any sense of pride. It's able to play a bit looser when facing such an uphill climb as a 3-0 deficit in a series suggests.
That was Dallas on Thursday, more willing to trade chances with the Knights than in previous games. I'm not sure the Knights made things as tough on Dallas as they could have, but it's also true that the bounces and luck of any hockey game went by way of the Stars this time.
"Our desperation was at its highest level for sure," said forward Jason Robertson, who scored both of Dallas' goals in regulation. "We know what the stakes are. Everyone came to play. We're going to need that these next three games."
Notice he said three games.
Dallas wants in this thing as long as possible.
But the numbers are staggering — only four teams in history have overcome a 3-0 deficit to win a series — so the odds still very much favor the Knights advancing to their second Stanley Cup Final.
And yet there is work to be done.
The Knights received more of it from goalie Adin Hill, perhaps the only reason his team even made overtime. Hill was as good or even better than when shutting out the Stars in Game 3. He stopped all but three of 42 shots Thursday.
"He was excellent," coach Bruce Cassidy said.
Doubting Knights?
You have to be aware of the situation. That the Stars' season was and remains on the line. You can't take any lead for granted. It wasn't as if the Knights did, but there was no question which was the more determined side. Dallas was even missing two of its leading players in captain Jamie Benn (suspended) and forward Evgenii Dadonov (injured).
Still managed to walk away a winner.
Not that odds favor three more similar results.
"You need to think it can happen," said Stars forward Joe Pavelski, whose power-play goal at 3:18 of overtime won it. "It has happened before. You have to keep putting your game out there and believe you'll get more time. So we will see where this thing goes and maybe put some more doubt in their minds."
I'm not sure the Knights are doubting much.
I'm not sure they should be.
Desperate teams with some pride in themselves push back.
Just so happened it pushed a little bit harder than the Knights on Thursday.
Ed Graney is a Sigma Delta Chi Award winner for sports column writing and can be reached at egraney@reviewjournal.com. He can be heard on "The Press Box," ESPN Radio 100.9 FM and 1100 AM, from 7 to 10 a.m. Monday through Friday. Follow @edgraney on Twitter.