Graney: Despite loss, starting Aidan O'Connell right decision
Updated October 2, 2023 - 6:21 am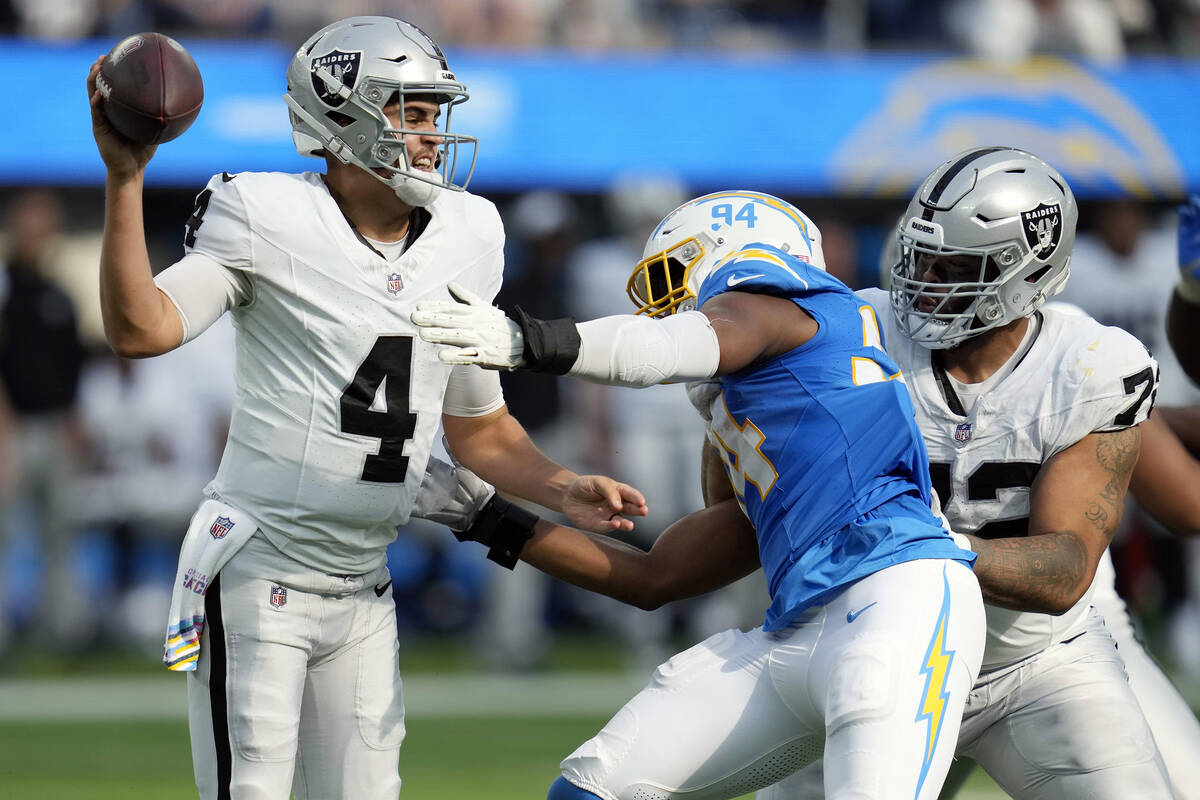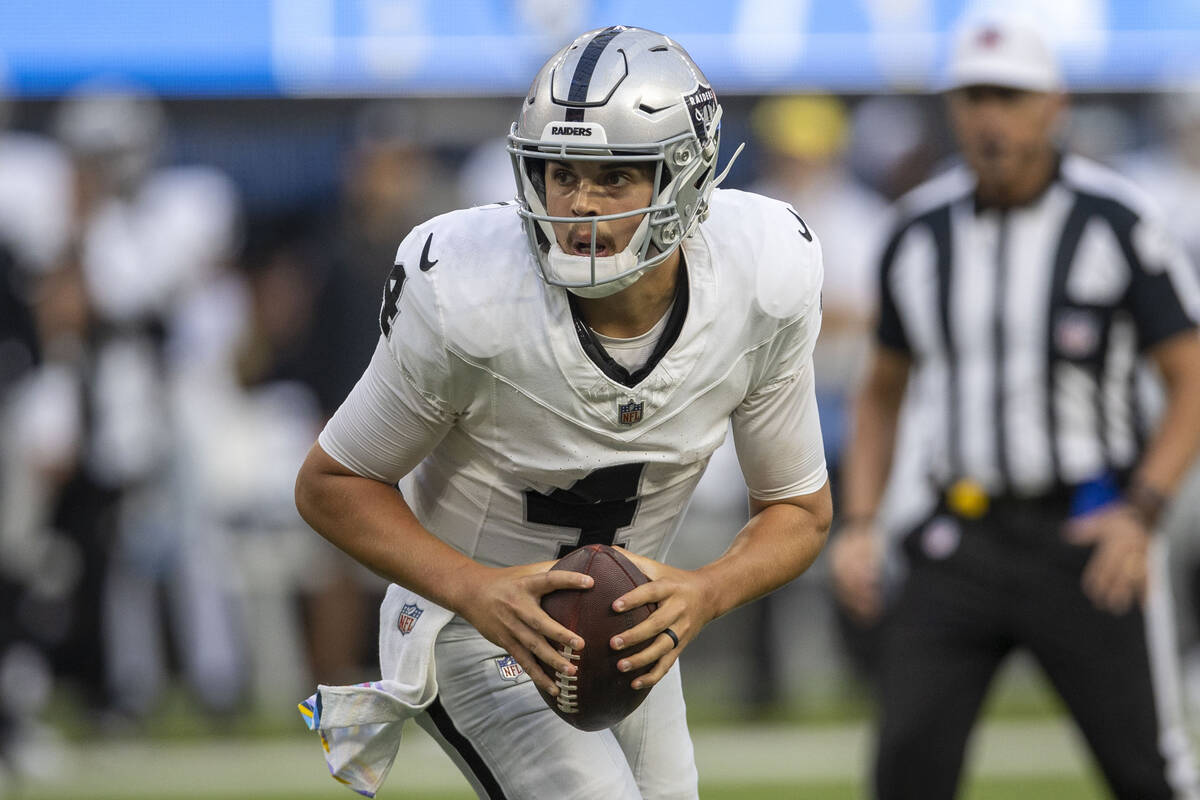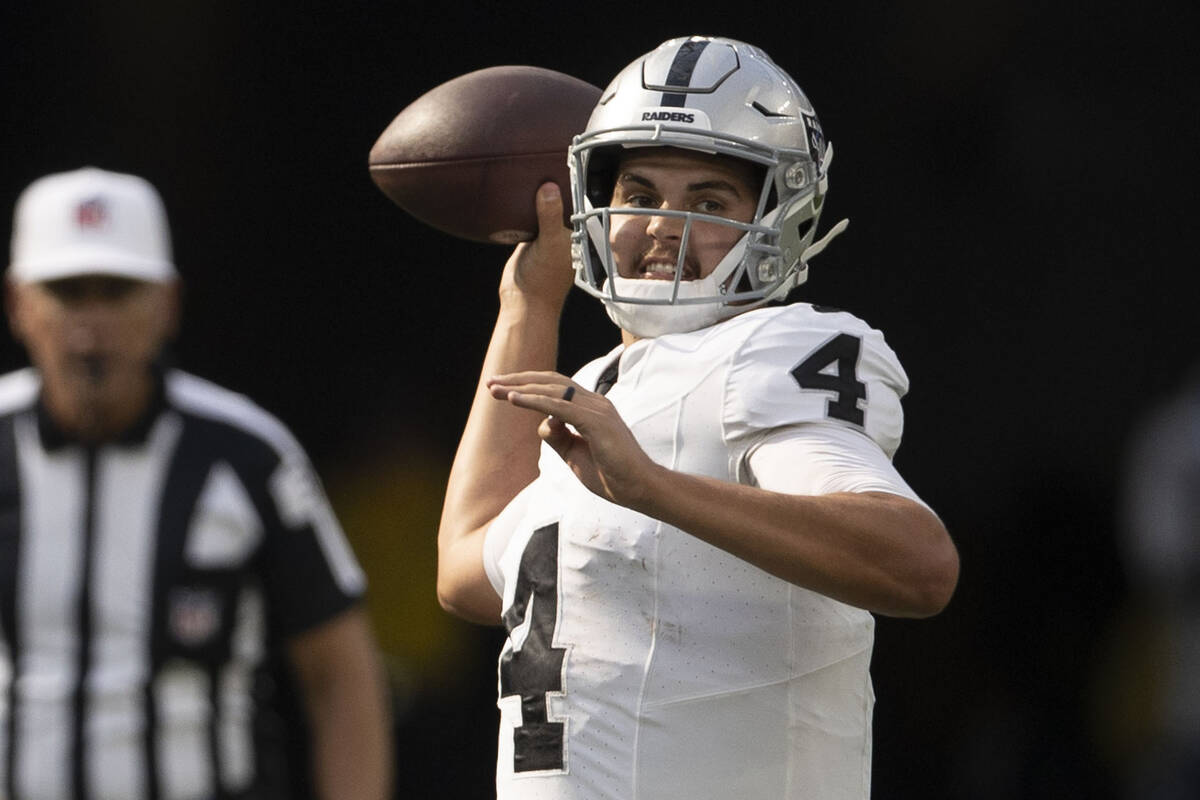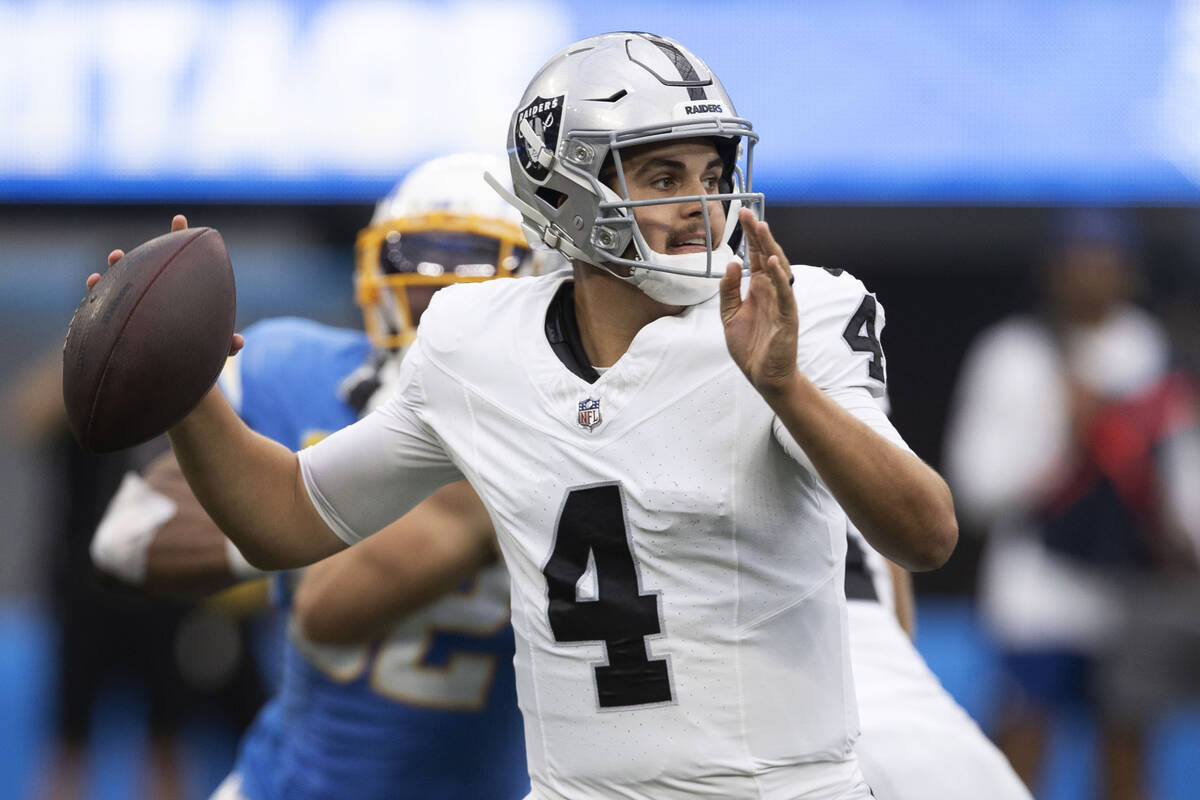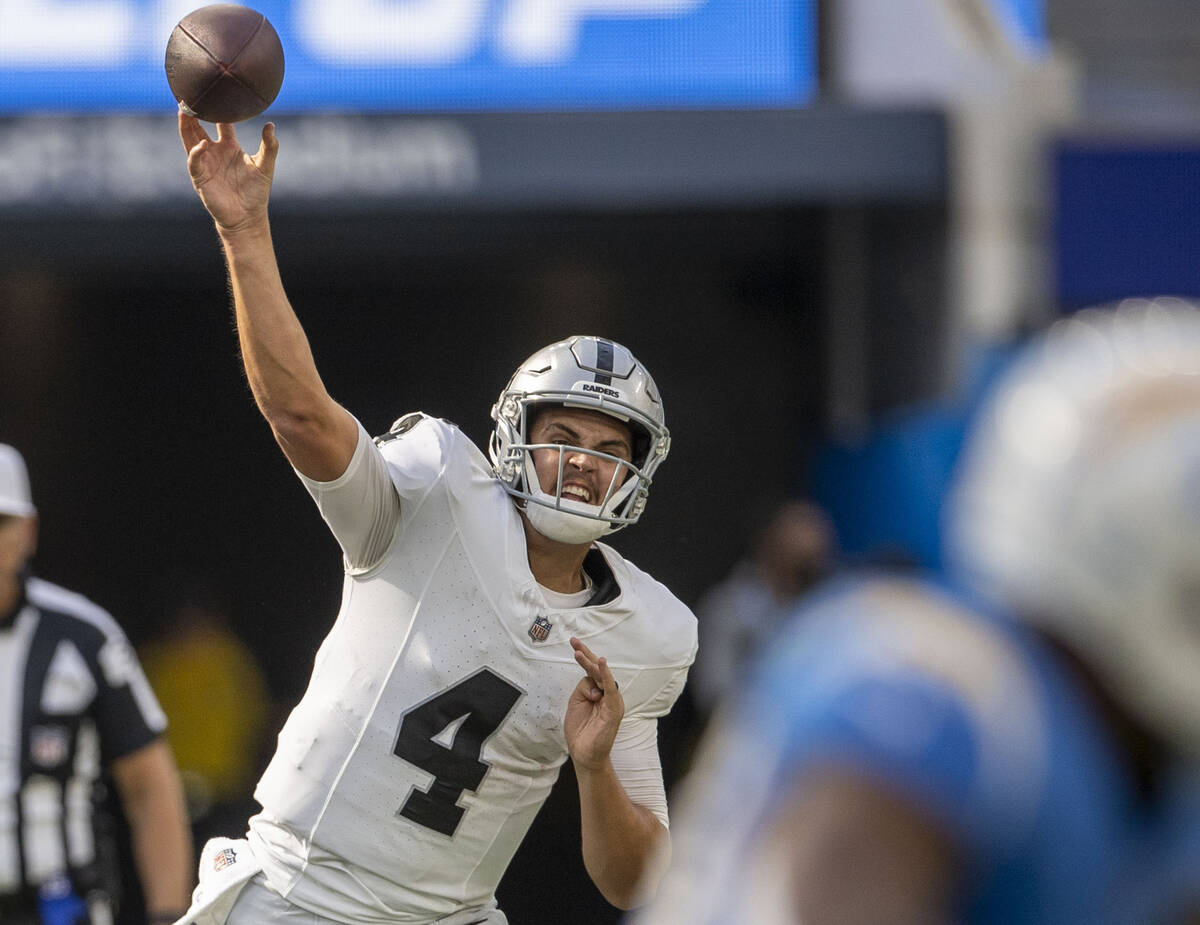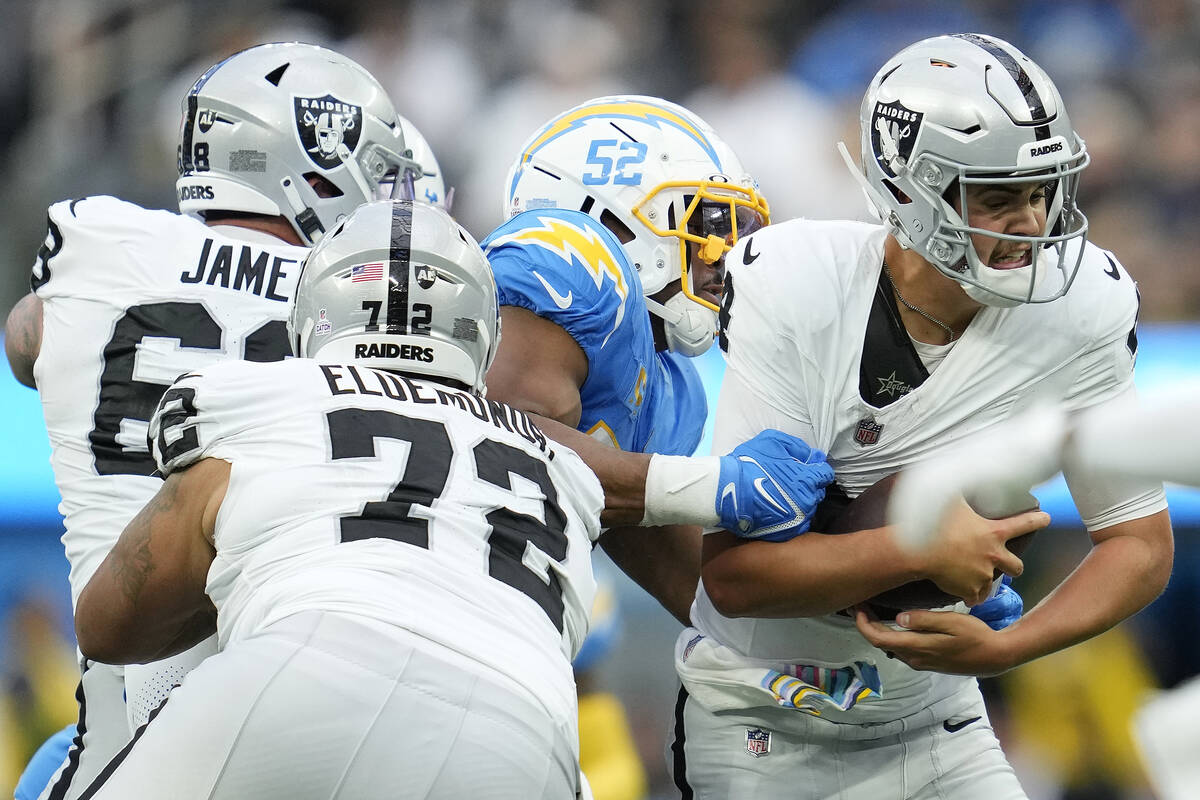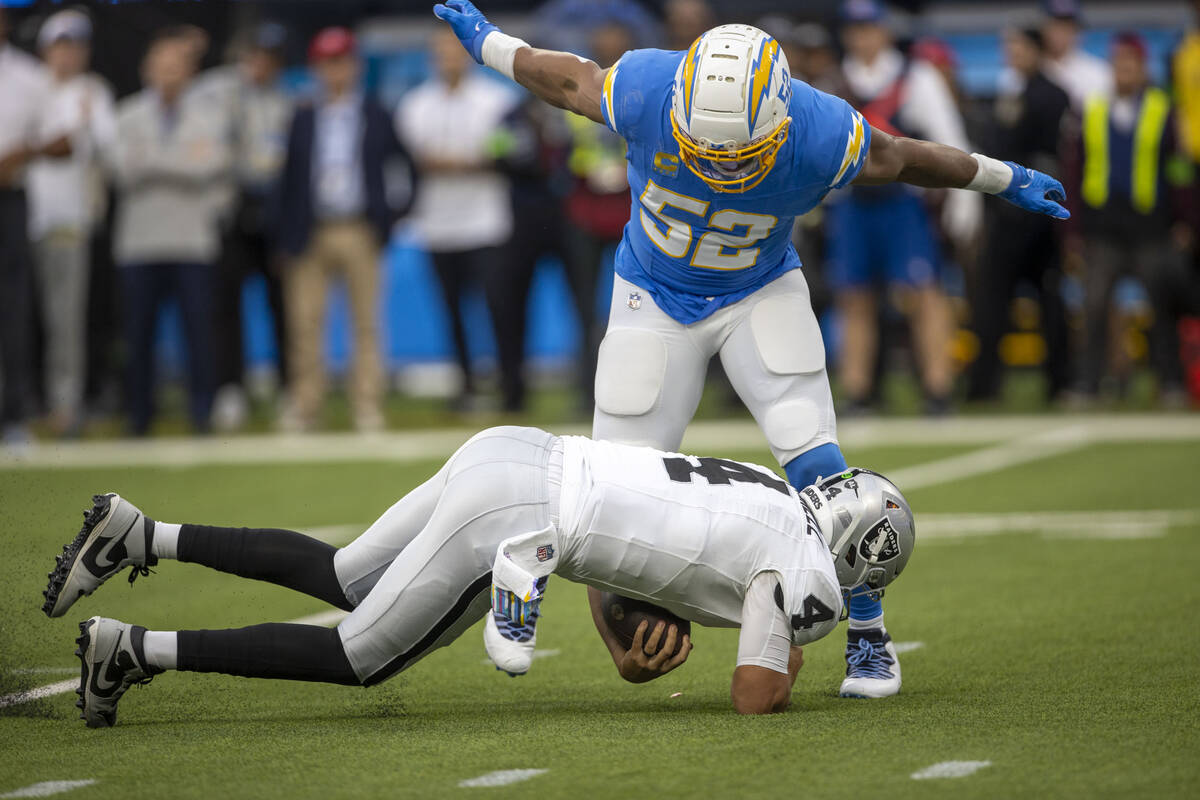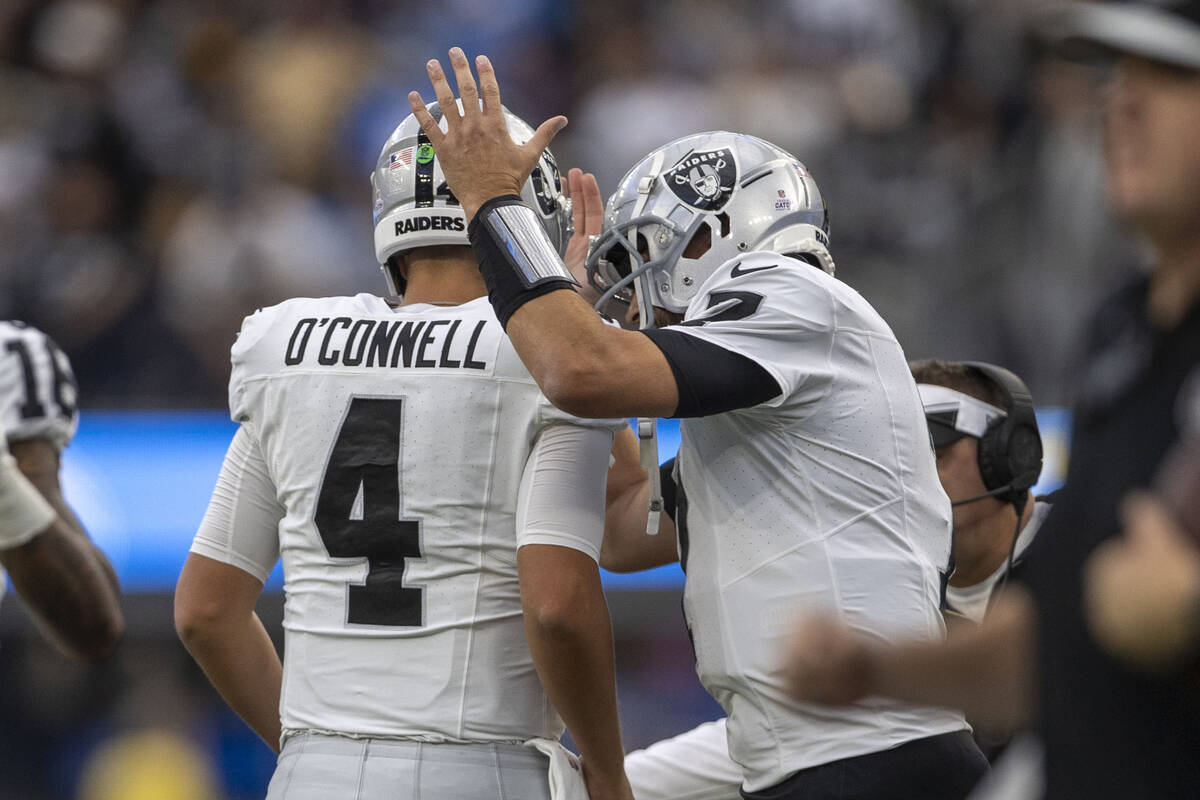 INGLEWOOD, Calif.
It was the correct decision to start rookie Aidan O'Connell at quarterback for the Raiders on Sunday. The only one that made sense.
It doesn't matter that he made critical mistakes that led directly to a 24-17 loss to the Chargers at SoFi Stadium. Doesn't matter that the Raiders are 1-3 and going nowhere.
The last part is hardly shocking.
But the choice between O'Connell and veteran Brian Hoyer as to whom would replace starter Jimmy Garoppolo (concussion) shouldn't have been a taxing one. Josh McDaniels didn't error in making it.
The coach and his team just aren't good enough when the game kicks off.
O'Connell, a fourth-round pick, needed to be seen over Hoyer, who has lost his past 12 starts and hasn't won one since 2016. You know his history. What you have in him.
You don't in O'Connell. You still might not.
And that's not necessarily a good thing.
Lots to correct
He struggled. The game was too fast for him in the first half. Couldn't keep up with the speed of it. He fumbled twice in the pocket, turnovers the Chargers promptly turned into touchdowns. O'Connell had little sense of timing in the half.
He's an old rookie at 25, which means his learning curve needs to be accelerated so that you can discover fast whether he has a place in the team's plans. This was good for him to gain experience, for the Raiders to witness how he would react to something other than a preseason game against backups.
But it was forgettable at times.
"I have a lot to correct," said O'Connell, who completed 24 of 39 for 238 yards and a rushing score. "Made some mistakes. I just have to do my job better, lock in on each play, focus a little more, trust myself. I just have to do a better job."
His team did an awful job helping him, an undisciplined bunch flagged nine times for 80 yards. The Chargers had seven sacks, and the next time someone properly blocks former Raiders star Khalil Mack (six sacks) will be the first.
In this sense, it really doesn't matter who lines up at quarterback, Garoppolo included. If the Raiders continue to make such self-inflicted wounds, who's throwing passes will become a secondary concern.
Hand it to O'Connell. His execution improved somewhat in the second half, the Raiders making a late run to try to rally from 17 down. But just when it appeared they might tie the score with 2:33 remaining, O'Connell made one of those forgettable plays that led directly to losing.
And it had just as much to do with McDaniels.
Feed Jacobs
The Raiders faced first-and-goal from the 3 and had a running back in Josh Jacobs who had begun to find open lanes against a gassed defense but got no carries on the final drive.
On the final play of the drive, McDaniels had O'Connell sprint right and try to find wide receiver Jakobi Meyers in the end zone. The quarterback's timing was off on the throw, and the ball was intercepted. Jacobs needs to touch the ball there. He must.
McDaniels gave O'Connell the start because the rookie was able to get an ample amount of practice snaps throughout the week with Garoppolo in concussion protocol. Wouldn't have thrown O'Connell into the fire if that wasn't the case.
It was the correct decision, and yet the Raiders continue to flounder, not coached well enough and certainly not played well enough by those in helmets and shoulder pads. Definitely not good enough to dig such an early hole and hope they can fully recover.
"We have to clean some things up so we don't have to feverishly scramble back at the end to try and win it at the very last second," McDaniels said. "There's not one specific solution. We all have to do better … It starts with me."
A second thing he got right Sunday.
Which is about the extent of it.
Ed Graney, a Sigma Delta Chi Award winner for sports column writing, can be reached at egraney@reviewjournal.com. He can be heard on "The Press Box," ESPN Radio 100.9 FM and 1100 AM, from 7 to 10 a.m. Monday through Friday. Follow @edgraney on X.