Graney: Jimmy Garoppolo is the leader Raiders need in crunch time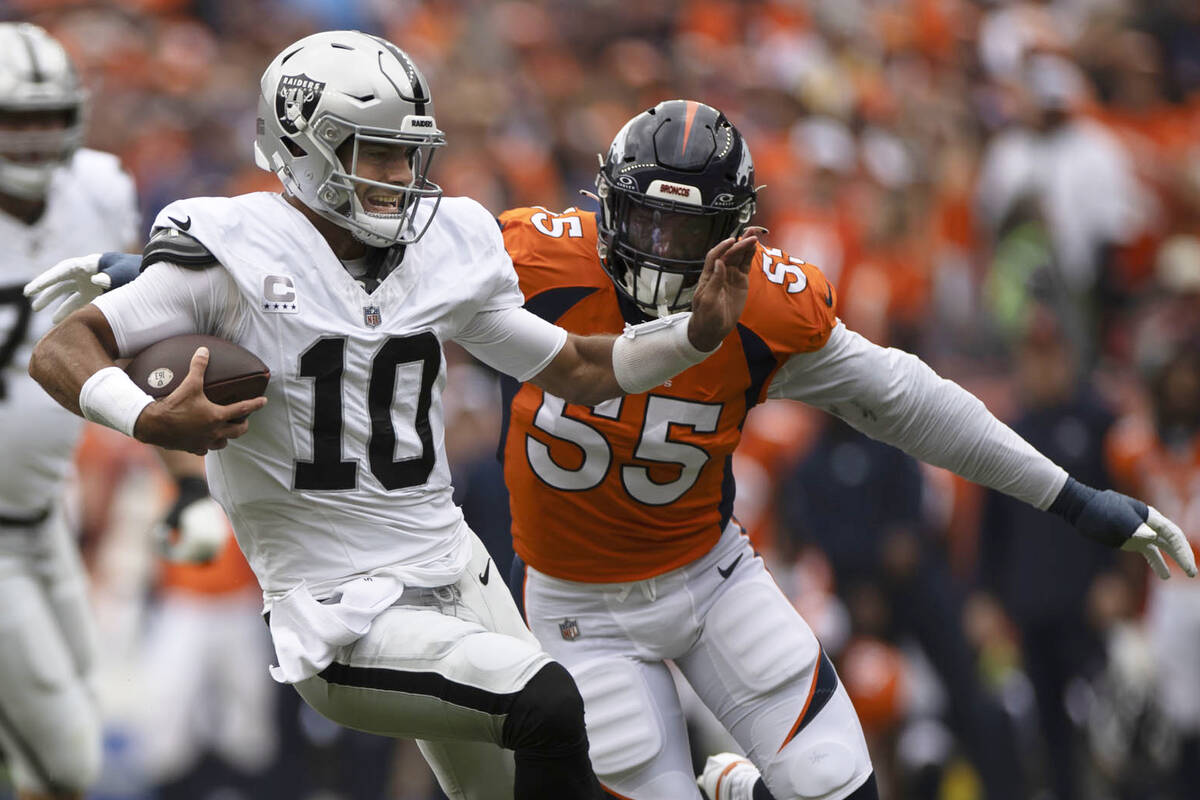 DENVER — The throw was awful. Into the end zone. Into triple coverage. Tipped and intercepted. You can bet Jimmy Garoppolo wants it back 10 times over.
But it was after that when we saw what the Raiders could have in their new quarterback.
In the leader he is. The leader this team needs.
In his first start for the team, Garoppolo pointed the Raiders to a 17-16 win over the Denver Broncos on Sunday at Empower Field at Mile High, a season-opening victory in which the new guy played the sort of efficient fourth quarter needed to deliver his team a successful beginning.
He was superb in the final 15 minutes. Terrific in winning time. Short memories can make for such grand conclusions.
He completed 20 of 26 passes for 200 yards with two touchdowns and that one interception, but none of it would have mattered had he not been so good in crunch time.
Had he not led so well.
Some serious poise
The mental toughness kicked in after the pick, which came with 2:01 left in the third quarter and the Raiders down 13-10. The poise. It was all needed on a day the Raiders were far from perfect, with numerous penalties again making things far too hard on themselves.
But this was also a reversal from 2022, when they would lose nine games by seven points or fewer.
They finished this time. Garoppolo — the first quarterback to start an opener for the Raiders not named Derek Carr in a decade — was a major reason.
"That has been a big emphasis for us," Garoppolo said. "Guys just sticking together."
He doesn't shy away from mistakes. Doesn't make excuses. Owns it. Doesn't act like he knows everything.
Example: A few times Garoppolo sought out star wide receiver Davante Adams on the sidelines and acknowledged he could have found him on different throws.
"It's like arguing with your girl, and she says, 'I'm sorry,' " Adams said. "OK, let's watch a movie now. We're good. We don't have to act pissed off the rest of the night. It makes it really easy to grow with and go and try to win when you have someone like (Garoppolo) … He's a confident leader — one of the most open leaders I've been around."
Said Garoppolo, laughing at Adams' analogy: "It's good to get those relationships going."
The drives that won it:
In his first possession after the interception, Garoppolo led the Raiders 75 yards in six plays in 2:20 to take the lead for good. Included were completions of 18 yards to Adams and 20 yards to tight end Austin Hooper. Included was a 6-yard scoring pass to Jakobi Meyers off a slant pattern at the goal line.
But perhaps his most impressive moments had nothing to do with scoring points.
The Raiders took over at their 31 with 5:08 remaining. Garoppolo would direct a measured drive as the clock wound down, a dose of running back Josh Jacobs and a completion to Meyers that included a personal foul against Denver.
But it was on third-and-7 when Garoppolo made the most significant play, scrambling for 8 yards and a first down, sprung by a huge block from Jacobs
Garoppolo slid to remain in bounds. A veteran move. Game over.
It was his 41st win since 2014, the third-most of any quarterback in their first 58 starts during that time. The two names ahead of him: Lamar Jackson and Patrick Mahomes.
'A dog'
There was also this level of toughness: On his team's first drive, Garoppolo scrambled and took a shot to the helmet at the Denver 6-yard line. He was forced to leave for two plays to be checked, re-entered and immediately found Meyers for a 3-yard touchdown.
"(Garoppolo) is a dog," Jacobs said of the fourth-quarter scramble that ended things. "Any quarterback willing to take a hit in a big moment to secure a win has my respect."
He earned a lion's share of it from the entire team Sunday.
The Raiders don't win this game most days last season, an opinion echoed by players throughout the locker room.
When it counted most, Jimmy Garoppolo led.
Ed Graney, a Sigma Delta Chi Award winner for sports column writing, can be reached at egraney@reviewjournal.com. He can be heard on "The Press Box," ESPN Radio 100.9 FM and 1100 AM, from 7 to 10 a.m. Monday through Friday. Follow @edgraney on X.