Graney: Knights show no panic after Game 3 loss to Panthers
Updated June 9, 2023 - 2:12 pm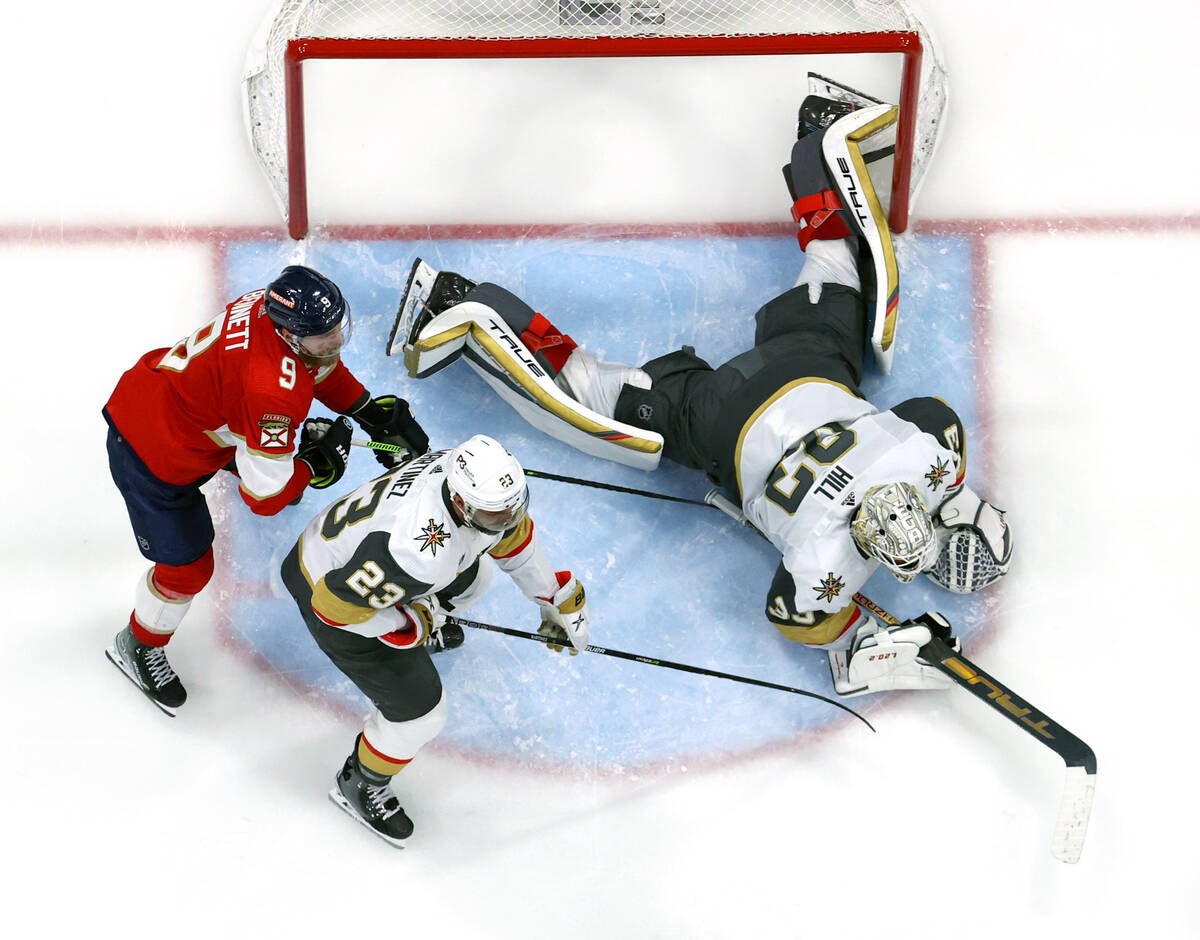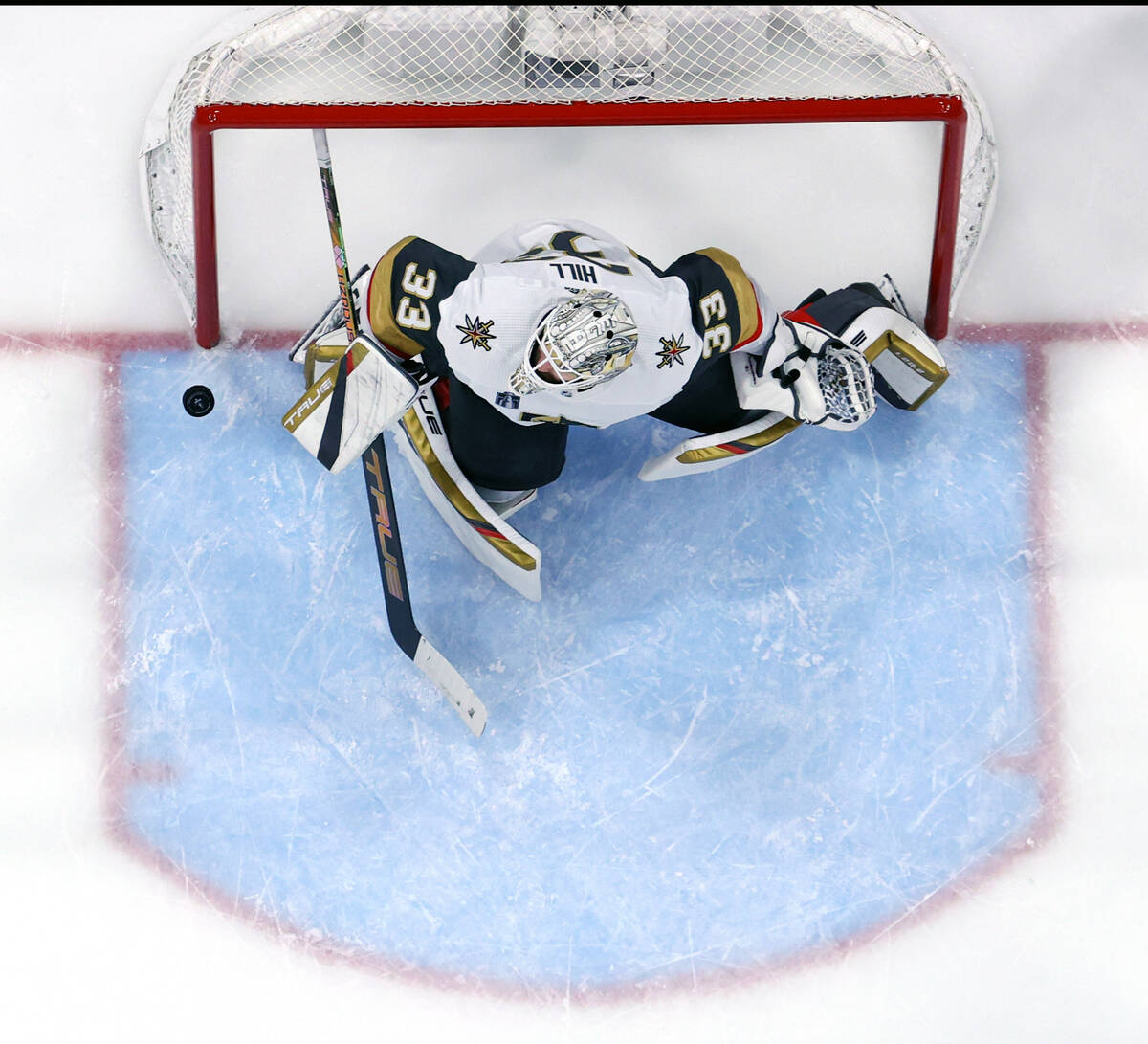 SUNRISE, Fla. — They won't look too far ahead or in the past, won't panic, won't do much of anything except that which delivered them to this place.
The Golden Knights lost Game 3 of the Stanley Cup Final on Thursday night.
Don't expect some grand overreaction.
Nor should there be.
They played well enough to beat the Florida Panthers and yet didn't, falling 3-2 in overtime to see their lead in the best-of-seven series shrink to 2-1.
But you don't win the Pacific Division and earn the No. 1 seed in the Western Conference by making wholesale changes after a loss.
You don't forget that the grind doesn't always produce a desired result.
Liked their game
They will try to elevate their game to an even higher level for Game 4 on Saturday at FLA Live Arena, where a victory will allow the Knights to put a stranglehold on the series heading back to Las Vegas.
"We liked our game (Thursday), and it didn't work out for us," coach Bruce Cassidy said. "They're a good hockey team. We'll do what we've always done — learn from it and get better. This is the time of year where you have to be better each game. We'd like to think we have another gear."
He gave players the day off Friday — no film, no X's and O's, no talk of the Panthers at all — to reset. That's been the normal procedure after games during these playoffs. It has worked far more times than not.
The gear he speaks of points back to a clinching Game 6 against Dallas in the conference final, when the Knights overwhelmed the Stars 6-0. It was arguably the best game — especially considering where it fell — Cassidy's team has played this season.
It did everything right, rushing its way to a 3-0 first-period lead. Was beyond capable in the offensive zone. Shut down defense. Never let the Stars believe they had a chance.
That Knights team would close out Florida in the next two games. It would win Saturday and again Tuesday at T-Mobile Arena. That Knights team would have beaten anyone in the NHL.
But it's not so easy to replicate such execution.
"I never expected this to be easy, and it shouldn't be," center William Karlsson said. "Sometimes you lose. All that matters is focusing on the next game, and we've done a great job throughout the playoffs doing that. Just stay composed and go out and try to win the next game."
If there is any anxiety seeping into the Knights' room, it might be off the play of Florida goalie Sergei Bobrovsky on Thursday. For the first time in the series, he looked like the player who tore through the Eastern Conference playoffs. If he's not entirely on his game, the Knights would have had at least a two-goal lead down the stretch of Game 3.
But they also chased Bobrovsky in Game 2 and outscored the Panthers 12-4 in their two wins at T-Mobile Arena. They also hit a few posts Thursday.
Sour taste
Cassidy wanted his players to feel the loss. To have a sour taste in their mouths. To know the opportunity that slipped away. Then, quickly, forget about it.
"When you get this far, neither team wants to stray too far from what they've done because they've been successful," Cassidy said. "Our guys know what's at stake. Our guys will be fine.
"The sour taste in terms of the immediacy of it is gone. Turn the page. It's more about the big picture. We have veteran guys who have been through this routine enough that they know you just get yourself ready for Game 4. That's all that is in front of us."
They won't panic, won't do much of anything except that which delivered them to this place.
We'll soon see if it's good enough.
Ed Graney is a Sigma Delta Chi Award winner for sports column writing and can be reached at egraney@reviewjournal.com. He can be heard on "The Press Box," ESPN Radio 100.9 FM and 1100 AM, from 7 to 10 a.m. Monday through Friday. Follow @edgraney on Twitter.