Graney: Mystery thickens around Chandler Jones and Raiders
Updated September 7, 2023 - 10:58 pm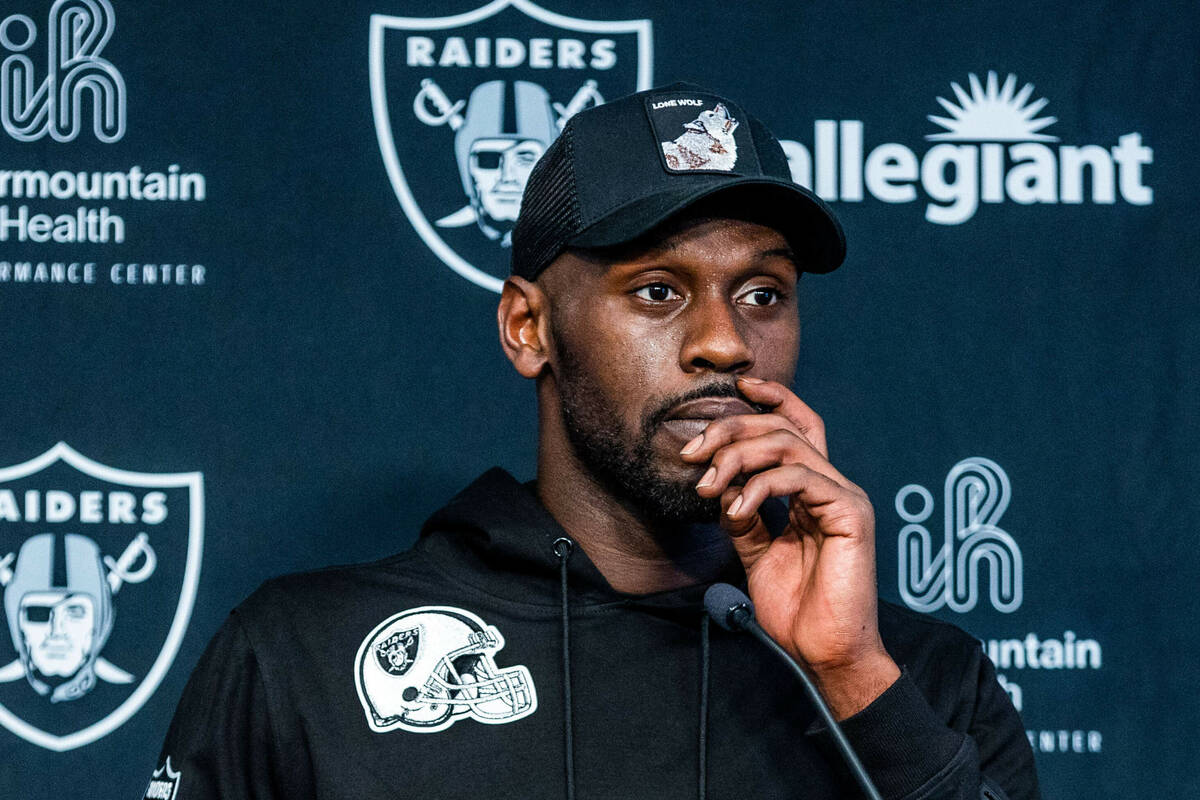 The unknowns are plentiful when it comes to Chandler Jones and the Raiders. The mystery thickens with each Instagram story.
That's the part we're sure about: Nobody is sure about much of anything, knows much of anything, except those intimately involved.
The edge rusher Jones spent the past few days offering several social media remarks in regard to the team, some disparaging of general manager Dave Ziegler and coach Josh McDaniels.
Things took a bizarre turn Wednesday night, when Jones posted a photo of a badge of a member of the city of Las Vegas Crisis Response team, saying the Raiders sent the person to his residence. That she said he needed to come with her because he was in danger.
In one sense, it's overly difficult to understand how Jones comes back from this and plays for the Raiders again. That it wouldn't be shocking if they cut him outright and dealt with any salary cap implications or others that might come with it.
But there is another potential part to this. The posts also suggest Jones perhaps has suffered some level of episode, that he needs help the Raiders might be able to provide. Maybe that's what the team is working through. Maybe that's why the Crisis Response team was reportedly at his house.
If so, the Raiders should do everything possible to aid Jones the person. That would be way beyond football.
Despite what has been intimated in the posts — Jones borderline threatened McDaniels in one Wednesday, saying if he was allowed to play Sunday he wouldn't share anything else — any sort of breakdown should warrant a level of empathy.
But this is the NFL. It's a brutal business. And when you're talking about a 53-man roster, every slot is coveted like a precious jewel. There is the nonfootball injury list that Jones could be placed on. It's for players who suffer injuries outside of football or have a long-term illness not associated with playing. It doesn't count against the 53.
None of this is good. It's sad. And it's nearly impossible to believe it all began because Jones posted that he was locked out of the team facility this week. It's impossible to believe there wasn't some level of buildup to what has transpired the past several days.
One of the posts was an edited text from Jones to McDaniels dated Aug. 18. In it, Jones seemed to be apologizing to McDaniels for something. Jones also missed practice time around that date for undisclosed reasons. This stuff didn't just start. There is more to it.
The reality for most fans is this: The most important thing to them is whether their team is winning or not, so many aren't as compassionate as they would be otherwise. But once they get past the fact Jones probably isn't playing, the idea of sympathy for him comes into play.
As for those directly involved, it's for Jones' own good that he isn't around at this point. That a locker room full of players preparing to open the season Sunday at Denver, no matter how close each is to Jones, doesn't need the distraction of it all.
It's what is best for Jones and the team right now.
As uncomfortable as that might be.
Ed Graney, a Sigma Delta Chi Award winner for sports column writing, can be reached at egraney@reviewjournal.com. He can be heard on "The Press Box," ESPN Radio 100.9 FM and 1100 AM, from 7 to 10 a.m. Monday through Friday. Follow @edgraney on X.