Graney: Sean Payton will cure whatever ails Russell Wilson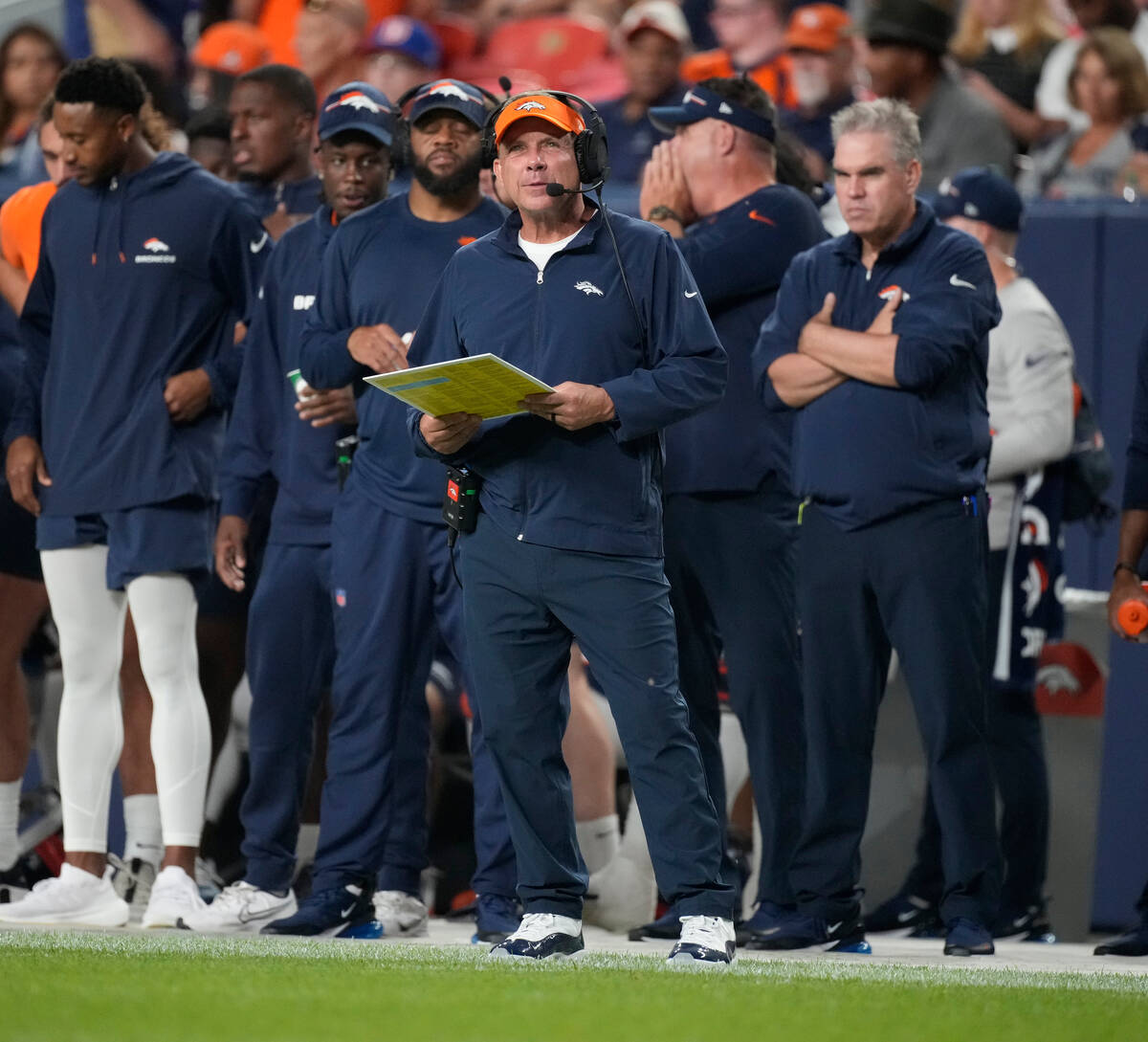 The quarterback whisperer might have to talk a little louder this time. Sean Payton doesn't have a choice. He has to fix Russell Wilson. And he will.
And that might be bad news over time for the Raiders, who open their season at Denver on Sunday. More on that later.
Payton is the new coach of the Broncos whose primary challenge is to rehabilitate Wilson's career, one that sunk to new lows last season. But if anyone can rekindle some magic from a Super Bowl champion quarterback, it's Payton.
He has done wonders over decades patterning systems to a player's strengths at the most important position. He can do the same for Wilson, first by merely simplifying things.
It doesn't mean the Broncos will make the playoffs for the first time in eight years. It just means Wilson won't be the main reason they miss.
Bonded together
They'll be connected to one another for a good amount of time, coach and player. Wilson was awarded a five-year, $245 million contract (with $160 million in guarantees) after being traded from the Seahawks for five draft picks (including two first-rounders) and three players.
He's going to be a Bronco for at least a minute. So will Payton.
The duo must work for the Broncos to have any chance of contending in the AFC West. Even then, given the Chiefs and to a lesser degree the Chargers and to an even lesser degree the Raiders remain in their way, nothing is certain.
But imagine if Wilson bounces back to his former self or close to it. Imagine a division with the top three quarterbacks being Patrick Mahomes, Justin Herbert and a revamped Wilson.
Imagine how much that will keep the defensive coaches of the Raiders up at night. Couldn't be good news for them. Would really have to come up with a counter to all that talent standing across the line of scrimmage.
They'll get the first crack at matching up with whatever version of Wilson this is come Sunday.
There is no debate. Wilson was terrible in 2022, offering careers lows in passer rating (84.4) and touchdowns (16). The Broncos averaged just 16.9 points. It was dreadful to watch.
But he was also sacked 55 times. He was also on a team whose injury issues at running back resulted in an anemic ground game. He was also tutored by Nathaniel Hackett, a seemingly pleasant sort who hadn't a clue about being an NFL head coach.
Payton, however, does.
Made others better
It goes beyond helping to make Drew Brees a first-ballot Hall of Famer in New Orleans. Payton was also able to find various levels of success with quarterbacks like Teddy Bridgewater and Jameis Winston and, yes, Taysom Hill. Payton whispered a lot back then.
So now he gets Wilson, who arrived to camp this summer a slimmer version of what we saw last season. He appears serious about changing the narrative.
How will he react to the adversity of last year?
"(Wilson) has been in tons of big spots—championship games, Super Bowls—throughout his career," Payton told reporters. "That's what puts him in that class where he's at. He's got a certain expectation of himself."
Wilson is 34, certainly not ancient for quarterbacks in 2023 but still on the downward side of his career. But when he was right, he made big plays with his feet and was one of the more accurate passers on the move. Didn't see much of either last season, unless he was running for his life.
Denver still has a stout defense. Changes along the offensive line should make for better protection. There are talented wide receivers — when healthy — from which to target.
But the central and most important part here is Payton. He has made a career of getting the most out of his quarterback.
He will do so again with Wilson. Payton will whisper. Maybe even talk a little louder this time.
Ed Graney, a Sigma Delta Chi Award winner for sports column writing, can be reached at egraney@reviewjournal.com. He can be heard on "The Press Box," ESPN Radio 100.9 FM and 1100 AM, from 7 to 10 a.m. Monday through Friday. Follow @edgraney on X.