Graney: UNLV freshman QB proves he's ready to play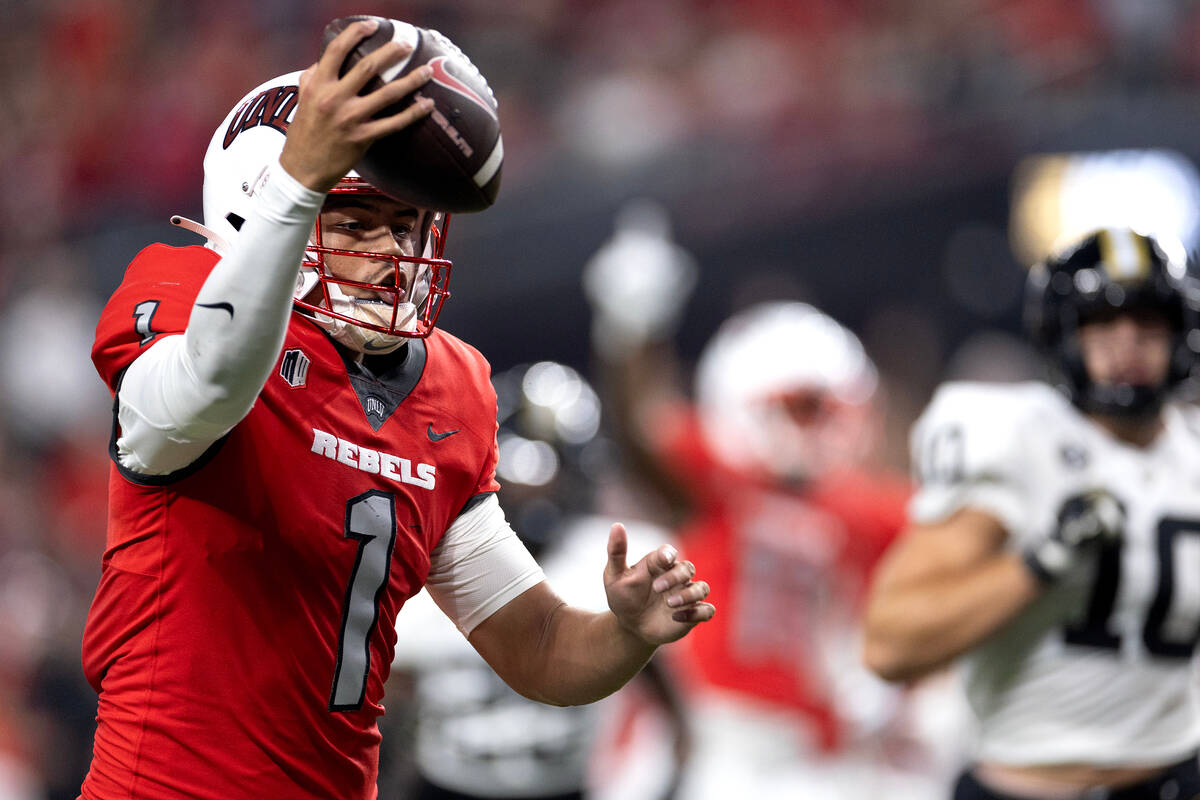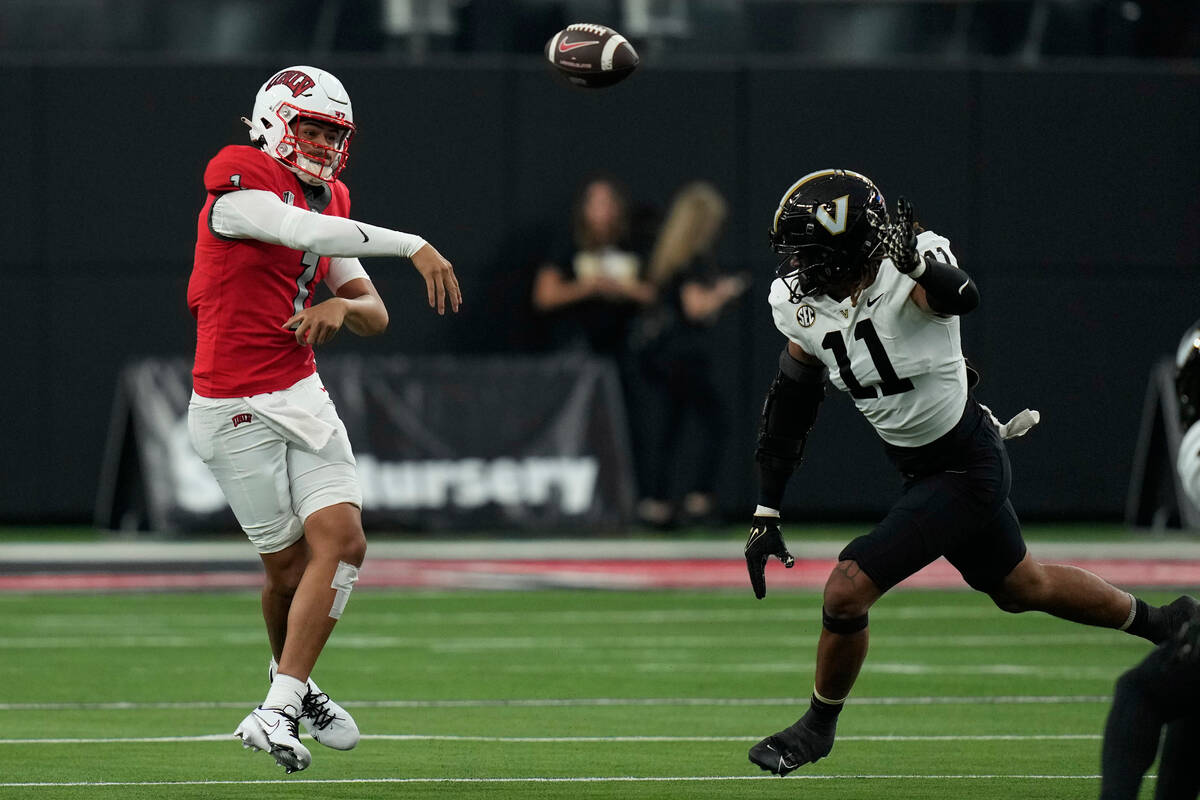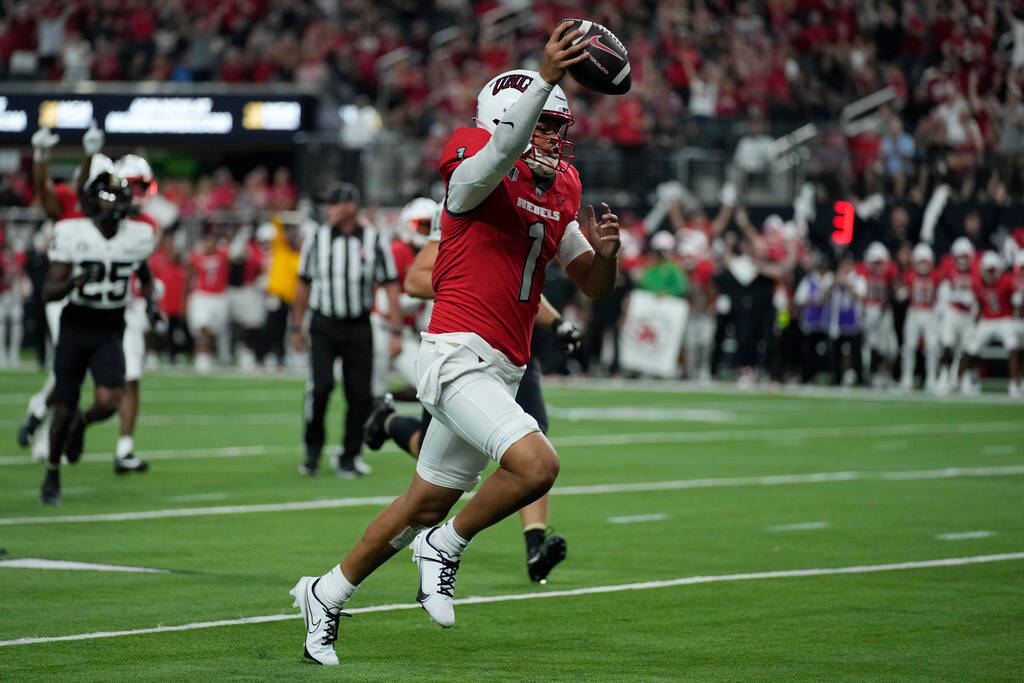 It's critical that Jayden Maiava totally grasps UNLV's Go-Go offense, important the redshirt freshman quarterback understands its concepts and nuances, imperative he's ready when called upon.
Doug Brumfield is injured again.
Which means Maiava as his backup better have a starter's mentality at all times.
He replaced Brumfield on Saturday and helped the Rebels to about as wild a win as you will witness, a 40-37 home victory over Vanderbilt.
The final minute alone was chaotic as all heck. Maiava — good and bad — played a big part in all of it.
'Really sore'
Brumfield went down in the first quarter with what was described by coach Barry Odom on Monday as "anywhere from rib to hip, and he's really sore." It's reportedly a soft tissue injury, which makes Odom believe it won't be long term.
If he's healthy, Brumfield will start Saturday at Texas-El Paso. "If" being the operative word. If he's not 100 percent, the junior shouldn't play against the Miners. A small road favorite, the Rebels have a capable enough replacement in Maiava and begin conference play the following week.
This isn't entirely new. Brumfield missed games the past two seasons with injuries. He suffered a fracture to a vertebra in his lower back in 2021 and spent time in concussion protocol last season.
When he's right and playing well, Brumfield is a top-five quarterback in the Mountain West. But given his short history of injury, whoever is second on the depth chart needs to be more than just a little prepared.
I've never believed an injured starter should automatically be given his job back when healthy — depends on what occurs when he's out — but Brumfield still gives UNLV the best chance to win. He has that much ability.
This, despite the fact he hasn't been near his best through three games. He can play much better than an 87.5 passer rating while completing 23 of 41 passes with two interceptions. He is much better than what we've seen in 2023.
No matter. Maiava needs to be ready. The former Liberty High standout completed 19 of 33 passes for 261 yards with a touchdown and near-game-killing interception while also running for a score Saturday.
Here's the significant part: Whether it be a blowout win (Bryant) or loss (Michigan) or last-second victory (Vanderbilt), Maiava has been awarded snaps in all three games. He's getting valuable time in case his minutes suddenly increase dramatically, as they did against the Commodores.
"Any experience will help someone, especially at that position," Odom said. "You get into the arena, and if you've been there before, you have a little comfort. (Maiava) prepares as well as anyone in the program. The moment wasn't too big for him. He's hungry to be really good."
Has the arm, size
He was really good at points and had one really bad throw in the final minute, an interception that essentially handed Vanderbilt an opportunity to win. But the Commodores missed a field goal, giving Maiava and the Rebels another possession.
The quarterback — this is the really good part — then hit wide receiver Ricky White with a 48-yard pass to set up UNLV's game-winning field goal.
The 6-foot-4-inch Maiava has everything you want. The arm. The size. An obvious ability to bounce back from adversity. He just lacks experience. And yet he might be in line to receive more of it if Brumfield can't stay healthy.
"The difference between good quarterbacks and kids who don't make it is confidence," Liberty coach Rich Muraco said. "Guys who don't have it second-guess themselves. That's not Jayden. Not his issue at all. He has great confidence."
There is no quarterback controversy at UNLV. Doug Brumfield is the starter. But there are worse realities than a backup who is proving he can play.
Jayden Maiava has shown a spark. He looks the part.
Ed Graney, a Sigma Delta Chi Award winner for sports column writing, can be reached at egraney@reviewjournal.com. He can be heard on "The Press Box," ESPN Radio 100.9 FM and 1100 AM, from 7 to 10 a.m. Monday through Friday. Follow @edgraney on X.
Up next
Who: UNLV at Texas-El Paso
When: 6 p.m. Saturday
Where: Sun Bowl Stadium, El Paso, Texas
TV: ESPN+
Radio: KWWN (1100 AM, 100.9 FM)
Line: UNLV -2½; total 49