Graney: What's best for UNLV? Stay put or flee to Pac-12?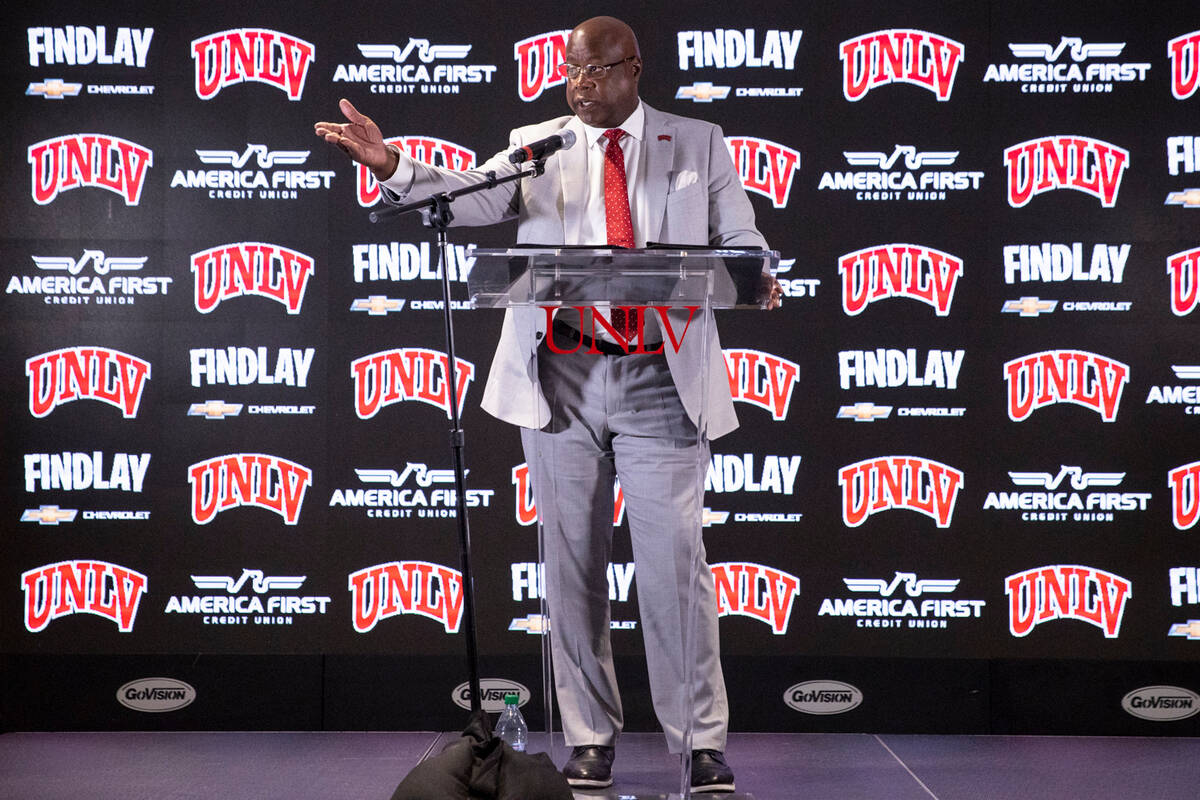 Erick Harper has one job during this torrent of conference realignment: Do what's best for UNLV.
For its student-athletes, its fans, its alumni, its community.
"Until we completely have all the information and options that are out there and what's available, I don't think we can make an informed decision," said Harper, the school's athletic director.
Such a resolution could come soon. This stuff changes by the minute.
The Pac-12 is dead as we've known it, with only four teams remaining after eight defected to either the Big Ten or Big 12. Things might shrink even more — Stanford and California are doing their best to get out, reportedly to the Atlantic Coast Conference.
The leftovers would be Oregon State and Washington State. There's not a major conference with sights on either.
Television dollars
This is all about where television executives want to spend their money. If the Pac-12 had stayed together, a move there by UNLV or any other Mountain West school would have included a much more lucrative TV financial payday.
A reformed Pac-12 wouldn't be in the same stratosphere as power leagues in television revenue.
That puts UNLV and all its conference members in a tough spot as they chart a path forward. Even if the four Pac-12 schools remain together and come calling in 2024-25, there is that little issue of a $34 million exit fee from the Mountain West. Might just be a non-starter.
"It's a big number," Harper said. "It makes it a lot harder to go. Is there room for discussion on it? I don't know at this juncture. But at the end of the day, you're right. That's a big part of the decision on what we would do."
Maybe nobody goes. Maybe four becomes two in the Pac-12 and Oregon State and Washington State join the Mountain West. And that's that.
Nothing would have changed in that scenario: If you're a Group of Five conference, you're on the outside looking in.
But say the Pac-12, which has been reported, only expands by a few teams for now. Say they invite a Southern Methodist and Tulane and both accept. It would obviously make sense, then, for Mountain West schools to wait two years to consider departing the league, when the exit fee would drop to $17 million.
I'm not sure there is a member school that could afford $34 million right now.
OK. I am sure. There isn't.
Enhance the brand
Harper is certain the Mountain West will remain a strong conference, stating that it has had NCAA post-season success of late, that it has shown itself well in bowl games, that it has a television deal that pays each school more than $4 million a year (which certainly is not robust), that it featured a school (San Diego State) in the NCAA basketball tournament final this year.
"I know," he said, "that (Mountain West commissioner) Gloria Nevarez will do everything in her power to enhance the brand. We can get even better."
It's his job to continue enhancing the UNLV brand. Realignment has taken over college sports like never before and a major key is not getting left behind.
But saying that and determining the best path for your particular institution are two different things.
For this, UNLV is in a holding pattern.
That could change by the minute.
Ed Graney, a Sigma Delta Chi Award winner for sports column writing, can be reached at egraney@reviewjournal.com. He can be heard on "The Press Box," ESPN Radio 100.9 FM and 1100 AM, from 7 to 10 a.m. Monday through Friday. Follow @edgraney on Twitter.