Graney: Why the Golden Knights refused to touch Western Conference trophy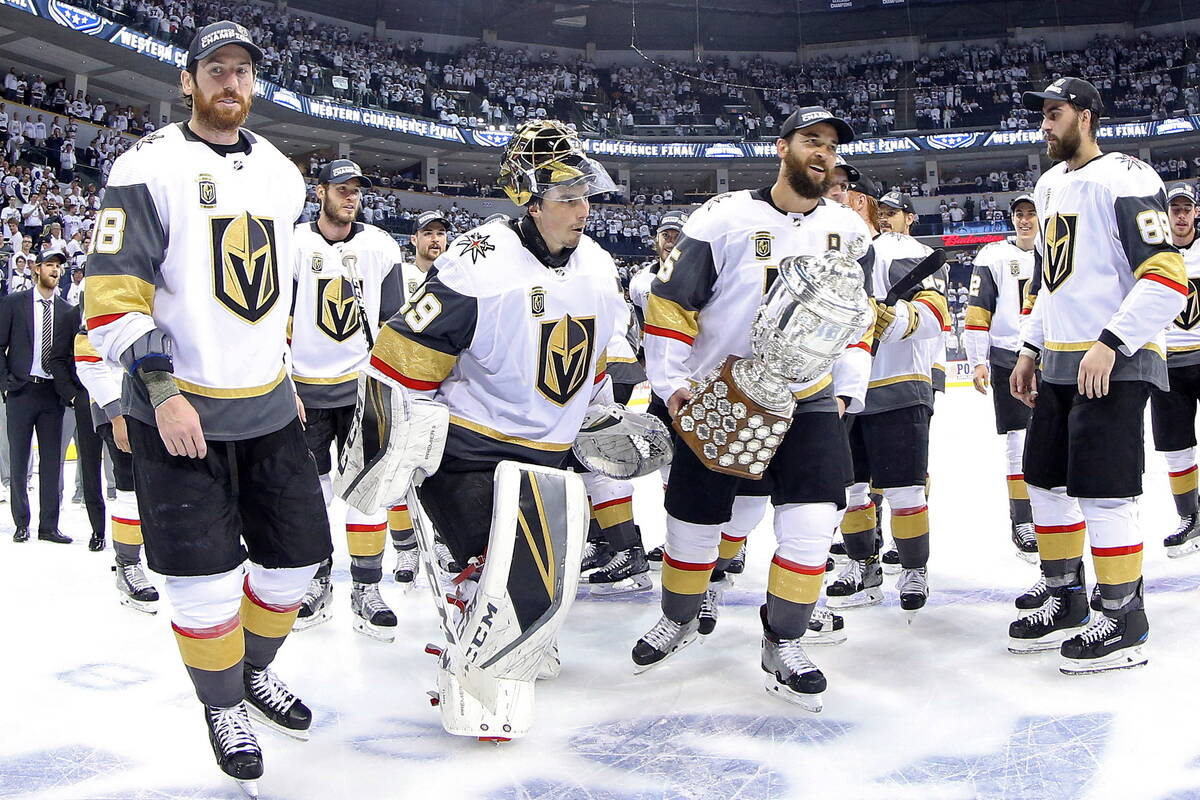 There was a report recently about the routine of Dodgers pitcher Clayton Kershaw on days he pitches, about how he has followed the same regimen for a decade now.
It is chronicled down to the minute, from eating lunch to reviewing the opponent's lineup to team meetings to a pre-game nap to heat packs to playing catch and so on — every movement from 2 p.m. until 6:40.
I'd say the man is a bit superstitious.
But that's sports, right?
No touching
The Golden Knights showed a bit of such a commitment to detail after beating Dallas 6-0 on Monday night to clinch the Western Conference title and advance to a Stanley Cup Final against Florida.
The players chose not to touch the Clarence S. Campbell Bowl — annually awarded to the Western champs. It was a reversal from six seasons ago, when the then-expansion Knights had no issue holding aloft the silver trophy.
Here's how things went down in May of 2018: The Knights won 2-1 in Game 5 at Winnipeg to clinch the Western championship. Deryk Engelland first posed for a picture with the bowl before the defenseman picked it up and skated off to awaiting teammates.
The Knights actually met beforehand to discuss how to handle such a potential ceremony. It was goalie Marc-Andre Fleury who made the ultimate decision.
"He's been the backbone to our team," Engelland said that day. "It more or less came down to whatever he wanted to do."
So they touched it.
And then lost in five games to Washington in the Stanley Cup Final.
And you can't convince me the result would have been any different had the Knights dared not engage with ol' Clarence S. Campbell.
I'm not going to pretend to understand any of it — touch it, don't touch it, what it all really means. But it's true the Knights are a much different team now than at that point, more experienced, a team with several players who have Stanley Cup rings, guys who have won it all and understand the significance of doing so.
"I'm not in the room, but those guys have a feeling about it," said Shane Hnidy, a former NHL player and now television analyst for the Golden Knights. "There's two ways to go — you celebrate for making the final two or you only want to touch the real one.
"Neither is wrong. The goal hasn't been reached yet. It's what they believe in that room. Regardless of whether they touched it, if they play like they did (Monday), they'll give themselves a great chance to win."
Look. Hockey players are the most superstitious of all professional athletes and it might not be close. How they dress for a game. Being last on and off the ice. What they eat or drink between periods. Playoff beards. Yes, not touching certain trophies. And many more idiosyncrasies among players across the league.
The underdog
So it's understandable that the Knights have much bigger plans, wanting only to hoist a Stanley Cup. They're also not underdogs this time. That label falls to Florida, which as a Cinderella story has eliminated Boston, Toronto and Carolina.
The Panthers gladly touched the Prince of Wales Trophy, given to the Eastern Conference champion.
"We've always been superstitious as hockey players," said Daren Millard, host of the Golden Knights' television broadcasts. "It's baked into you. I get it. I just can't explain it. I liked what the (Golden Knights) did in 2018 and what Florida did last week. They won. I'm sure every guy got some sort of picture with the (bowl on Monday night).
"I don't even know how (not touching a trophy) all started. I understand it. If it was me, I'm celebrating if I win $1 off at 7-Eleven."
But if not touching the Clarence Campbell trophy "gives you a bit more motivation for the ultimate goal, it's fine," Millard said.
That's apparently on the minds of Golden Knights' players.
To them, there's only one trophy to touch.
It's also the toughest to win.
Ed Graney is a Sigma Delta Chi Award winner for sports column writing and be reached at egraney@reviewjournal.com. He can be heard on "The Press Box," ESPN Radio 100.9 FM and 1100 AM, from 7 a.m. to 10 a.m. Monday through Friday. Follow @edgraney on Twitter