Graney: Will Jimmy Garoppolo's charm translate to wins?
Updated September 15, 2023 - 5:26 pm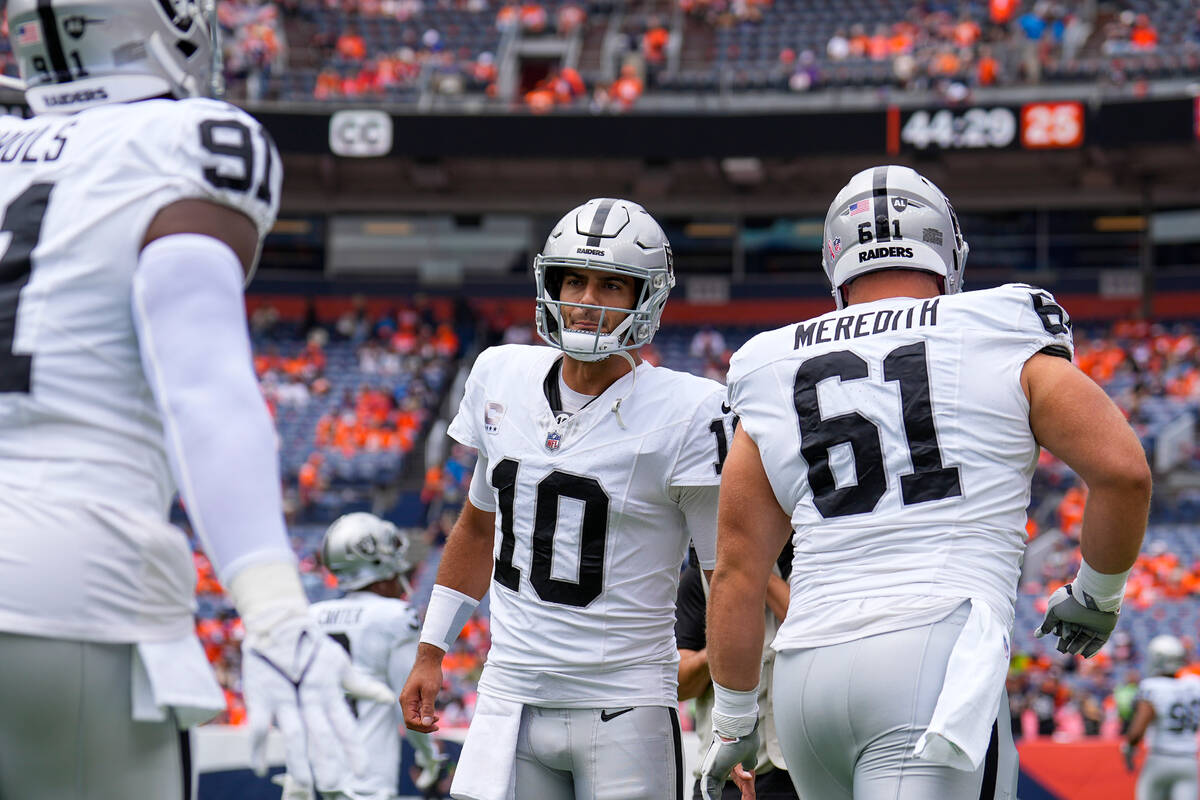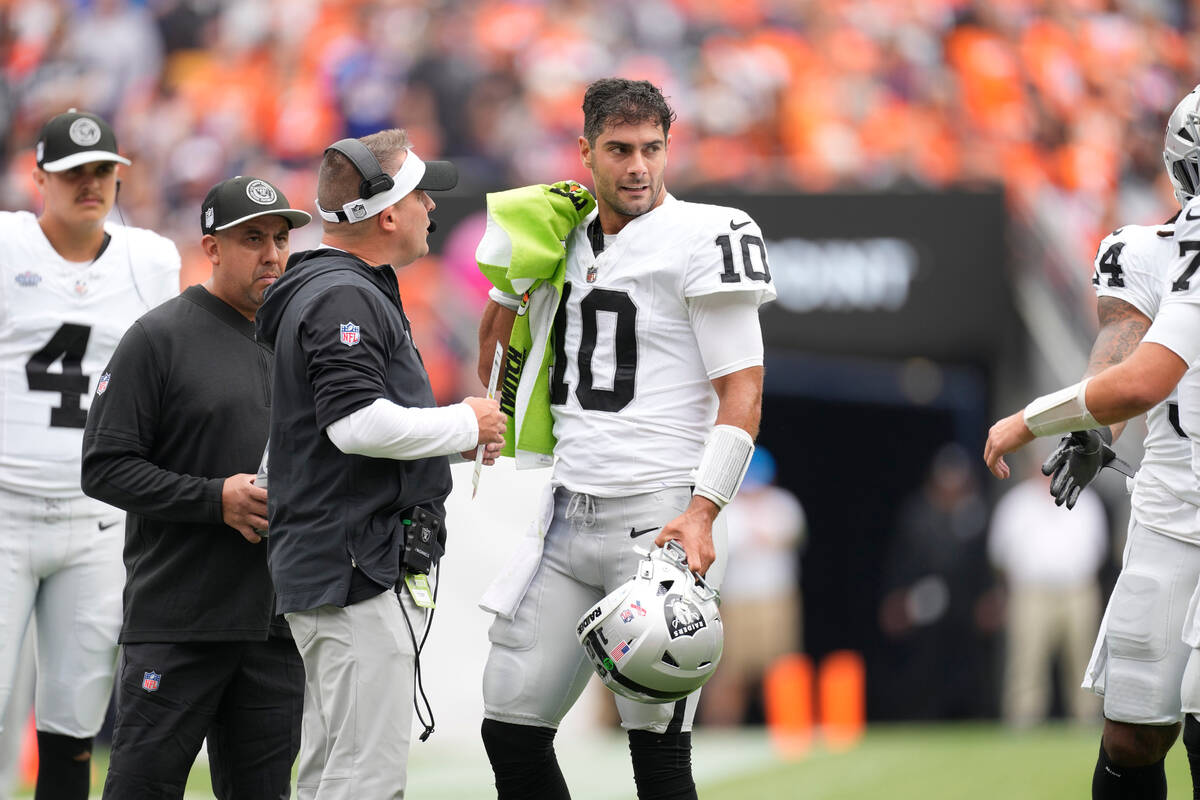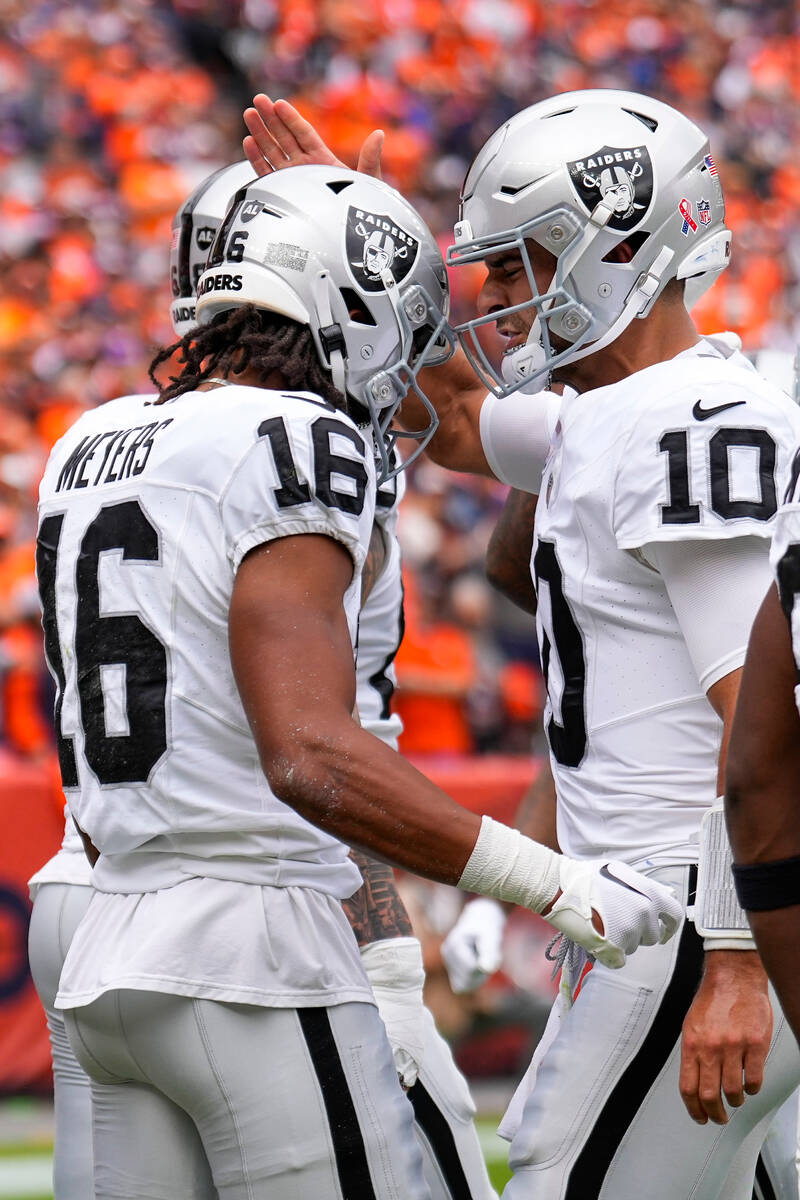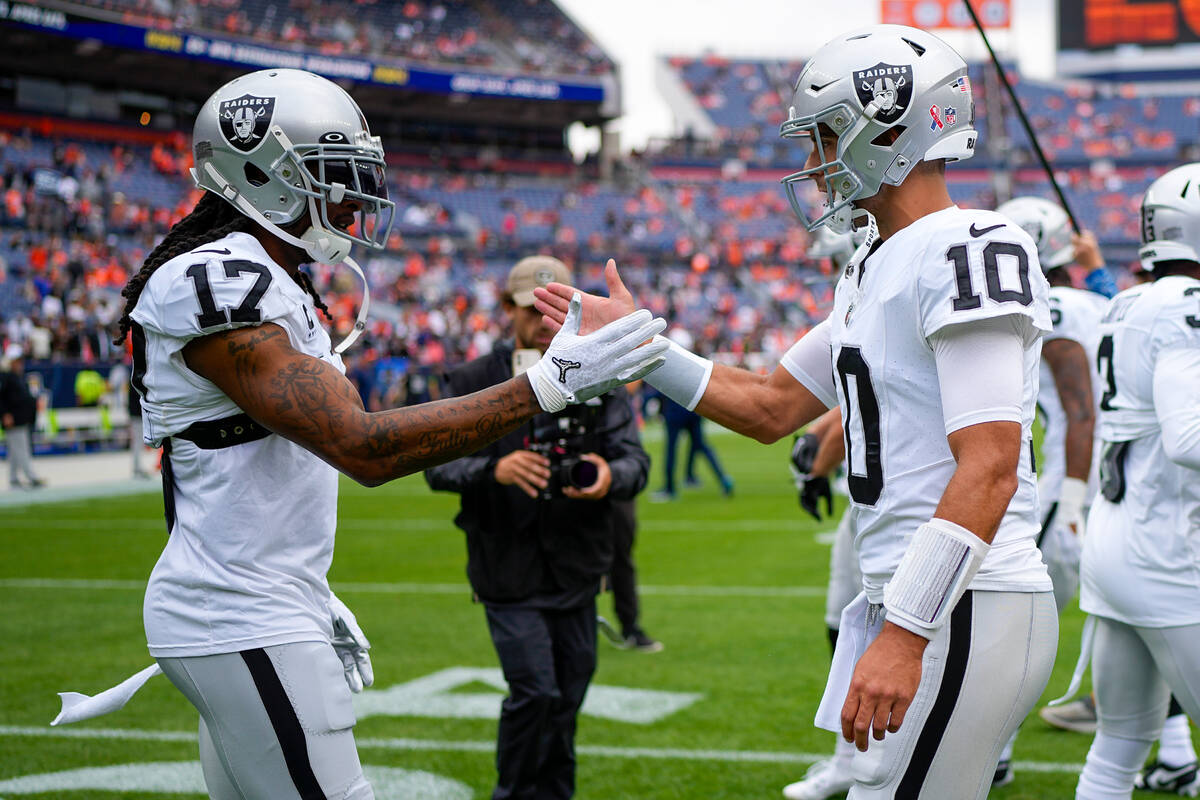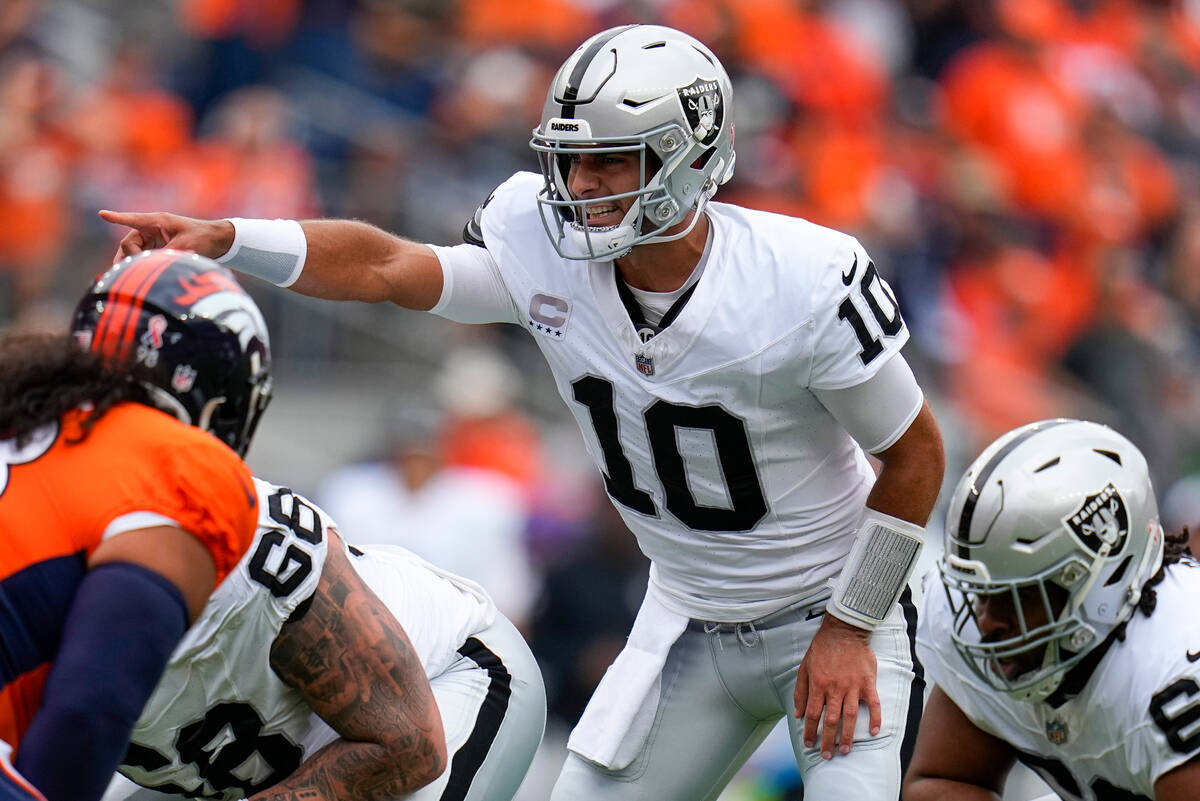 The descriptions never waver. It's like a broken record. But that's how the Raiders feel about Jimmy Garoppolo to a player and coach.
He might be the most liked guy in a room.
How important that is to winning remains to be seen — the Raiders have played one of 17 games — but if it's true guys play harder for someone they admire, effort won't be an issue on any snap Garoppolo takes.
It is what the team's new quarterback has already earned, this level of high regard throughout the roster. Garoppolo's personality causes others to gravitate toward him. That's important for a leader.
But does someone need to be liked if he simply wins a lot? The NFL is a brutal business in which the only bottom line is on the scoreboard. You can be the nicest and most pleasant of teammates, but losing tends to make everyone more than a bit unsettled.
I believe the liked and respected part is incredibly significant. Fake doesn't play well on any team, much less one of professionals. People can see through a fraudulent message. They can see if someone is legitimate or not.
"Everyone's a little different," Garoppolo said. "Everyone kind of does it their own way. You have to be yourself. You have to be real, and let these guys know who you are. Set the example by what you do, not exactly by what you say."
Going for 2-0
The Raiders play at Buffalo on Sunday and enter 1-0, having opened the season with a 17-16 win at Denver. It was during that game when Garoppolo's toughness wasn't lost on others.
He took a shot to the helmet early when scrambling for a first down and was sent to the sidelines to be checked. Two plays later, he returned to hit Jakobi Meyers with the game's first touchdown.
He then had his surgically repaired foot rolled up on in the second quarter, got up, limped around some and continued playing.
Then, with the Raiders attempting to run out the clock and secure a victory in the final minutes, Garoppolo scrambled for 8 yards on a third-and-7 into a secondary of oncoming defenders. Did what was needed to win the game.
Raiders coach Josh McDaniels, who has known Garoppolo for years, says the quarterback has gained much wisdom as he worked his way through the NFL. That he cares about the individual he's talking to. That this isn't some big show for brownie points.
"He's always been like that; he's genuine," McDaniels said. "And I think that word sometimes gets used a little flippantly, but this guy is as genuine as they come, and asks great questions when he doesn't know the answer, offers up an opinion when there's one to offer up."
Here's other points the coach stated on Garoppolo: That he cares about practicing the right way, wants his teammates to succeed, doesn't care about individual statistics, takes accountability when he does something wrong.
That he understands the nature of his position — you get all the credit when you win and all the blame when you lose. And that he's fine with it.
Still far away
You're only judged by wins and losses. That's this league. That's the reality of it. But if you can gain the respect of others as a leader along the way, you have a better chance of succeeding for the entire group.
The Raiders are far from proving themselves as a contender in the AFC West, but have in Garoppolo a quarterback for which they'll play hard. That's half the battle.
"He's cool, calm and collected," cornerback Nate Hobbs said. "You can tell because every time he walks by all these pretty women yelling 'Hey, Jimmy! Hey, Jimmy!' he doesn't even respond. He's just a cool guy."
Who is as well liked as anyone else on the roster.
How that translates to winning this season is yet to be determined.
Hey, it can't hurt.
Ed Graney, a Sigma Delta Chi Award winner for sports column writing, can be reached at egraney@reviewjournal.com. He can be heard on "The Press Box," ESPN Radio 100.9 FM and 1100 AM, from 7 to 10 a.m. Monday through Friday. Follow @edgraney on X.