Hague, Brannstrom own same mindset: Make Golden Knights roster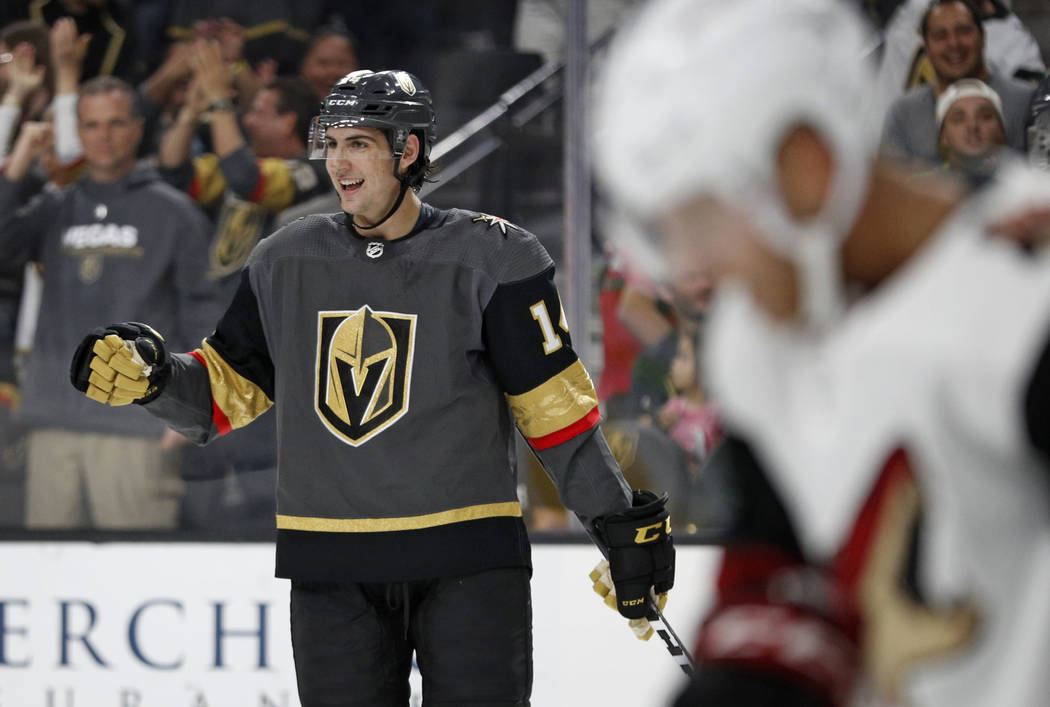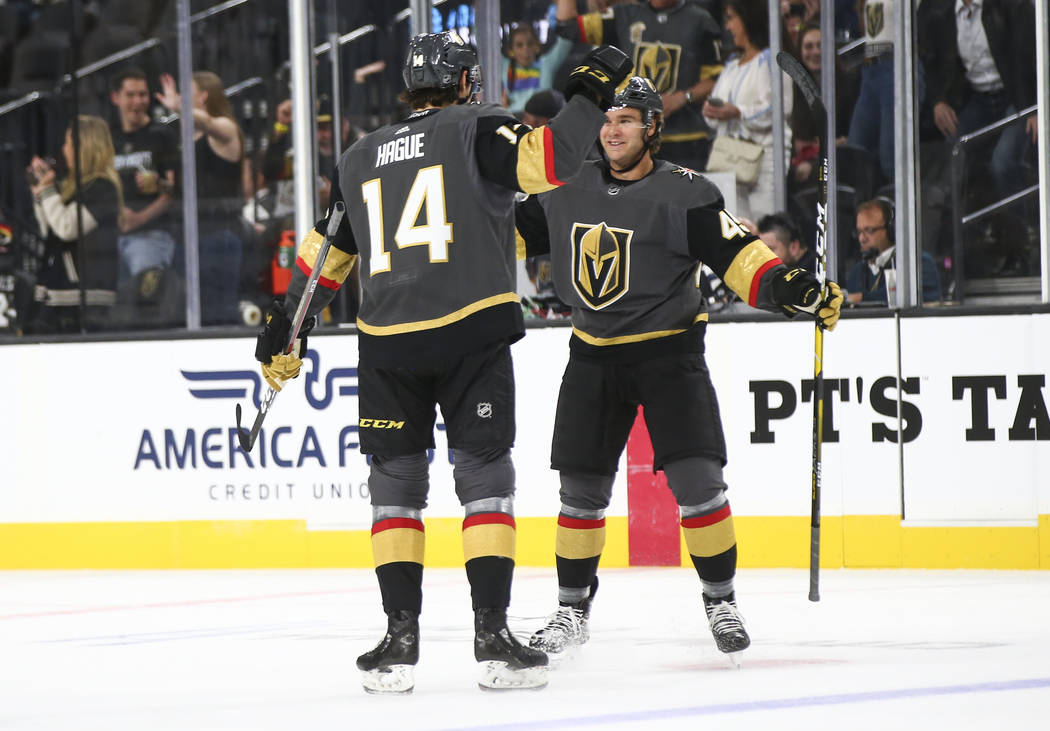 The chance doesn't always come this soon, so Nicolas Hague and Erik Brannstrom figure, what the heck, why not them?
Polite folks might knock on the door when opportunity exists beyond it.
Competitive ones bust the thing down.
Youth seems to be serving the Golden Knights well in terms of how future seasons might appear, but that's not stopping players like Hague and Brannstrom from forcing management to pause before relegating them elsewhere when training camp ends.
At worst, make those in charge think twice.
The depth of defensemen that was so obvious over the summer has taken a few noticeable hits as Vegas prepares for its second season, given Nate Schmidt's 20-game suspension for violating the NHL's performance enhancing drug policy and the fact Shea Theodore has yet to report.
I'm still trying to figure out what leverage play Theodore owns — um, there isn't one — but the longer he stays away, the more serious a look Hague and Brannstrom could receive.
They are both 19 and among the franchise's top prospects — with center Cody Glass sandwiched between —and yet certainly different in both stature and strengths.
It's difficult to find a Knights player most local media doesn't fall over itself praising in some manner, but none seem to excite the masses like Brannstrom, a terrific skater generously listed at 5 feet 10 inches, 172 pounds.
It's natural to believe that as his body matures, so too will his skill without the puck.
With it, the Swede already owns NHL-type instincts.
Hague is 6 feet 6 inches, 215 pounds, more of that big, strong, stay-at-home defenseman who is proving to have a huge shot, his progression at this point suggesting general manager George McPhee got the better of some colleagues around the league by landing Hague as a second-round pick.
"As a young guy, you look forward to any time you can get on the ice with NHL players," Hague said. "I came (to camp) with the goal of making the team. Whether (current circumstances) mean more spots are open doesn't matter. If I want to play in the NHL, I have to go steal a job from somebody. I have to be better than someone else and earn it."
No second guessing
Hockey is no different than most any professional sport in that speed not only kills, but often decides which prospects become players and which begin pursuing another career.
Brannstrom might eventuality make his way as a small NHL player with a slick stick (see 5-foot-9-inch Torey Krug in Boston), while Hague has the build to use physical prowess when seeking an advantage.
But no matter their differences, that which separates those who can play at this level often depends on winning a certain mental challenge.
"You have to know that you can't take a second off," said Knights defenseman Colin Miller, who avoided arbitration over the summer by signing a four-year, $15.5 million contract. "You have more time in the American League or wherever you might be playing, but the NHL is about making the play quickly and not second-guessing your decisions.
"Some guys get it right away. Some take a few years to get it. Some never do. That's why it's such a tough league to make. Young defensemen have to get used to that part of it. It can catch you off guard if you're not ready."
Rookie camp is one thing — Brannstrom and Hague each shined — but preseason games allow for the level of opposing talent to begin its intended climb.
On Sunday, neither defenseman appeared overwhelmed at the moment, each contributing a goal and an assist in a 7-2 exhibition win against Arizona at T-Mobile Arena.
Hague actually led the Knights in ice time at 26:49.
McPhee has often said he doesn't prefer to rush prospects, that his is a management style of developing a player to his fullest potential and not putting him in a position where failure has a higher percentage of likelihood than usual.
Yeah, tell that to a kid trying to bust down a door.
"I just have to work hard every day, love playing with such great players and just see what happens," said Brannstrom. "To play in the NHL and against the best players in the world has always been my goal. I knew when I got drafted (by Vegas), I would have that opportunity. My mindset is to make the team."
The way he and Hague see it, why the heck not?
More Golden Knights: Follow all of our Golden Knights coverage online at reviewjournal.com/GoldenKnights and @HockeyinVegas on Twitter.
Contact columnist Ed Graney at egraney@reviewjournal.com or 702-383-4618. He can be heard on "The Press Box," ESPN Radio 100.9 FM and 1100 AM, from 11 a.m. to 2 p.m. Monday through Friday. Follow @edgraney on Twitter.