Head-to-head leaves Baylor shaking head
December 2, 2014 - 11:15 pm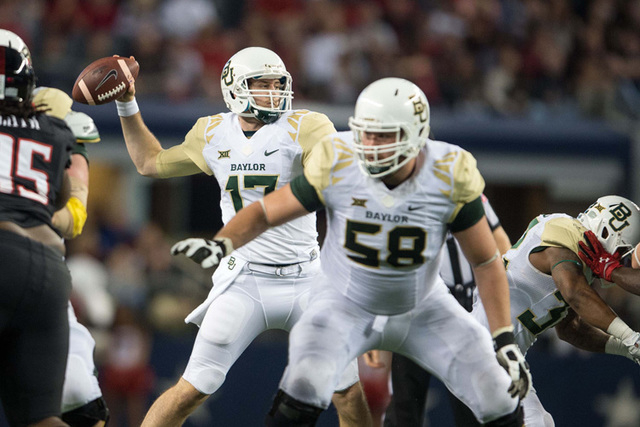 Head-to-head.
The debate seems much clearer today, which isn't good news for Baylor's football team.
They are planning a party in Forth Worth, Texas, for Sunday, given what transpired with the latest College Football Playoff rankings.
One of the more telling tweets that followed Tuesday's rankings show on ESPN was this: "Apparently Minnesota is the most important four-loss team in the history of college football."
It is in reference to a nonconference victory by Texas Christian, which jumped unbeaten Florida State this week and now sits at No. 3.
The top four are Alabama, Oregon, TCU and the Seminoles.
Baylor is at No. 6, one spot behind Ohio State, whose quarterback depth chart might have the Buckeyes starting Bobby Hoying in the Big Ten championship game against Wisconsin.
Or perhaps Art Schlichter, assuming the university can obtain a day pass for him from prison.
Until now, a main question about what the selection committee would value most — Baylor's 61-58 win against TCU in Waco, Texas, or the fact the Horned Frogs have a better overall resume — highlighted the rankings.
That question seems to be answered, and should both win this week — TCU hosts dreadful Iowa State and Baylor hosts No. 9 Kansas State — it would be difficult to believe the Bears could jump TCU in the final poll.
"It's the quality of wins that (TCU) has over teams outside the Top 25," committee chairman Jeff Long said. "TCU also has more wins over teams .500 or above. We just believe TCU is a better football team at this point in time. Baylor lost to West Virginia, outside the Top 25, and (TCU) lost to the No. 6 team."
TCU's best nonconference win is against Minnesota (8-4) of the Big Ten; Baylor's best is against Buffalo (5-6) of the Mid-American.
Long also said that Ohio State's quarterback issues won't yet play into where the Buckeyes are ranked.
Cardale Jones, a third-string redshirt sophomore quarterback, will oppose the Badgers on Saturday for a conference title. Should the Buckeyes win, how Jones performs could ultimately determine whether the committee thinks Ohio State is worthy of a semifinal spot.
"Ohio State's situation has not been impacted at this point," Long said. "We will evaluate this in the championship game."
It will be over Sunday morning, when the committee makes public its final rankings and we learn which four teams will participate in the first major college level playoff.
TCU should be feeling pretty good about its chances right now.
Baylor … not so much.
If any message was sent Tuesday, it's this: Head-to-head doesn't carry as much weight in the minds of those committee members as many believed.
Las Vegas Review-Journal sports columnist Ed Graney can be reached at egraney@reviewjournal.com or 702-383-4618. He can be heard from 11 a.m. to 2 p.m. Monday through Friday on "Gridlock," ESPN 1100 and 100.9 FM. Follow him on Twitter: @edgraney.
CFP RANKINGS
1. Alabama (11-1)
2. Oregon (11-1)
3. Texas Christian (10-1)
4. Florida State (12-0)
5. Ohio State (11-1)
6. Baylor (10-1)
7. Arizona (10-2)
8. Michigan State (10-2)