Ice fishing, more disappointment and another almost for Vikings fans
January 31, 2018 - 6:21 pm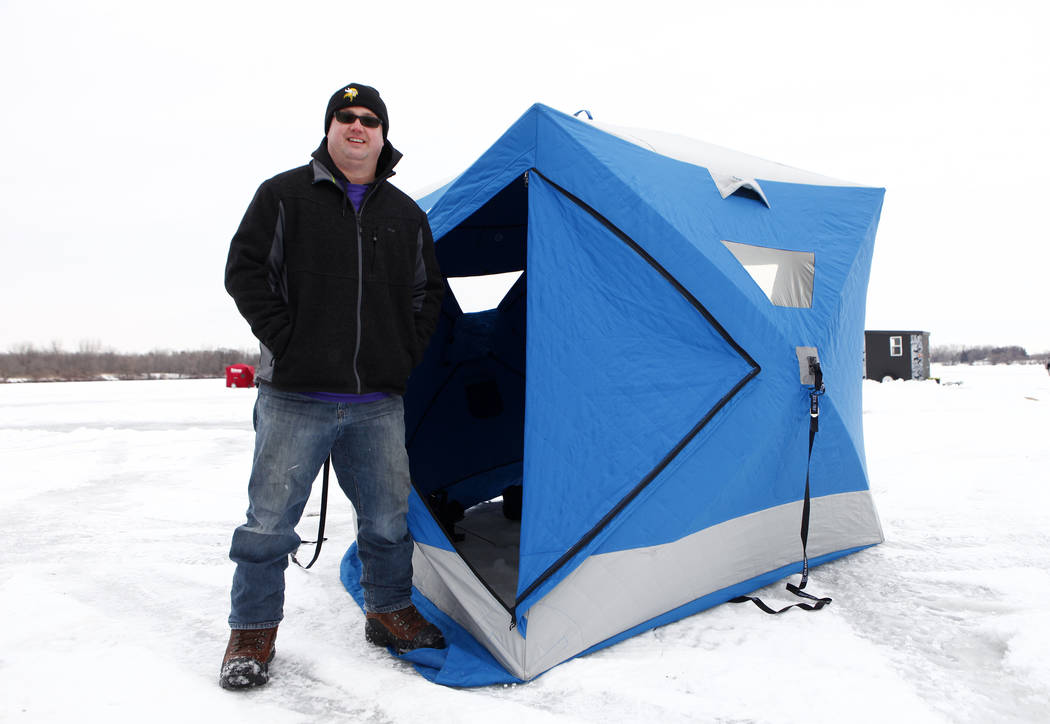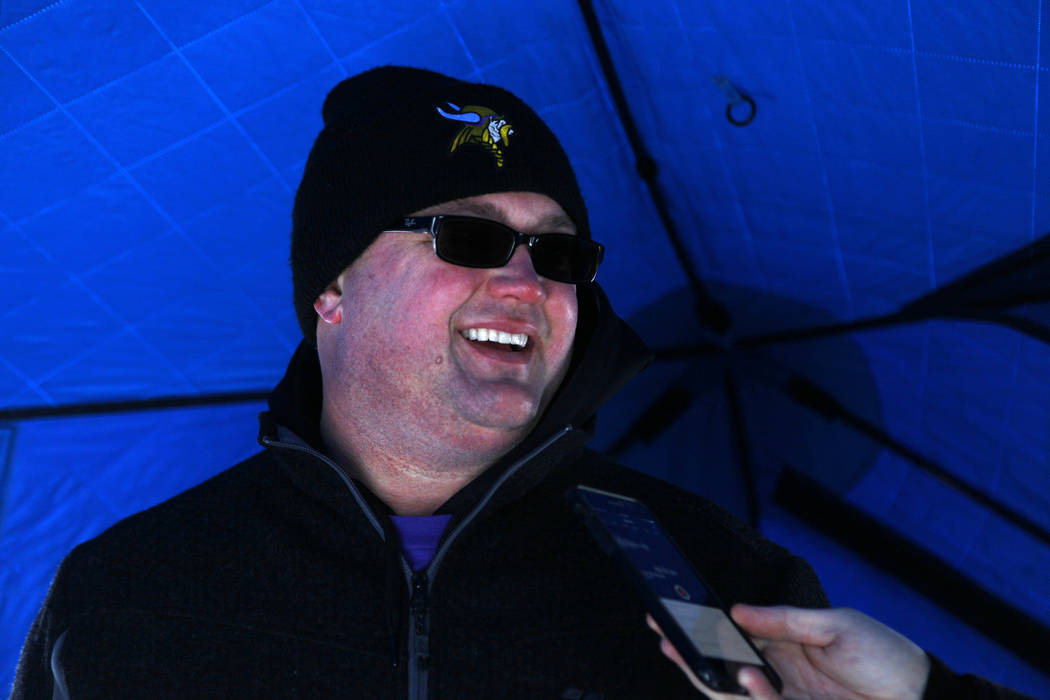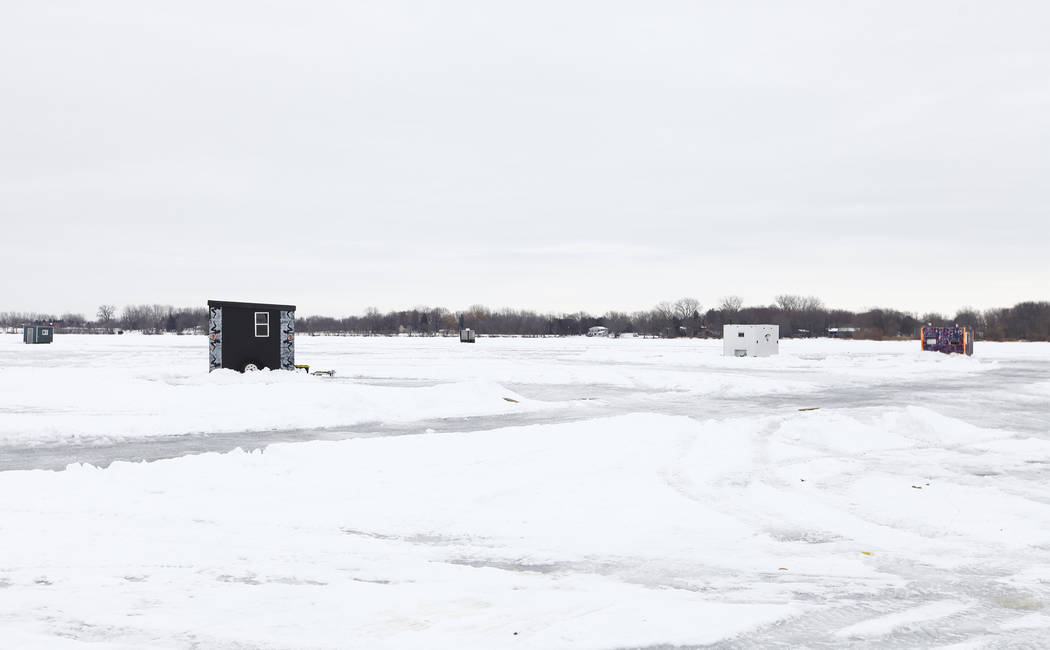 CENTERVILLE, Minn. — The ice fishing part has changed, because when Reg Proulx was a boy, there wasn't a fancy pop-up shanty with a heater and comfortable chairs and some battery-operated sonar unit that does everything but unhook your walleye and fry it for dinner.
You sat outside on a bucket and drilled holes with a hand auger and froze your fanny off.
"We didn't have reels," Proulx said. "We just grabbed a line and started running with it. You hoped a fish came out on the other end."
The part that hasn't changed: Vikings fans living in misery.
The T-shirt under his layers of warmth is purple and the cap atop his head bears the logo of an NFL franchise wrought with forgettable endings to promising seasons, a 41-year-old native Minnesotan who believed more than anything else that he and family and friends and the entire state would be preparing to watch their beloved franchise play at home this week in Super Bowl LII.
He is instead here, mourning in the middle of frozen Peltier Lake, within a town of 4,000 and established in the mid-1800s by French-Canadian settlers. He drills holes with an electric auger and pops up his shanty and drops his lines and turns on his sonar unit and sits in his comfortable chair and thinks about what could have been.
Again.
The Vikings aren't playing this week, having been thumped in the NFC championship game by the Eagles, who will engage defending champion New England on Sunday at U.S. Bank Stadium.
It's an old story for those who love all things Bud Grant and Fran Tarkenton, just another loop in the postseason belt of despair that has been four Super Bowl losses and Gary Anderson wide left and three fumbles against the Saints and Blair Walsh wide left and Hail Mary, Full of Grace(ful) Drew Pearson and 41-0 to the Giants.
And for Reg Proulx, none was as crushing as that 38-7 loss in Philadelphia two weeks ago.
"I think maybe, because more than any time, this just felt like our year," he said.
"This one will hurt for a while. We had the defense, a new stadium, the Super Bowl is here, the Minnesota Miracle play against the Saints in the (divisional round). But we just didn't play that final game with the same speed and energy we had all season.
"That, and the Eagles had a lot more points than we did."
A state of almost
Up the road a bit from the frozen lake, inside a bar and grill that has stood since 1896, Heather Byrne readies for another day of customers. She was born and raised in the area and now manages Kelly's Korner, where locals live and die with their Vikings and stood to honor the 58 victims from the Oct. 1 mass shooting in Las Vegas while watching the Golden Knights' home opener on TV this season.
"I can't even fathom what it would have been like had the Vikings made the Super Bowl and played at home," Byrne said. "It would have been insane. But when it comes to sports, we're a state of almost. We almost do it, almost get there, almost win it all, almost make history. It seems like the only team to win is the Lynx of (the WNBA), but nobody cares about them.
"I'm tired of being an almost, but I'm also not sure how we would act if we weren't. We just assume something bad will happen in the end. We're used to being disappointed. It's as much part of us as anything."
Do all those unfortunate finishes affect the bar's bottom line?
"Oh, no," Byrne said. "People drink around here regardless."
When the catch was made and Stefon Diggs sprinted for the end zone and that miracle touchdown to beat New Orleans on Jan. 14, brothers Reg and Nick and Jon jumped for joy and tackled one another like they were boys again. Their father, Steve, had told them all game not to give up hope, that crazy things could happen in a year Minnesota was set to host one of the world's largest sporting events.
He implored them to look past their decades of heartache and believe one more time.
"We were at Brother Jon's house, and Dad was right about that one, but he didn't say it for very long the next week against the Eagles at Brother Nick's house," said Reg, who works in the automotive industry. "I was set to host the Super Bowl party, so maybe it saved me some money. Maybe we should have just stayed with Brother Jon's house. He brought us more luck."
He bent down on the ice and slowly lifted lines from two holes.
"Bait is gone," Reg said. "We probably had a few fish, but lost them while I was talking to you."
It figures.
Another almost.
Contact columnist Ed Graney at egraney@reviewjournal.com or 702-383-4618. He can be heard on "The Press Box," ESPN Radio 100.9 FM and 1100 AM, from 11 a.m. to 2 p.m. Monday through Friday. Follow @edgraney on Twitter.