If a Las Vegas stadium deal is going to happen, it must happen now
October 3, 2016 - 11:34 pm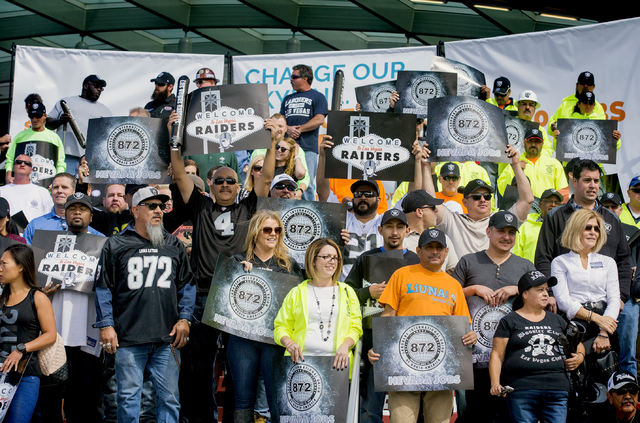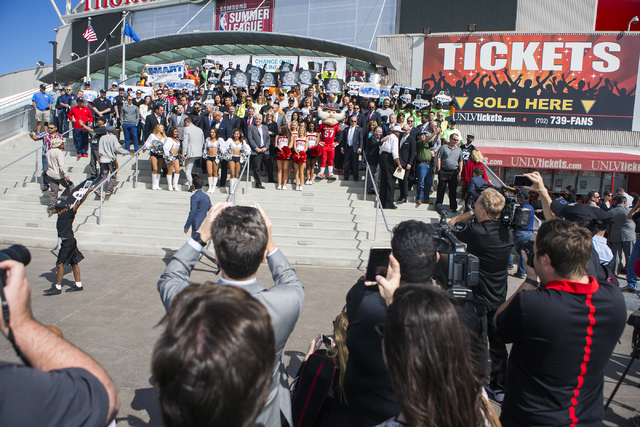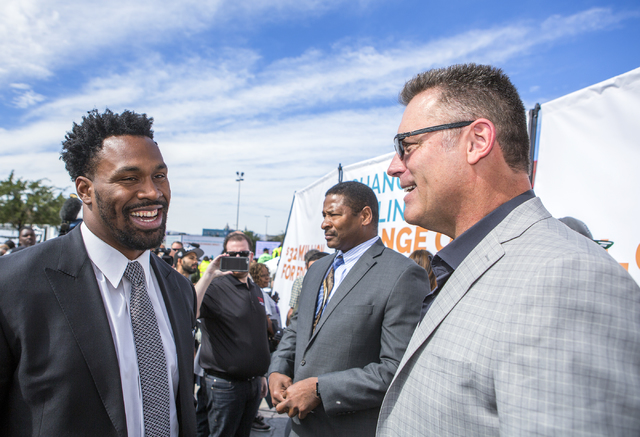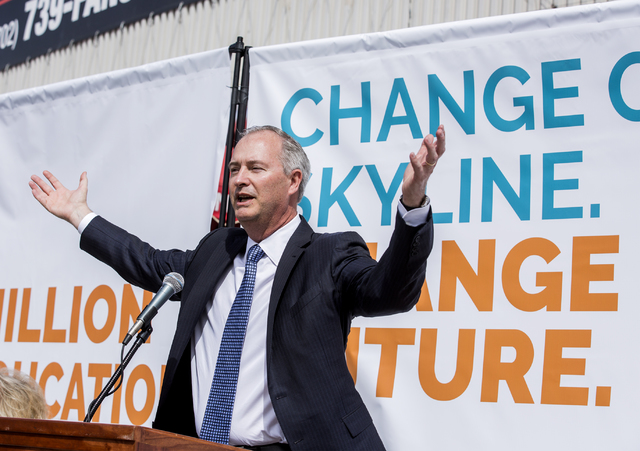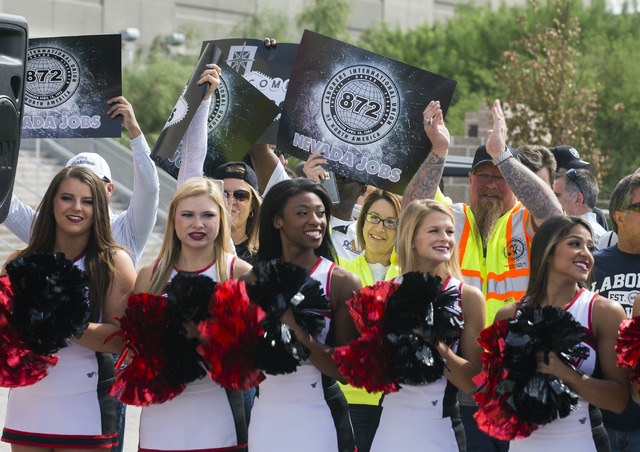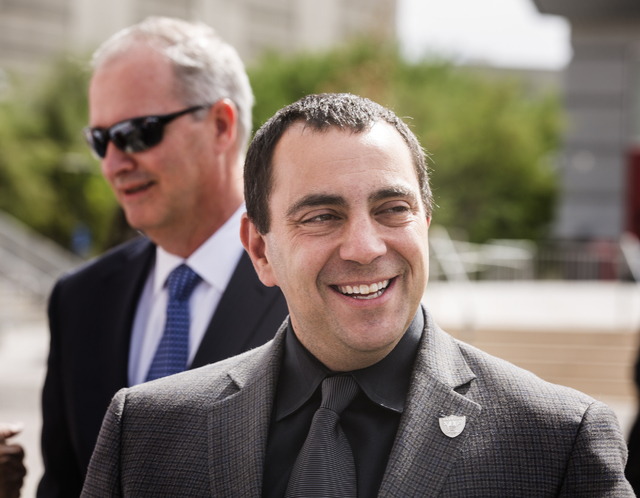 I wonder if the Cleveland Bulldogs gathered cheerleaders and local union workers and celebrities to champion the idea of relocating to Detroit in 1928.
I wonder if they played the theme to "Raiders of the Lost Ark" when they announced the move.
No one could have imagined back then the global pot of gold the National Football League would become, nor how exclusive and valued a franchise would be to those cities hosting them.
If such a truth is going to find Las Vegas, this is certain: It must happen now.
If any brakes are pumped, the chance of the Oakland Raiders — or any other franchise — relocating here will pass quicker than UNLV quarterback Dalton Sneed escaping an end zone.
The latest occurrence regarding a proposed $1.9 billion, 65,000-seat domed stadium — this one by folks who support the proposal — was held Monday in front of Thomas & Mack Center.
It was more pep rally than press conference.
I'm not sure it ranks up there with LeBron James publicly endorsing a candidate for president in terms of national news, but having former Oakland Raiders great Howie Long in attendance Monday gave the scene a star quality that stadium proponents hope might add to their cause when a special session of the Legislature commences.
"This is a no-brainer," Long said. "This is like a trick SAT question — spell CAT. Where's the trick here? Where's the problem? It's hard to put history in perspective while it's happening, This, to me, is a win-win.
"You're talking about a city (in Las Vegas) that has always had its eye on evolving. This is the opportunity. The NFL is a juggernaut."
And thus is created the lead quote for all pro-stadium brochures.
It is unknown when the special session will be called, although Gov. Brian Sandoval stated it would begin no earlier than Oct. 7 and no later than Oct. 13. It is believed he is trying to settle on a timeline that would avoid interfering with Yom Kippur, set to begin at sundown on Oct. 11 and end the following evening.
There has been, since the Southern Nevada Tourism Infrastructure Committee voted unanimously to recommend $750 million in hotel room tax revenue for the project, predicable debate and news conferences held by groups on both sides of the issue.
There is merit to all of it, because you can't talk about this level of public funding — be it a direct or indirect hit on citizens, and you can make an argument it is both — and not allow for serious and thoughtful and at times contentious discourse.
That's a whole lot of zeroes that could be potentially be used elsewhere.
But if you believe an NFL franchise would forever change the face of Las Vegas in a positive manner, that it would create jobs and generate revenue for education, understand the notion about the process going too fast is shortsighted at best.
Nothing about voting to dedicate this many hotel tax dollars toward any project — stadium, convention center, schools, roads, police — would occur in a flawless manner in terms of scheduling.
There is no such thing as a perfect timeline.
A year from now, the NFL isn't going to suddenly lower its desired (insisted) percentage of public funding for a stadium, and any support owners like Jerry Jones and Robert Kraft have gathered for relocating the Raiders to Las Vegas would be tested and dissected daily.
This happens now for Las Vegas, or it doesn't happen.
"If the (stadium) vote takes place in the next week or so, we can walk into a league meeting (on Oct. 18) in Houston and say, 'The funding has been approved. There are no contingencies,'" Raiders President Marc Badain said. "We will have a fully financed plan ready to go. It solves the Raiders' stadium challenges for the league and it opens up a solution for some of the other teams still trying to find a stadium for themselves.
"If you add a whole other year of uncertainty and complexion to it, you never know what could happen. Other markets could open up. We have a real opportunity to close the door on it now and come in with such a compelling offer that everything else would be secondary.
"For us, if we can get this approved and go to the league, we think it's a slam dunk for the league to look at and say, 'This is a solution for the Raiders and we will pursue it.' We believe this is the deal."
Many don't. There are challenges and questions about the funding from here to Carson City and beyond.
Smart questions. Important ones.
But it's also true that, while powerful NFL owners have publicly supported the idea of the Raiders making Las Vegas home, commissioner Roger Goodell remains staunchly against such a move.
He doesn't have a vote, but his influence shouldn't at all be trivialized.
Translation: This isn't going too fast, not if you're on the side of the field that wants the NFL in Las Vegas.
"This facility could end up becoming the crown jewel of the NFL," Long said. "I think anyone who has ever played in Oakland would have liked to seen a (new stadium) happen there. But, unfortunately, when you're pounding your head against the wall repeatedly .. what is Einstein's definition of insanity, doing the same thing over and over again and expecting a different result …
"I think everyone wants what is best for the organization. Nostalgically, all former Oakland Raiders players would like the team to be in Oakland, but that doesn't seem to be reality. So you have to move forward."
Which means for this to happen here, pumping the brakes isn't an option.
The Review-Journal is owned by the family of Las Vegas Sands Corp. Chairman and CEO Sheldon Adelson, who are private partners in the stadium project.
Ed Graney can be reached at egraney@reviewjournal.com or 702-383-4618. He can be a heard on "Seat and Ed" on Fox Sports 1340 from 2 p.m. to 4 p.m. Monday through Friday. On Twitter: @edgraney
RELATED
Proponents cheer stadium at event that draws Raiders great Howie Long
Critics outline Raiders stadium objections, but Nevada casino group weighs in with support
Two Nevada groups announce opposition to proposed Raiders stadium in Las Vegas
Cowboys owner Jones urges aggressiveness in bringing Raiders to Las Vegas