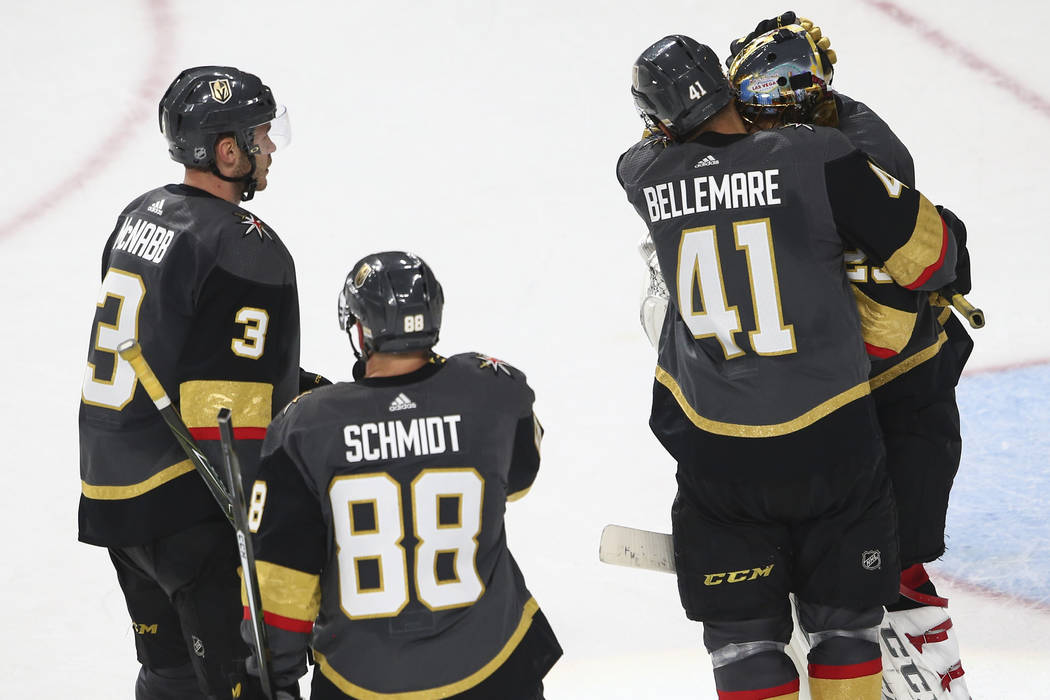 They said it didn't matter, that the opponent was secondary, that they would get who they got and be fine with it.
Then the Los Angeles Kings went out Saturday and fell behind 4-0 to a Dallas team with nothing to play for except avoiding any sort of overtime that would prolong an already disappointing season.
The Kings would lose 4-2 and with it be relegated to the first wild card spot in the Western Conference bracket of the Stanley Cup playoffs, placing them opposite the Pacific Division champion Golden Knights when the postseason commences Wednesday night at T-Mobile Arena.
Whether the Kings preferred a matchup against the expansion Knights as opposed to San Jose or their Southern California rival in Anaheim won't be known publicly — April is hardly the time NHL teams offer much bulletin-board material — but it's a fair question given how easily Los Angeles succumbed to the Stars.
There is also this: If any team appeared overly perturbed about how the Knights crashed the NHL's party this season and produced a run to be etched in the game's history books, it's the Kings.
It's as if they never really wanted to believe — or simply didn't — that a first-year side comprised of castoffs from other rosters could possibly create such early success and then maintain it over 82 games.
This, the quote that has stood the test of what was division dominance from Vegas: "There is no way," Kings defenseman Drew Doughty said after his team's Dec. 28 loss to the Knights, "they're going to be a better team than us by the end of the season."
Well, that sure didn't work out.
But you don't need to attend a Knights' practice this week and see a full complement of players working much harder than your average morning skate might generate to understand what has come before means nothing.
Playoff hockey is like your first time watching the shower scene in, "Psycho."
There's nothing like it.
"More intense, right?" Knights goalie Marc-Andre Fleury said. "Every play matters. Every win matters. It makes mistakes bigger. The atmosphere is crazy, home and away. Everyone is on the edge of their seat. Everyone has butterflies the first game.
"It's fun hockey, though. Fun to watch. My first job is to stop the puck. It's the best way I can help."
The Knights know well they aren't any favorite of the Kings, and it appears the feeling is mutual. But that's as much as you can expect from the Knights in terms of disparaging remarks when it comes to the opponent.
Staying the course
Vegas reached this place by maintaining about as consistent an attitude as you would find with any franchise. Never too high. Never too low. Never discussing much of anything except the next game.
None of that changes now.
It's just done at a really, really high level.
"This is what you play for all season," said Knights defenseman Deryk Engelland. "Just keep plugging hard. There can be rivalries created if there already isn't one. You're going to play a team for potentially seven times in 10-12-14 days, and right from the get-go you want to leave a mark and play hard and physical. It's a long series, so everything gets ramped up even more.
"The (Kings) have won. They have guys who have won a lot. They've got a great team over there. It's going to be a battle, and we just need to be ready for them."
You would think that the Knights finishing eight points clear of second-place Anaheim and going 20-6-3 against division opponents would paint a pretty positive outlook for a Western Conference run that, if advancing past the Kings, would then set up a series against the winner of the Ducks and Sharks.
But counting on anything in the NHL playoffs is like predicting weather patterns around the Great Lakes, a dubious task when you consider how many upsets the bracket annually seems to deliver.
Nashville looks the best in the West and perhaps all of hockey right now.
It advanced to the Stanley Cup finals last year … as a No. 8 seed.
"Nothing is going to change with our group," Knights coach Gerard Gallant said. "We're going to go out there and work and compete and have fun and see what happens."
Let the fun — and back-breaking forechecks — begin.
More Golden Knights: Follow all of our Golden Knights coverage online at reviewjournal.com/GoldenKnights and @HockeyinVegas on Twitter.
Contact columnist Ed Graney at egraney@reviewjournal.com or 702-383-4618. He can be heard on "The Press Box," ESPN Radio 100.9 FM and 1100 AM, from 11 a.m. to 2 p.m. Monday through Friday. Follow @edgraney on Twitter.