Ill wind blows Mickelson off course … and almost home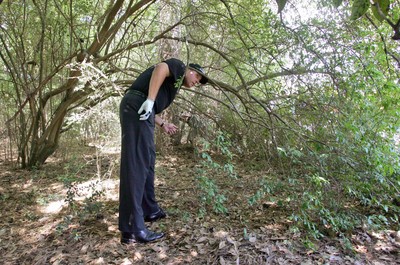 AUGUSTA, Ga. — How odd. It wasn't that two-driver approach that left Phil Mickelson a few more forgettable holes from completely blowing all chance at successfully defending his Masters title. It wasn't any pressure felt from that ridiculous comparison to Tiger Woods (read: there is none). It wasn't because Mickelson pulled a muscle while practicing his new kung fu routine.
It was all that gorgeous weather.
Golfers feared this kind of day at Augusta National for some time like they might the thought of flying commercial, when recent course changes would mix with clear skies and swirling winds, when greens would play more like ice than the usual oiled carpet, when the pro shop would appear conspicuously over-stocked with umbrellas.
Such ideal conditions are wonderful for the couple that paid $1,200 for a pair of scalped badges to sit and watch in paradise, but they also create the toughest imaginable test for players.
Mickelson hasn't entirely failed yet, but he tees off today in need of a serious cheat sheet. Either that, or he should replace his swing coach with a wind expert.
It appeared for some time Thursday that Mickelson could become the first defending champion to miss the cut since 2003 winner Mike Weir, the result of opening with a 4-over-par 76. Mickelson was essentially on life support (he was 5 over through seven holes) until he birdied 15 and 16.
(For a while, though, we envisioned this fantasy: He doesn't make the cut and has to either stick around or fly home to California and then back Sunday to present the new champion his green jacket, who happens to be Woods. Pause for laughter here.)
"I've got to get back (today) to playing good, solid golf and shoot a 68 or maybe even a little better," Mickelson said. "I'd love to shoot better, but a 68 should get me back in the tournament going into the weekend. There are birdies out there. It was tough with the swirling winds and the greens were fast, but I didn't think it was unmanageable by any means.
"The wind is making it the most difficult. I hit a chip on 17 — it was only 30 feet and the flag is blowing to the right and the wind pushed the ball left. It was affecting even the shortest of shots. It's a tough course, but it's tough for everybody."
He just didn't handle it well.
This is what those polite and yet unyielding folks at Augusta had in mind the last several years as they lengthened the course and planted more trees than Sacramento and tweaked angles on each hole, hoping to make things at least somewhat equal between their track and drives that resemble rockets when hit pure off clubs made by either Callaway or NASA.
But the rains that usually arrive sooner or later are not expected this week, meaning everything will remain fast and hard, meaning the polite and unyielding folks are probably doing cartwheels outside Butler Cabin.
The average score Thursday was 76.18, the fourth-highest opening number in 40 years here. The leaders, Justin Rose and Brett Wetterich, are at 3 under. Ernie Els shot 78 and is toast. Woods finally found himself in the red after 15 holes and responded by bogeying the final two to finish 1 over.
This kind of weather is awful for short hitters, good for those in the middle and all but cancels any edge for those with monster drives. Mickelson belongs to the latter group.
It's not to say he can't crawl back into contention with a late starting time today — when the winds should be calmer — but history and his play this year insist he won't repeat. No player has won the Masters shooting higher than 75 in the opening round, and Mickelson posted just two notable results in eight events coming in.
"I didn't want to shoot myself out the first day and I don't think I've done that, even though I didn't play anywhere near I felt I was capable of playing," he said. "Even par is going to be in the hunt (today)."
Not if he doesn't cope with the wind any better. And make more short putts. And realize he must try and get back in this against the undesirable reality of firm fairways and speedier-than-normal greens that have gone from absurdly fast to NASCAR fast.
"This," said one longtime golf writer who has spent years covering the tournament, "is one of the most beautiful days I have ever seen at Augusta."
It's a golfer's worst nightmare here.
That, and any chance the private jet won't be fueled and ready Sunday night.
Ed Graney can be reached at 383-4618 or egraney@reviewjournal.com.
ED GRANEYMORE COLUMNS