Illogical program of UNLV football has another losing season
November 25, 2017 - 6:36 pm
Updated November 25, 2017 - 7:13 pm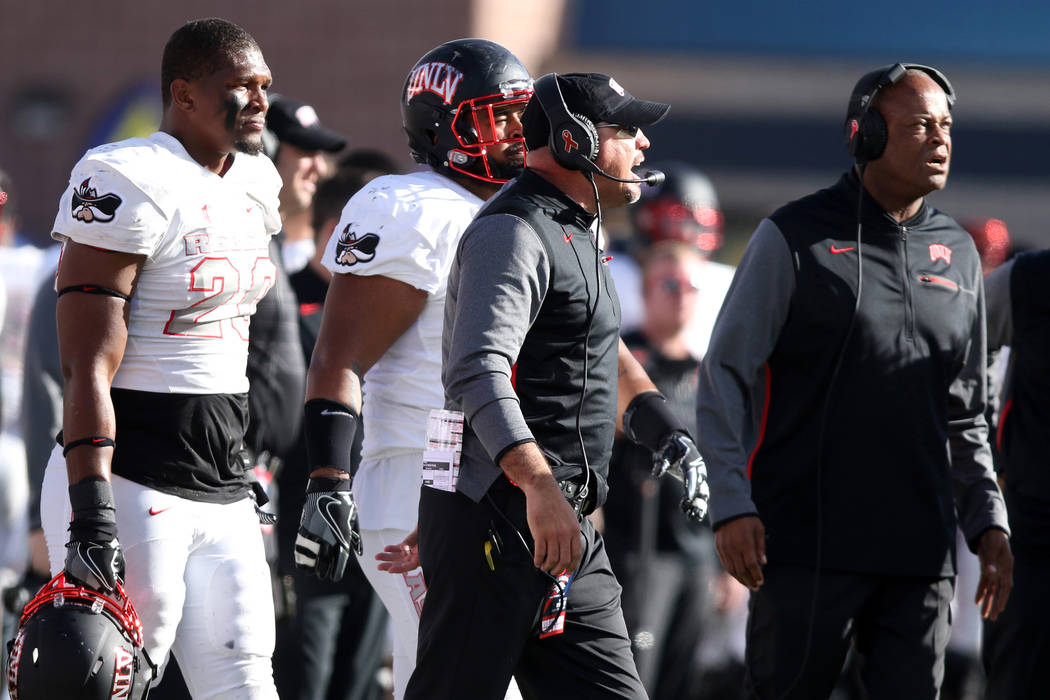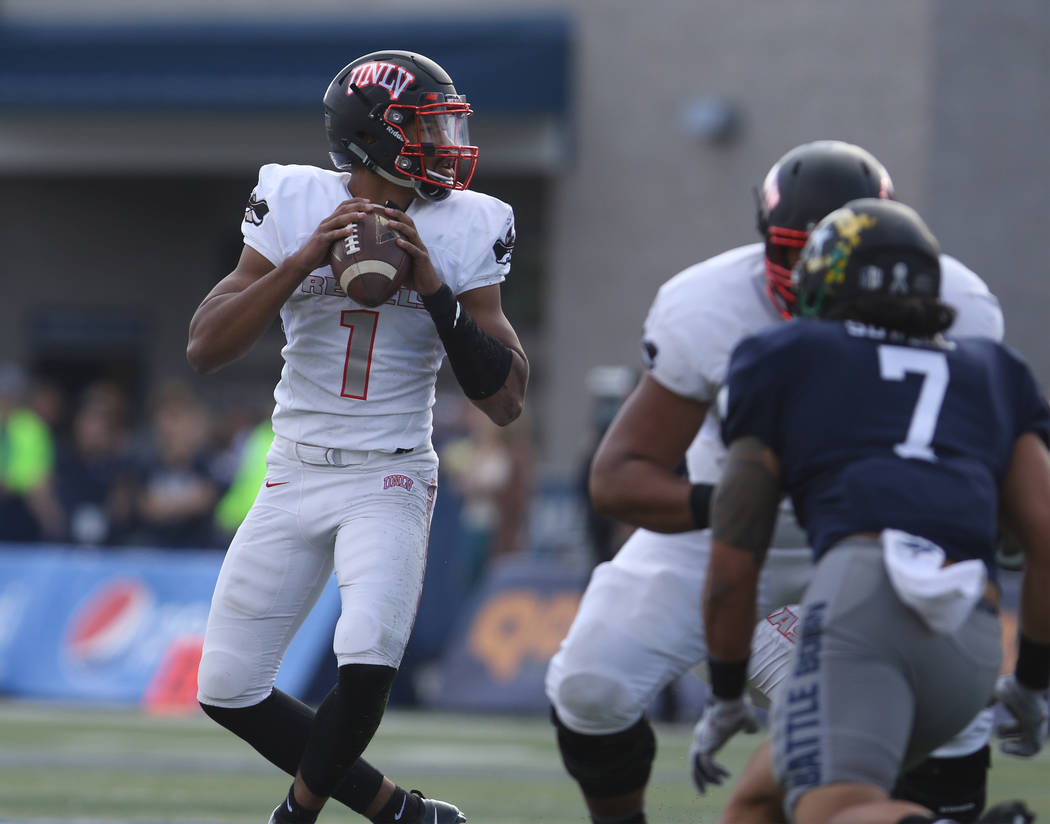 RENO — One of the bosses put it best a few weeks ago, an uncomplicated and yet intricate evaluation: There is no logic to UNLV football.
There is no rational basis — other than the fact it hasn't been good in forever — for how it continues to produce losing seasons.
How it drops games it absolutely shouldn't.
How it wins a few it, well, probably shouldn't.
Wondering: How in the world does anyone bet on these guys — for or against — and feel good about it?
The third year under coach Tony Sanchez is now in the books as a 5-7 record with no bowl game, no return of the Fremont Cannon to shade of red paint and enough legitimate questions about his staff that demand be answered in order that what has been incremental improvement continues.
The Rebels on Saturday afternoon, with everything to play for, lost 23-16 at Mackay Stadium to a UNR team with nothing to play for other than continued possession of that cannon, easily the worst Wolf Pack side in nearly two decades.
UNR was 2-9 coming in and, believe me, was all of that and less.
"The goal was to go to a bowl game," Sanchez said. "The goal was to win the cannon. There is a lot of stuff to talk about in regard to our future, but that's a conversation for a week from now. We had a legitimate chance at a bowl game, a legitimate shot at going on.
"We got a lot better a lot faster than people thought we would. We could have won eight games this year. It's a double-edge sword. It's a great thing for our program, but we're frustrated because we could have won all those games and didn't."
This is where the intricate part comes in.
It's true UNLV has won more games each season under him — from three to four to now five — and that the last Rebels coach to post consecutive winning seasons was Harvey Hyde in 1983 and 1984.
This isn't anything new, this bad team stuff.
But the Rebels are still light-years away defensively. They have recruited better under Sanchez and yet still struggle mightily on that side.
Sanchez needs to address potential staff changes there, and you would hope Desiree Reed-Francois as a new athletic director sternly suggests as much to a coach whose fourth season will arrive with deserved pressure to reach a bowl.
UNLV lost a 27-0 lead and the game at Air Force this season. It dropped results to a Football Championship Subdivision opponent in Howard and two of the worst versions of Brigham Young and UNR in the history of those programs.
The Rebels didn't deserve a bowl.
They could have won eight games?
They didn't come close to that.
They also didn't play either of the top two teams (Boise State, Colorado State) from the league's Mountain Division.
This was more than a manageable schedule to reach six victories, and UNLV couldn't.
It's funny. I actually had no issue with Sanchez going on fourth-and-1 from the UNR 9 and leading by seven with 4:29 left in the third quarter. Sure, a field goal would have made it a two-score margin, but you're playing for a bowl game against a really bad team.
Try to go up 14.
Put your rival away for good.
I did, however, have a huge issue with Sanchez not calling timeout — he had all three available — before a fourth-and-2 from the UNR 22 and trailing 23-16 with 1:20 remaining.
You have one snap to continue the drive and keep those cannon/bowl hopes alive. You can't rush that play, one which running back Lexington Thomas appeared to not even know the call. As it is, a tired redshirt freshman quarterback in Armani Rogers threw an incompletion and UNLV never again possessed the ball.
"We had the three timeouts left, so it gives you a chance to get the ball back," Sanchez said. "The biggest thing is, if you don't get it, you have a chance to regain possession."
That's how Alabama thinks. That's not how UNLV, which can't stop you, me or the goal post, which has one of the nation's worst run defenses, should think.
The Rebels aren't near good enough defensively to put that much faith into getting a stop against anyone at any time, much less the most pivotal series in a season.
Which, of course, they didn't.
Another season, another losing record, another collection of what-ifs and could-have-beens.
UNLV is better now than when Sanchez was hired. That's obvious.
But such is a relative pendulum of assessment, still swinging far too often backward toward forgettable results.
He needs to look hard at his defensive staff.
He needs to reach a bowl game next season.
He needs to bring some reasoning and consistency to what remains an illogical program.
He's actually capable of accomplishing all three.
But it's also UNLV, which means you just can't bet on it with any certainty.
Contact columnist Ed Graney at egraney@reviewjournal.com or 702-383-4618. He can be heard on "The Press Box," ESPN Radio 100.9 FM and 1100 AM, from 11 a.m. to 2 p.m. Monday through Friday. Follow @edgraney on Twitter.