Is Jon Gruden worth $100M? Only if he wins it all
January 8, 2018 - 3:19 pm
Updated January 8, 2018 - 3:33 pm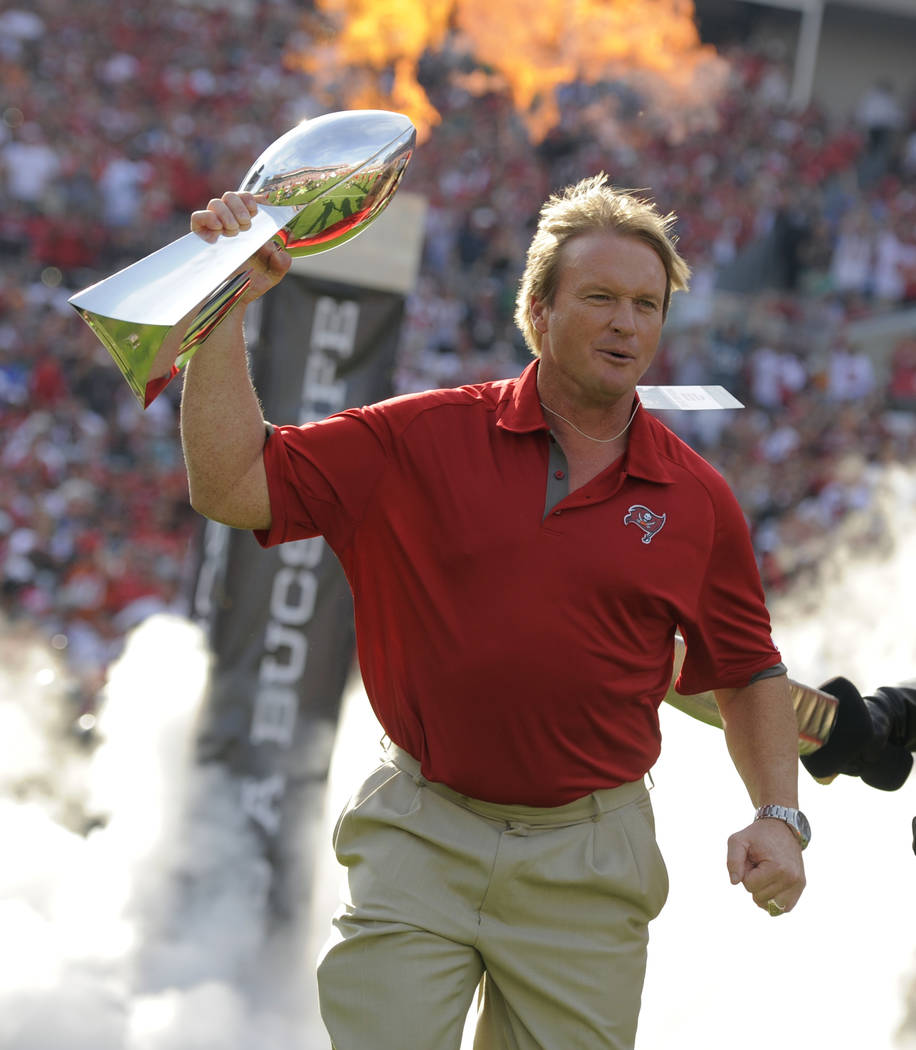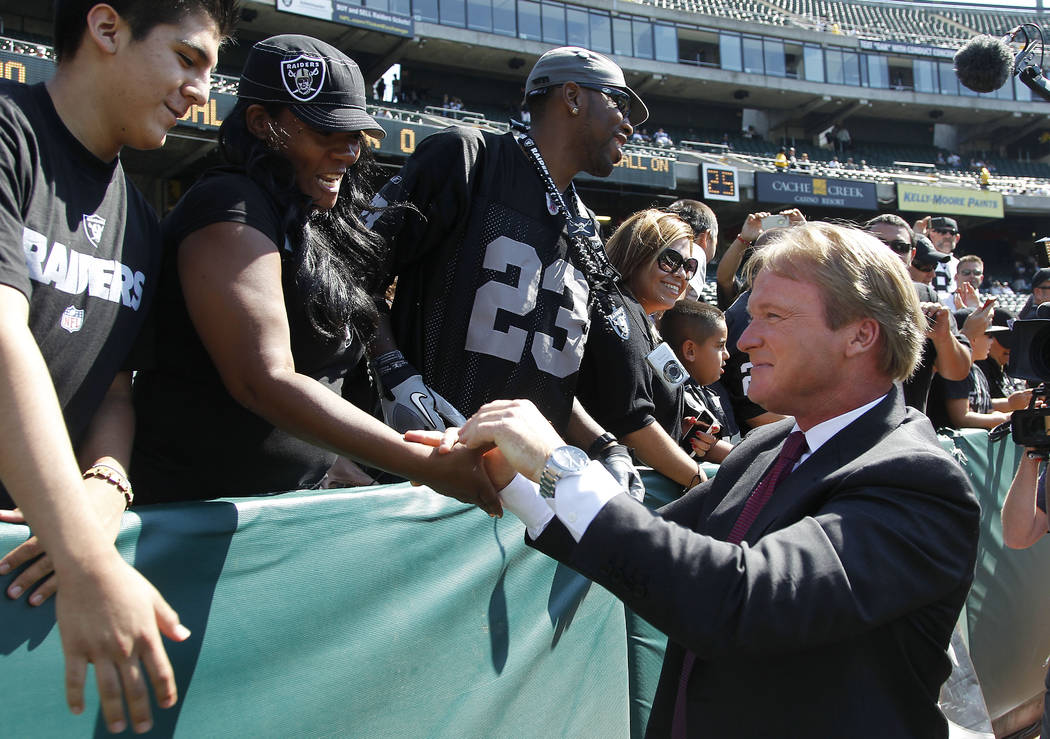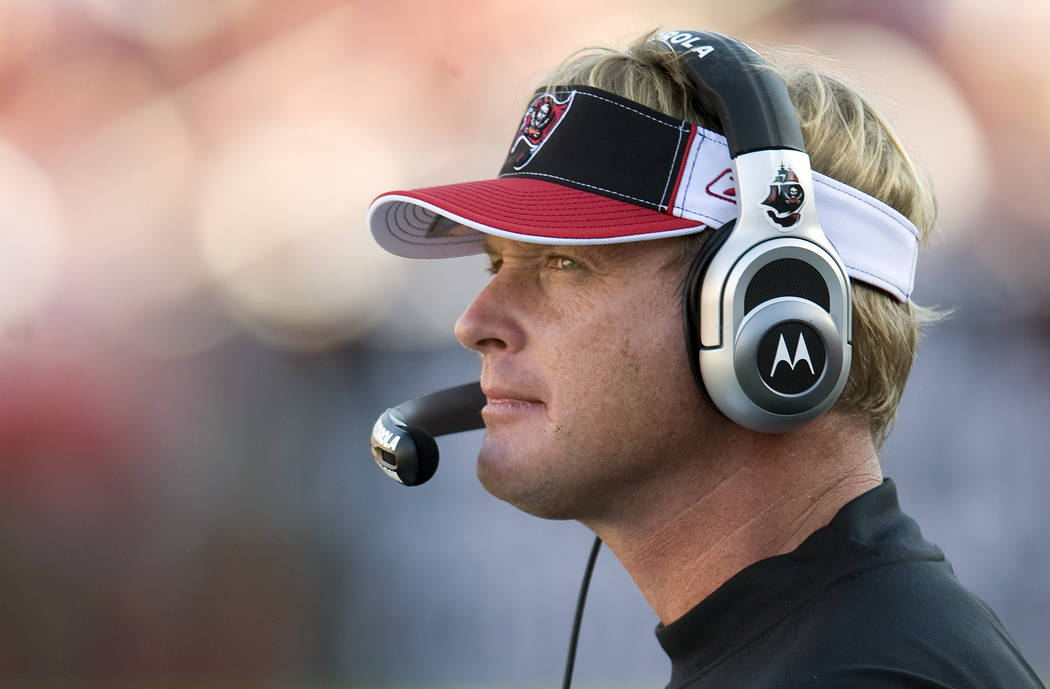 Value is a relative expression in sports. Whether a certain contract and its worth is deserved remittance for services rendered remains an individual belief.
Opinions differ as much about what people are paid as they do about the year's best movies.
Um, it's "The Post," by the way.
So here's mine on the Raiders reportedly giving Jon Gruden a 10-year deal for $100 million to return as head coach: If during the life of the contract, assuming Gruden remains on the sidelines for its entirety, a Super Bowl win will make every last cent worth the gamble. If the team doesn't hold a Lombardi Trophy aloft during his most recent stay, the move will have been a colossal bust.
If, of course, you can ever wrap your head around a guy making that much cheese being considered a failure.
Gruden officially returns Tuesday to the position most believe he never wanted to depart, the Raiders set to hold a news conference at their headquarters in Alameda, California, introducing him as the person who will lead the team now and when it arrives to Las Vegas for the 2020 season.
He hasn't coached since 2008, has a career record of 95-81, missed the playoffs four of his final six seasons in Tampa Bay and was 0-2 in the post-season since winning the Super Bowl with the Buccaneers in 2002.
And now he gets an NFL record coaching deal for length and compensation.
Whether or not Gruden can meet the massive expectations that accompany such a commitment from the wallet of owner Mark Davis will be known over time, but the definition for such success should only be judged in one manner:
Do the Raiders claim a fourth ring with Gruden in charge?
Or maybe more?
If he wins two Super Bowls, $100 million is tipping money.
Winning what is the most costly event in sports is often incalculable as to what immediate and long-term revenue growth can be attached a franchise. It's everything when it comes to a specific team brand.
It doesn't mean Gruden could win it all in a few years and spend the rest of the next decade offering annual records of 6-10 or worse. But building a consistent winner takes time. History and those statistics it is defined by proves as much.
I'm just not sure how much of it folks will be willing to give Gruden considering the amount of faith (and money) the Raiders have committed to him.
An important question: Did the Raiders just hire the perfect coach or their owner's illusion of one?
Say this for Davis — he certainly hasn't been acting as if he prefers those $5 tables around town. It's obvious he is counting on — praying that — the riches a Las Vegas stadium whose price tag could climb above $2 billion more than covers those financial pledges he's making now.
There is a loan from Bank of America and a relocation fee to the NFL, a combined total of nearly $1 billion owed. There is nearly $85 million committed to the stadium site at Russell Road and practice facility in Henderson. Now, he lures back the coach his father once traded to Tampa Bay with a nine-figure carrot.
Translation: Davis must really, really be counting on those personal seat licenses at the new stadium selling like crazy.
Gruden can obviously help.
Winning will do that.
It hasn't produced the most glorious of storybook endings, this idea of returning to coach after a long hiatus elsewhere. Dick Vermeil was best at it, taking one team (Philadelphia) to a Super Bowl and then coming back to win it with another (St. Louis). But then there are tales of Tom Flores and and Mike Ditka and Joe Gibbs, men who never could re-create the same magic they previously spun.
Gruden now gets that chance, and a whole lot of job security and money to prove he's worth it.
If he wins a Super Bowl over the next decade, he is.
If he wins more than one, forget about it. Nine figures is tipping money.
But if his tenure ultimately ends and the Raiders are still owners of just three Lombardi Trophies, then $100 million will have been a colossal bust.
If, of course, you could ever wrap your head around such a reality.
Contact columnist Ed Graney at egraney@reviewjournal.com or 702-383-4618. He can be heard on "The Press Box," ESPN Radio 100.9 FM and 1100 AM, from 11 a.m. to 2 p.m. Monday through Friday. Follow @edgraney on Twitter.