Jack Eichel holds his own against Oilers star Connor McDavid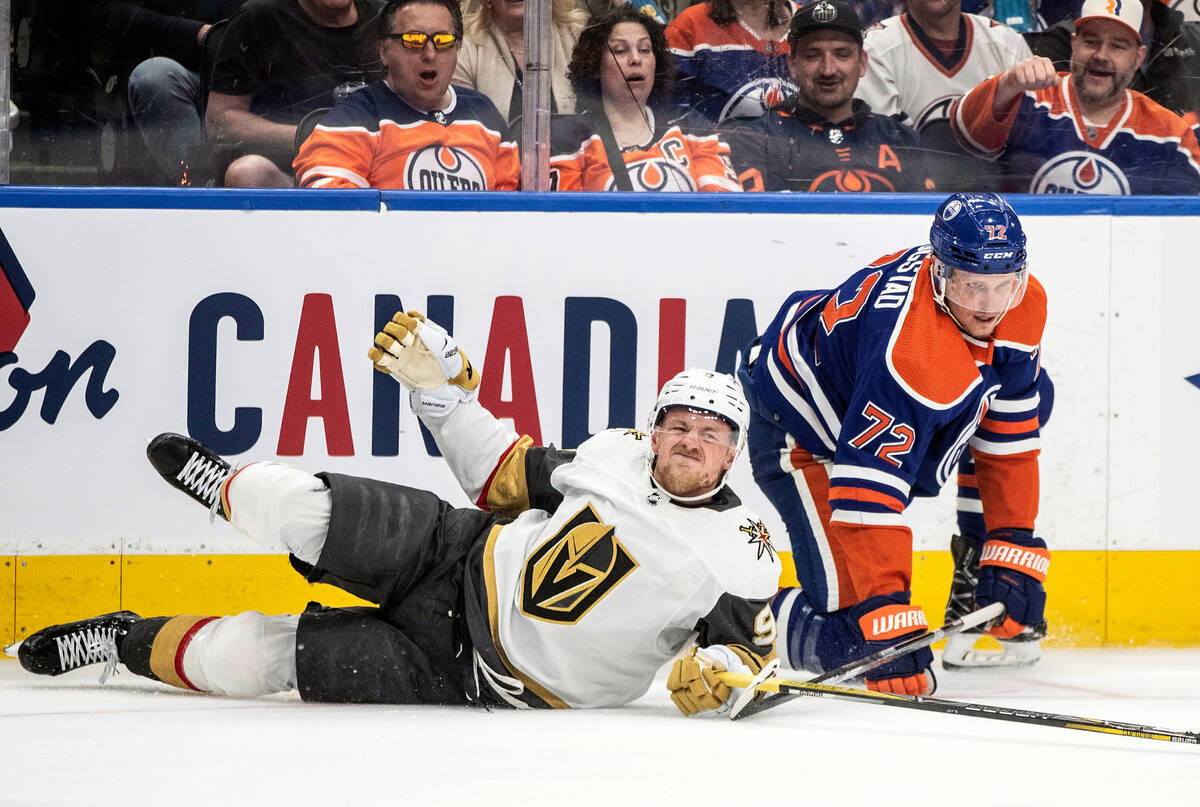 EDMONTON, Alberta — Jack Eichel has played Connor McDavid even. Now that's something.
One central narrative before a puck was dropped in this best-of-seven series was about the 2015 NHL draft, about how McDavid was selected first overall by the Edmonton Oilers and Eichel second by the Buffalo Sabres.
How this would be the first time the two met in the playoffs, Eichel having been traded to the Golden Knights in November 2021.
And while the comparisons between him— or anyone else, for that matter — to the world's best player in McDavid were unfair, know this:
Eichel has more than held his own — he and McDavid have each accounted for five points — in a series the Knights lead 2-1.
Eichel was certainly better Monday. Was the best player on the ice.
Has bought in
The Knights would win 5-1, and Eichel would again prove how prodigious a 200-foot player he really is. If you're one who believes he is only offensively driven, watch closely. He cares about the defensive end. Has accepted the challenge of being just as efficient there as at the other.
Has been this way all season.
"His defensive ability is excellent," said coach Bruce Cassidy, whose team meets Edmonton in Game 4 on Wednesday night at Rogers Place. "He has bought into it. How we want to play in our D-zone, his ability to close quickly and make good reads. It has led to a lot of transition opportunities for him. Good for Jack. We need it."
They need his speed creating opportunities through the neutral zone when breaking the puck out. When he checks behind his own net, assumes possession and begins the rush. Happened on Monday, the result being a Jonathan Marchessault goal off an Eichel pass. It was Marchessault's second score of the night.
Eichel was just so good in Game 3. In total control. It was the same for Marchessault's first goal, when Eichel began the rush via corralling a turnover.
How good have the Knights been in these playoffs with Eichel on the ice? They've allowed only three goals in 118 minutes at five-on-five. That's 1.5 per game. That's terrific.
"It has been awesome to see (Eichel) back-checking and how explosive he is that he can get back and help you out," defenseman Brayden McNabb said. "He checks hard. He works hard. Things are really going well for him."
Ivan Barbashev was traded from St. Louis to the Knights in February and didn't realize how incredibly skilled Eichel was. Only played against him a few times a season. Didn't realize Eichel was just as talented in the defensive zone as when creating for himself and others.
"A great player," Barbashev said. "When I got traded, I really didn't know what (line) I would be on or who I'd be playing with. But now being (with Eichel) … You see something special from him every single game. He plays the right way."
Defensive centers
Here's the thing: The Knights have four really good defensive centers. Eichel, Chandler Stephenson, William Karlsson and Nic Roy. And with them brings more help to a team that has suffered yet another injury at goalie.
There was no update on Laurent Brossoit on Tuesday, the player hurt with 8:16 left in the first period of Game 3. He was replaced by Adin Hill, who did an admirable job in stopping all 25 shots the Oilers had against him.
But as has been a consistent theme this season, if the Knights defend as Cassidy desires, whichever name is in net becomes secondary. And that's a byproduct of his centers being able to get back and assist. Of players like Eichel competing over the entire sheet of ice.
"(Eichel) is on the top of his game," Stephenson said. "It showed (Monday) night."
He was the best player.
Has also played McDavid even.
The narrative exists.
Ed Graney is a Sigma Delta Chi Award winner for sports column writing and can be reached at egraney@reviewjournal.com. He can be heard on "The Press Box," ESPN Radio 100.9 FM and 1100 AM, from 7 to 10 a.m. Monday through Friday. Follow @edgraney on Twitter.