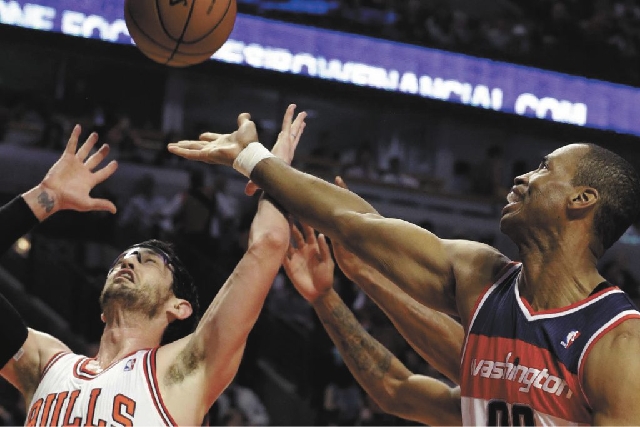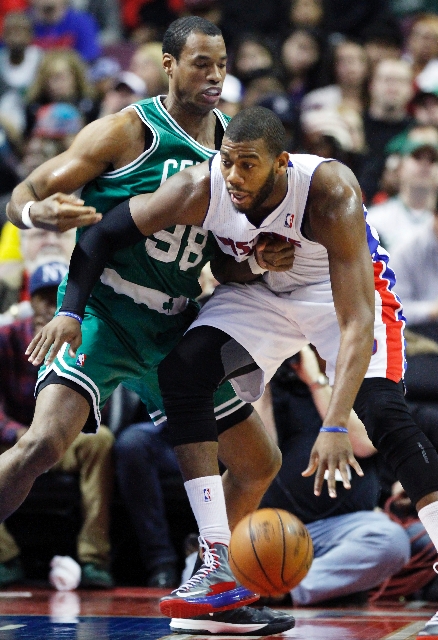 This is the way he explained it: There are two major aspects of the gay community — one that is extremely open and doesn't care how others react to another's sexuality, and those like him who, while not completely in the closet, prefer to be identified solely on how they treat others and their contributions to society.
He also agreed with this: Jason Collins did a very important thing Monday.
A former sports personality for years in Las Vegas, a friend I deeply respect, spoke about the news that Collins as an NBA player became the first active athlete in a major American team sport to announce he is gay.
That by writing a first-person account for Sports Illustrated in a manner far more eloquent and skilled than I or most in my profession could ever hope to compose, Collins took another major step forward for all of us, athlete or not, in better understanding that which separates.
"It's important he doesn't lose his identity," my friend said. "I really don't believe anyone who comes forward like this wants to be defined by his or her sexuality. I think at times the gay community can be its own worst enemy by flaunting their sexuality just to get a reaction, as if that's the only thing that defines them as a human being.
"I think it's far more important to be who you truly are. Being an NBA player is part of (Collins') everyday life. What he chooses to eat. What movie he attends. What his sexuality is. All of it makes up the person he is.
"I'm someone's partner. I'm a professional. I'm a worker. What I do at night in the privacy of my home is just another part of what makes me who I am. I would hope it's the same for (Collins)."
It is the sort of news that will be accepted today by a much broader spectrum of society than in 2003 and hopefully one that won't draw one raised eyebrow or make a single headline in 2023.
There was always going to be a first. Collins is it.
Now what?
People will watch closely to see if the 12-year veteran, now a free agent, is signed by what would be his seventh NBA team. They will wonder if the league that so quickly and favorably supported him Monday finds a roster spot for a player who owns career averages of 3.6 points and 3.8 rebounds, that if some of those peers who so adamantly backed him on Twitter are just as accepting should he share a locker room with them next season.
Collins has never averaged more than 6.4 points in a season and last started more than 30 games in 2006-07. He is not a star and yet is now defined as a symbol for so many who waited and wanted this day to arrive.
And that's a good thing.
Read his essay. Appreciate each word. This is a highly intelligent, thought-provoking man whose reputation for toughness on the court will serve him well when battling prejudice off it. And it will come.
It has to if this is to mean anything.
I am reminded of a quote from Michael Douglas' character in "The American President," when he said the symbol of a country can't just be a flag, but must also be one of its citizens exercising the right to burn the flag in protest. The same concept applies with Collins.
Tolerance must work both ways, so when a reporter like Chris Broussard of ESPN on Monday champions his Christian faith as one that doesn't agree with homosexuality and believes it a sin, he must be afforded every right to express those views as Collins does in coming out.
The ignorant jokes. The cruel words. It all has to be part of the discussion in order for the biggest impact to be felt and the greatest amount of change occur.
Only then can we hope to achieve the level of open-mindedness that a day like Monday intends to create. Only then can fewer and fewer exist in what must be a tortured silence and, like Collins, finally discover some semblance of peace within their own skin.
He is the first but not the only. Many athletes have and continue to live in the shadows produced by the fear of bigotry.
Perhaps more will be willing to step from such darkness now, but more importantly, hopefully, we are inching closer to a time when it isn't news when they do.
When there isn't a single headline written about it.
Now that will be a very good day.
Las Vegas Review-Journal sports columnist Ed Graney can be reached at egraney@reviewjournal.com or 702-383-4618. He can be heard from 11 a.m. to 2 p.m. Monday through Friday on "Gridlock," ESPN 1100 and 98.9 FM. Follow him on Twitter: @edgraney.