Jon Gruden has much to prove in 2nd chapter as Raiders coach
Updated July 28, 2018 - 4:04 pm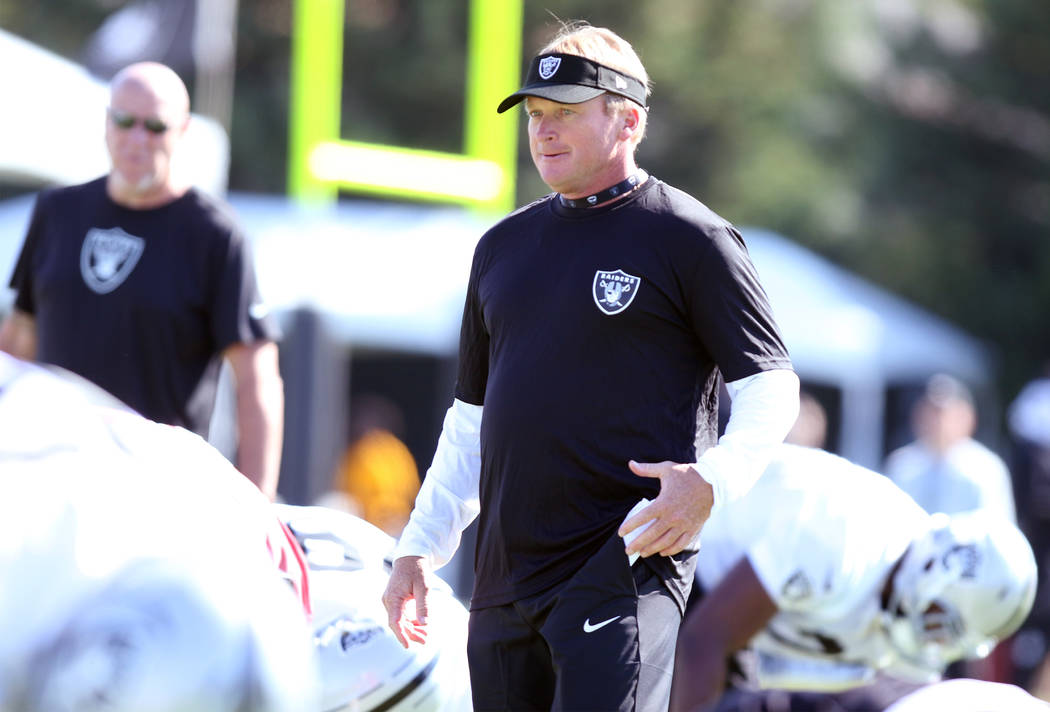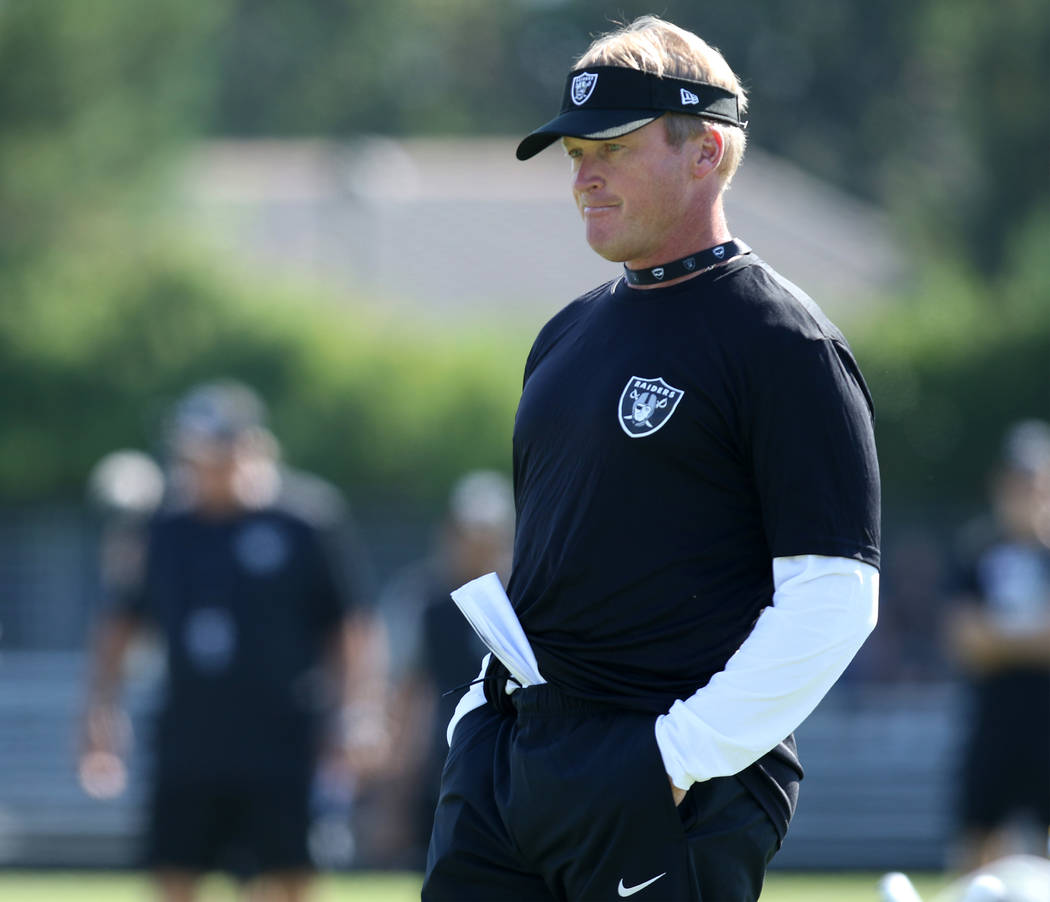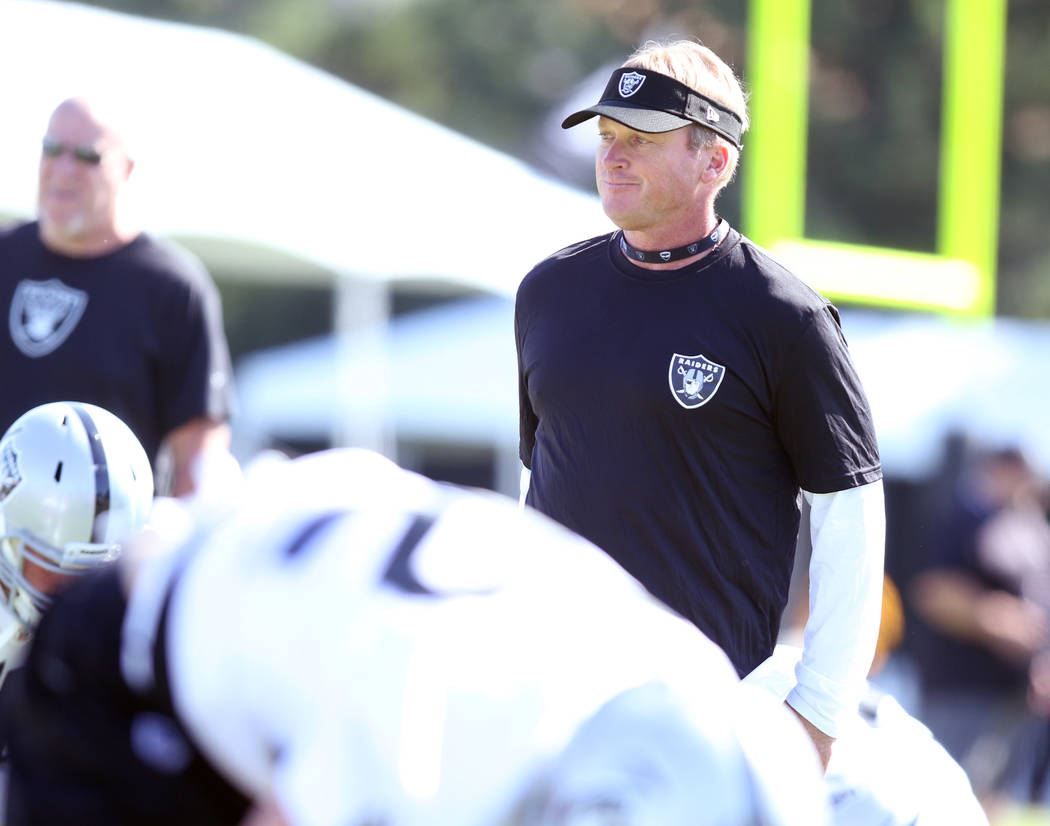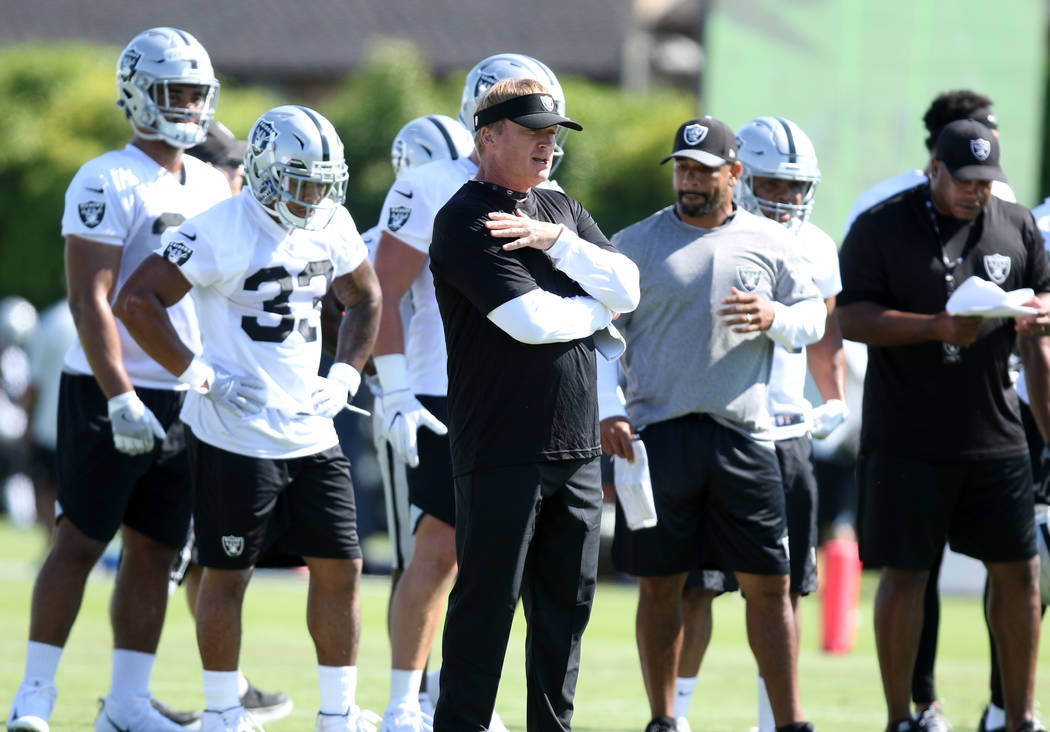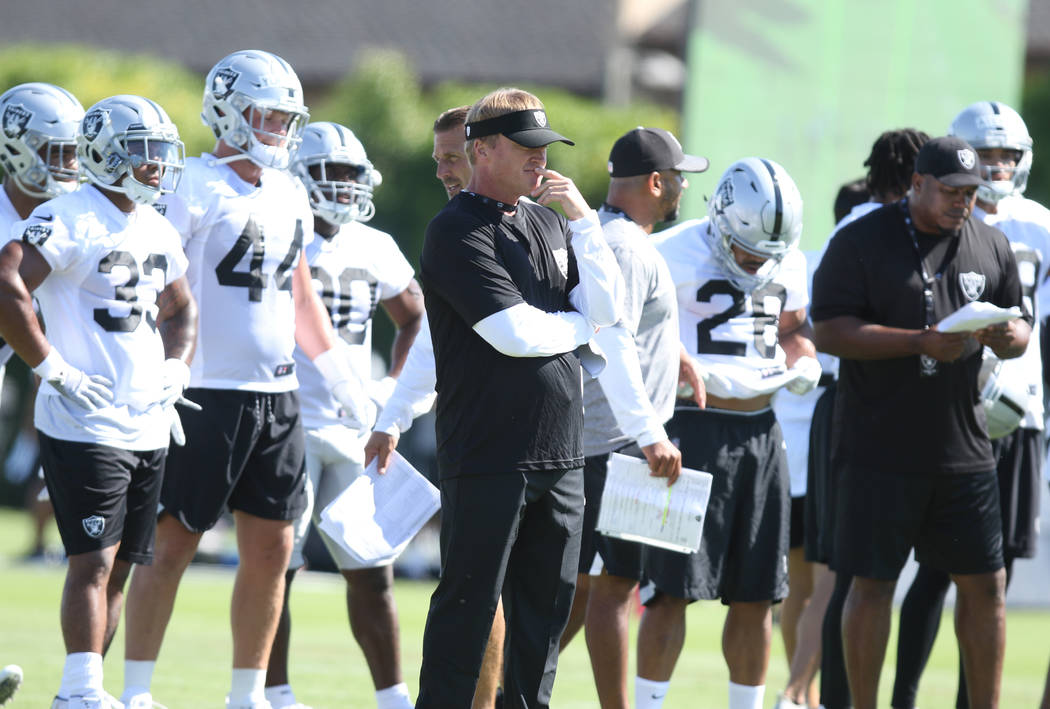 NAPA, Calif. — Derek Carr walked to the side of a podium Friday afternoon, turned around, noticed the 15 or so television cameras and reporters two rows deep and offered: "We must have a new coach, good golly."
Miss Molly, they sure do.
A new and old one.
While some of his former players were painting two sides of Jon Gruden in a Sports Illustrated article this week, his current ones with the Raiders were more than approving as training camp opened once again amid a long stretch of wineries and agriculture.
"He was out there talking noise, talking trash," said veteran linebacker Derrick Johnson. "It's a different sense of urgency than you usually get for a first day."
Gruden is back, animated as ever, demanding as all get-out, lover of all things silver and black, overseeing his first camp for the Raiders since being traded to Tampa Bay following the 2001 season, since the Buccaneers gave up two first-round draft picks, two second-round picks and $8 million for, yes, a head coach.
He is 54 and enters a second stretch with the Raiders possessing the security of a 10-year contract worth a reported $100 million. Yet the reality that so many believe he will fail, that whether the game has passed him by or he will rely too much on a mindset that won a Super Bowl in Tampa Bay all those years ago can't possibly work now, the reasoning of his critics is plentiful.
Same as the old coach
They're also not outrageous points. Gruden hasn't coached in 10 years. He might not have changed much, but most everything else in the NFL has to some degree.
He's just not buying it, is all.
"It's not that much different than it was 100 years ago — you're just not allowed to bring 150 guys to camp and have three-a-days," Gruden said. "I know I have a lot to prove, and I'm eager to do the best I can.
"There's a lot of new technology, but it's not better technology. I got a new remote. I like my old remote better. … So you have to sift through what is better and what is new. You have to do what's best for your team. … It really hasn't changed that much. It's a hard job. It's a big job."
Who is he?
A handful of former Buccaneers told SI that the person Gruden was to the media differed vastly from the one behind closed doors and in team meetings, that there was a divide from 2002 to 2008 in Tampa Bay of those players who liked the coach and those who found him untrustworthy.
Some said, according to the story, which the Raiders reportedly did not respond to requests for comment, Gruden would change the public narrative to suit his purposes.
"The games were easier (than practice)," former Bucs quarterback Chris Simms told the magazine. "I didn't have this psycho 5 feet behind me yelling at me all the time."
Coach and quarterback
Gruden now stands 5 feet behind Carr, who first met the coach as part of his predraft quarterback camp on ESPN in 2014, and insists the man he came to know then is the same one who instructs him now.
You can't overstate the importance of Gruden and Carr meshing for the Raiders, which really means Carr buying into everything Gruden desires, which might seem ensured the first day of training camp when everything is as sweet as a late-harvest Riesling, but really won't be known until the season begins and adversity hits.
But if a key question remains about Carr — is he really as good or perhaps even better than the 2016 Pro Bowl version that led the Raiders to their first winning season since 2002 before being injured in Week 16 — it's Gruden who will play a central role in providing the answer.
"I've had people come up to me and be like, 'What was he yelling at you about in the meeting room?' " Carr said. "I said, 'Oh nothing, we were talking about good things.' He is so passionate about the game of football. I don't think anyone can be mad at that.
"I don't know if that man sleeps. I don't know if he's slept yet. I have to be on the same page. Him and I have to work the hardest out of anybody out here. If the head coach and the quarterback are the hardest workers, then usually that's a good recipe."
There was a moment during Friday's practice when Gruden noticed something amiss.
"Where's the music!" he screamed as the offense began to run another player. "Where's the music!"
On cue, "Plain Jane," from A$AP Ferg began blaring from loudspeakers.
Do ya job, is right, because, good golly, he's back.
Contact columnist Ed Graney at egraney@reviewjournal.com or 702-383-4618. He can be heard on "The Press Box," ESPN Radio 100.9 FM and 1100 AM, from 11 a.m. to 2 p.m. Monday through Friday. Follow @edgraney on Twitter.