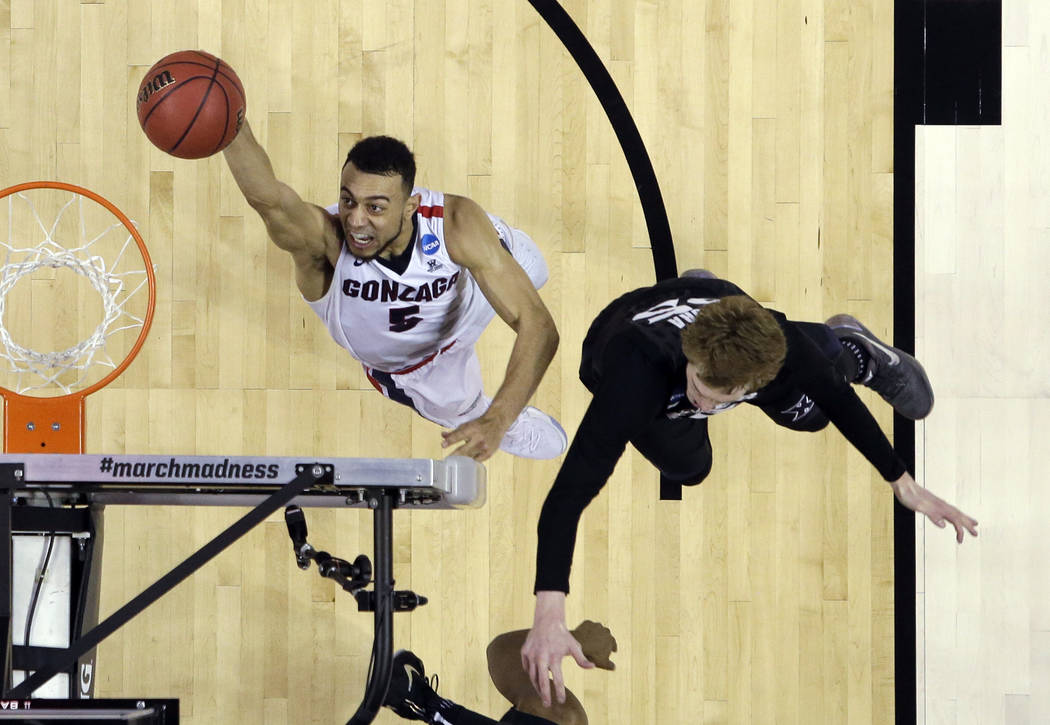 SAN JOSE, Calif. — Mike Collins stood to one side, beaming as only a father in such a memorable time could, his camera steadily pointed at the ladder on which the young man stood, hoping the 7-footer would turn and hold aloft a strand of net he had just clipped.
"Z!"
"Z!"
"Z!"
Finally, the freshman center from Gonzaga's basketball team turned, smiled and presented the historic keepsake.
"Amazing," Mike said. "You never think about this. You think about good people, a good coaching staff, about someone that when you give your kid off, you want them to take care of him. They have done everything and more. Regardless of what happens, they're going to a Final Four. You can never take that away.
"It's never easy trying to pick a school. I thought he did a great job. The one thing he doesn't like is the cold because he's a Vegas kid. But you can't do anything about that."
It's true weather patterns in Spokane, Wash, probably aren't changing dramatically any time soon, that you're always going to have that annual stretch between October and April when extra layers are more required than optional.
Zach Collins might never get used to that part, but the tradeoff has been ten-fold for the Bishop Gorman High alum, who is now part of the first Gonzaga team to reach a Final Four.
The Zags resembled every bit a No. 1 seed in routing Xavier 83-59 on Saturday in the NCAA Tournament's West Regional final at SAP Center, advancing to the national semifinals in Phoenix.
Collins has been a road trip roommate of junior Nigel Williams-Goss, a Findlay Prep product whose leadership at point guard made all the difference in Gonzaga going to the Final Four with a 36-1 record.
Less than a minute remained Saturday when Williams-Goss, a transfer from Washington and an all-region selection who had a game-high 23 points, took a knee near midcourt and allowed the moment to grab hold of him.
"I thought about the journey, transferring and sitting out, ankle surgery last year, battling through everything," said Williams-Goss, the first four-year player at Findlay Prep. "And to be there, with 50 or so seconds left, and be able to check off that last goal I had when coming here, there was a lot of emotion."
Collins played 13 minutes, totaling six points and six rebounds before fouling out with 5:39 remaining.
"I wanted to be at a college where I was comfortable, where the coaches wanted me, where I could trust them and develop as a player," he said. "But this is also one of the reasons — moments like this. I wanted to be part of that.
"There have been so many great Zags teams. This is for all the players who made this program what it is. We're going to enjoy the hell out of this, but then it's back to business. We're not done."
Will it make the cold weather in Spokane any better?
"Nope," he said. "I still hate the cold, but luckily we play inside."
They will again on Saturday against the Elite Eight winner of Florida-South Carolina.
Mike Collins will be in Phoenix, camera ready.
He just might get another shot of his son holding a strand of net.
Contact Ed Graney at egraney@reviewjournal.com or 702-383-4618. Follow @edgraney on Twitter.