Kelly turns off brain, tunes up game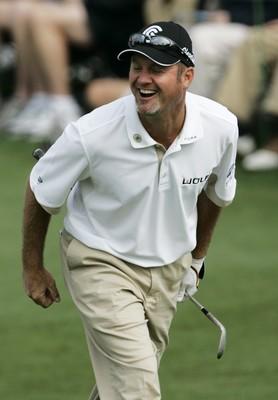 AUGUSTA, Ga.
Jerry Kelly plays golf and whoever stands closest is most likely to spend an entire round sighing or ducking for cover, because you never know if his reaction to a shot will result in a tip of the cap or body-check into the sand trap.
Kelly's idea of having a little harmless fun is jabbing an elbow into your side. He's one of those guys who not only wears emotions on his sleeve but also on his pants and shoes and socks. He is a former college hockey player who — here's a shock — is known as a bit of a hothead and says he walks down fairways imagining opposing players with bull's-eyes on their backs. He's a bit unusual that way.
Oh, yeah. One other thing: Kelly is very much in the running to win the Masters.
Another dry day passed at Augusta National and we're again left with a leaderboard void of many red numbers and filled with names recognized only by immediate family and close friends. Brett Wetterich and Tim Clark (all together: WHO?) lead at 2-under-par 142 and have one whopping career PGA Tour victory between them. Tiger Woods is five strokes back and when glancing at most ahead of him, no doubt is wondering if a fifth green jacket will clash with his pre-determined Sunday wardrobe.
But if things remain cold (forecasts call for temperatures starting in the 20s today and not rising above 50) and windy and big hitters are increasingly neutralized, Kelly can contend in an event in which his best result in four previous tries is a tie for 20th in 2002 and 2005.
He is tied for fourth at even par after a 3-under 69 on Friday, a Wisconsin native and resident without the biggest drive who welcomes weather in which jackets are more needed than preferred.
"I can't tell you how many times I have practiced when it's been below freezing," said Kelly, who has never finished in the top 10 in a major. "A lot of times I have to hit from inside a trailer with heaters and hit it outside. I love hearing other guys gripe about things, about it being cold. … Lace 'em up, boys."
Kelly's problem: He thinks too much in the definitive thinking man's game. Having numerous thoughts run through one's mind is good for the waitress working six tables, but not a golfer standing over a 6-foot putt at Augusta to stay under par. "It might be better," said the 40-year old Kelly, "if I were dumb."
He has turned to sports psychologists to help calm all the active thoughts. He has sought the advice of a Zen master. But now he is confident the answer lies with Lanny Bassham, the former Olympic gold medalist in rifle shooting, who has built a prosperous business teaching others how to control the mind under pressure. Kelly visited Bassham for the first time last week before arriving here and he spent two eight-hour sessions learning tricks he never had experienced.
"He has given me a real clear focus on the process," Kelly said. "It has worked right away."
Some proof: Kelly made par saves on Nos. 10, 12 and 14 on Friday. On the par-4 10th, some knucklehead began snapping pictures of Woods walking down an adjacent fairway, but Kelly still had the focus to make the putt. "I knew the guy taking pictures wasn't paying attention to me," he said.
Then came the par-5 13th. The pin was tucked in the back right edge and Kelly had about a 70-yard putt for eagle. He played it up a ridge, hoping it wouldn't run back into the water but instead trickle downward toward the hole. It stopped at the top, leaving him about a 30-footer off the cliff. Amazingly, he placed it within six inches of the hole. In other words, your basic 100-footer with a 30-foot break. Your basic three-putt for par at Augusta.
It's incredibly doubtful Kelly will win, given his non-existent contention in majors and the fact he has already missed five cuts in 2007. But he can hang around. The weather suits his game. So does that hockey background.
"I don't quit, period," he said. "Doesn't matter where I am — 10, 20 over. I could care less. I'm always going to try and make the next shot. … My problem is I try too much. That's what I'm getting into with (Bassham). Get into a good process and not worry about the rest."
Don't think and don't try hard.
Imagine what he paid for that wisdom.
Ed Graney's column is published Wednesday, Thursday, Saturday and Sunday. He can be reached at egraney or egraney@reviewjournal.com.
ED GRANEYMORE COLUMNS