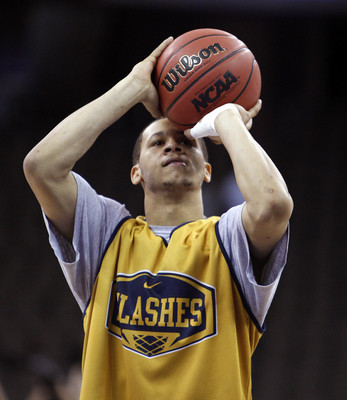 OMAHA, Neb. — Al Fisher has a story. Many like it are lining your NCAA Tournament bracket.
It's March, which means green beer and spring training and Mardi Gras and unknown college basketball players proving great skill isn't exclusively reserved for that stretch of eight miles along a North Carolina highway.
The next few days is when things traditionally get a bit wacky, when players you have heard little about seize a national opportunity to be noticed, when somewhat obscure programs hope they might sling David's stone for more than a game or two.
Fisher is the one from Kent State doing the aiming today. UNLV should be wary of his accuracy while trying to chuck a few rocks of its own.
It's not just styles that are similar, not merely the fact the Golden Flashes and Rebels mirror each other in how they play. Small. Fast. Intense. A mind-set that accepts no floor burn is a bad floor burn.
It's that within this 8-9 matchup of a first-round Midwest Regional game at the Qwest Center exists a handful of players whose college journeys have hardly been uncomplicated, none perhaps more than Fisher.
Kent State is his third school. He is a South Jersey kid who signed with Siena in 2004, played in 25 games, transferred to Redlands Community College in Oklahoma, led that team a No. 2 national ranking and earned a scholarship at Kent State despite its coaches having never seen him compete live. It happens more places than you think.
College basketball recruiting is more competitive than any race Clinton and Obama are waging, and taking chances on players simply by watching film and trusting recommendations is a standard practice for those not blessed with Top 25 status.
Curtis Terry and Rene Rougeau are former walk-ons and such examples for UNLV. Without them, the Rebels would be home watching stale programming on The Mtn.
"Some guys just have to find the right place for them," Kent State coach Jim Christian said. "That's the beautiful part of college basketball, is that you might go to a situation, even though you're a good player, that doesn't fit, and you still have a chance to find that place. UNLV and ourselves are fortunate to have guys like that.
"The thing about (Fisher) is, regardless of whether he plays well in a half or a previous game, he comes to work and gets better the next day. That's what good players do."
They adapt and evolve. Fisher is a 6-foot-1-inch junior guard who before arriving at Kent State never averaged double-figure scoring in college. This season, he leads the team at 14.0 points per game and more than once has made last-second shots to win games.
Good players are everywhere. The difference between Kansas and Kent State or UNLV is that the Jayhawks have a lot more of them. Depth at this level often separates teams more than actual ability.
If you saw Fisher step away from the Mid-American Conference and score 28 points in a victory at Saint Mary's on national television, you know his ability. Winning against that team in that tiny gym is far more difficult than perceived, and yet Fisher had his way against the Gaels.
"You know, the difference (in players) at most schools isn't that big," Fisher said. "I mean, everyone comes to play hard. They all bring intensity … I came in and said I would help whatever way they need. If they just needed me to cheer, that's what I would do.
"But being in this position, being that they trust me enough to do it and put the ball in my hands is definitely lovely."
I'm not sure UNLV should be any more concerned about a player this capable who describes things as lovely, but it would be smart for the Rebels to immediately identify Fisher just the same.
You see it happen each year during these next few days. Every miracle or so, a George Mason appears and upsets its way through the field, but the madness historically isn't all that wild come the tournament's second week and historically has expired once the Final Four arrives.
It's like going from a Sigma Chi bash to a white-tie dinner in under a month, from a keg and plastic cups to a nice house red and Riedel crystal. But somewhere today or Friday, the magic will appear. Fisher happens to be the kind of unknown player capable of making an opponent vanish.
"This time of year, you get a lot of good stories, whether it be guys who walked on or bounced around a little bit," UNLV coach Lon Kruger said. "Fisher can do a lot of things. Very good player. We've got our hands full."
The Rebels should pack a few extra stones, just in case.
Ed Graney's column is published Sunday, Wednesday, Thursday and Saturday. He can be reached at 383-4618 or egraney@reviewjournal.com.